Signature Turquoise, Amethyst and Diamond Pendant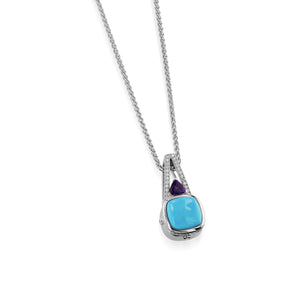 Product Details
John Atencio Signature One-of-a-kind Design
18-Karat White Gold
Cushion cut Turquoise, 13mm
Trillion Amethyst accent
Pavé Diamonds, .57 carat weight
Pendant measures 7-30mm wide
SKU:
About the Collection
Signature began with John's search for ethically sourced, rare and exotic gemstones and his desire to create one-of-a kind, singularly personal pieces of wearable art. In bringing this exceptional collection to life one piece at a time, Signature has come to represent the culmination of four decades of passion for his craft and his ongoing commitment to excellence. Each one-of-a kind Signature design is hand-crafted in 18k gold and authenticated by John's signature. It is a truly timeless John Atencio statement.
shop the collection
Gift Presentation
Behind the jewelry
We think there is too much symmetry in the world. From his early days, John Atencio challenged the many conventions in jewelry design to create a striking aesthetic that is now celebrated around the globe.
learn more