The Best Cross Pendant Necklaces
cross necklace, cross pendant
3/28/2022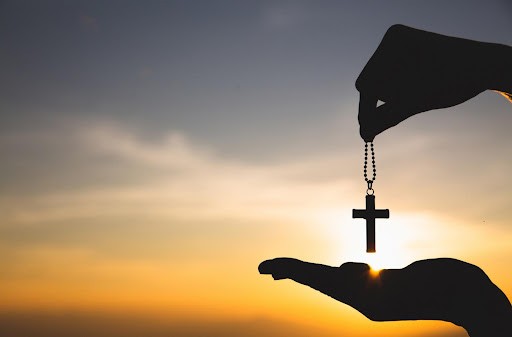 Have you been searching for the perfect jewelry gift for a spiritual man or woman? Cross pendant necklaces have been popular gifts over the decades and are still well-received presents. A step up? The bold and distinctive cross pendant necklaces designed by master designer John Atencio. Working with the beauty of symbolism, he designs exceptional pieces inspired by life's memorable moments. Designing jewelry with meaning and honoring his devout commitment to quality are vital to John Atencio, who is renowned around the world for his statement jewelry creations. Discover our favorite cross pendants below - because there's nothing like a genuine John Atencio.
Serenity Silver Cross Pendant Necklace
The cross means so much to so many who derive peace from its simple symbolism. Taking this to heart, John Atencio elevates this beautiful pendant necklace by designing feminine curves that flow into the shape of a cross. Crafted with care in sterling silver, the Serenity Silver Cross Pendant Necklace is simplicity at its finest. This versatile pendant on a 30-inch snake chain complements casual or dressy clothing and can be easily combined with other necklaces for a modern look. She'll adore this necklace that makes a uniquely enduring statement.
Matrix Black Diamond Cross Pendant Necklace
Rugged and bold, this diamond pendant necklace is a uniquely personal statement loaded with meaning. Crafted with an unerring commitment to quality, the Matrix Black Diamond Cross Pendant Necklace is a noble addition to his casual outfit that is noticeably John Atencio. This patterned pendant on a 20-inch ritorta chain is handcrafted in oxidized sterling silver with handsome black pave diamonds. As part of the Men's Matrix Collection, symbolism is king in this pendant that represents our internal struggles to balance family and relationships.
Golden Angel Pendant Necklace
The love of art flows though this necklace with the graceful curves of an angel. An iconic John Atencio design, the Golden Angel Pendant Necklace is an artistic delight that serves as a beautiful addition to her look. A conversation piece worthy of an heirloom, this bold and distinctive angel cross pendant on an 18-inch snake chain is handcrafted with patterned sterling silver and 14k Yellow Gold. Any young lady or woman will love this wearable art that's crafted to last.
Matrix Gothic Cross Pendant Necklace
Bold and expressive jewelry also favors men, and this handsomely angled cross necklace is a perfect example of that. The Matrix Gothic Cross Pendant Necklace by John Atencio is part of the Matrix Men's Collection which uses the symbols of the circle, line and triangle to symbolize the struggles we all feel when balancing family and relationships. Handcrafted with care in sterling silver and oxidized sterling silver, this textured cross pendant hangs from a stylish 20-inch ritorta chain. He'll appreciate receiving this piece as a gift that will add energy to his casual clothing.
Paloma Diamond Cross Pendant Necklace
Some crosses are classically demure, some lean toward the artistic and then some demand attention. Brimming with meaning that sparkles as much as the diamonds set inside of it, this exquisite diamond cross pendant is an eye-catching work of art. Suspended from a beautiful 18-inch Franco chain, the Paloma Diamond Cross Pendant Necklace by John Atencio is crafted in 14k Yellow or White Gold with shimmering channel-set pave diamonds. Meticulously handcrafted to be handed down generation after generation, this diamond and gold cross is an excellent gift to give the lady in your life.
John Atencio's Bold and Distinctive Cross Pendant Necklaces
Enjoying 46 years of experience, master jewelry designer John Atencio is world-renowned for designing distinctive jewelry that make a statement. He is devoted to creating bold jewelry with impeccable quality, thoughtfully hand-sketching every piece using his own rich experiences as inspiration. A firm believer in honorable sustainability practices, he uses only recycled gold and responsibly sourced gemstones in his creations. Discover more about John Atencio, the man who designs the stunning cross pendants that hold great meaning.

The iconic cross pendant necklaces designed by John Atencio are perfect additions to a jewelry collection. Browse and purchase on JohnAtencio.com or visit one of six store locations to view these exceptional pieces. Questions? Contact a knowledgeable concierge about your purchase. Whether you're treating yourself or someone else, everyone deserves a genuine John Atencio.