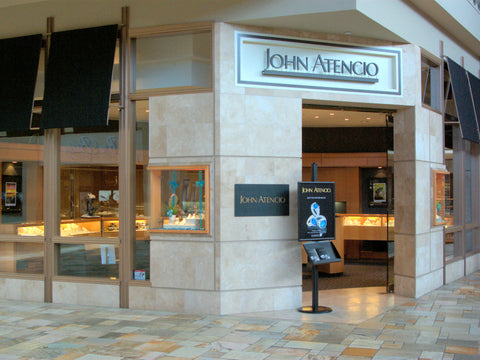 John Atencio – Flatiron Crossing Mall
Contemporary. Inspired. Distinctive.
These are some of the choice words used to describe John Atencio's creations. Considered one of Colorado's most celebrated jewelry designers, his creations in gold and silver have a long-standing reputation for being set apart from other collections. With intricate stone settings and carefully polished metals, John Atencio brings over 48 years of passion and expertise to every item he creates – helping you to mark every life celebration with a story.
Make an Appointment
Mon-Sat: 11am – 6pm
Sun: 12pm – 5pm
From the John Atencio Signature collection to the iconic engagement ring styles, every design reflects the love in your life that only you can truly express. Let John's creativity speak volumes to the love and commitment for those in your life. Visit our Flatiron Crossing Mall location, Denver's Northernmost mall and home to one of Colorado's best outdoor concert lineups, today. Allow our consultants to help you find the cornerstone piece for all life's significant occasions.
FlatIron Crossing is home to unique restaurants, spectacular events, and all the stores you love to visit when embracing a day to shop. Visit our John Atencio location to browse John's latest designs and take home something to call your own. Whether you're thinking about popping the question, getting ready to celebrate your anniversary, or want to treat yourself to something nice – we have something for everyone sure to make your trip north worthwhile.
While here, take the time to walk through the mall and not just shop but appreciate the spectacular design that went into making FlatIron Crossing a reality. Take in a movie to break up the day, enjoy a drink at one of the many bars, or enjoy a meal at the restaurants scattered throughout the mall.
With big names like Pottery Barn, Crate & Barrel, Sephora, there's shopping for everyone after visiting John Atencio at FlatIron Crossing.
Contact Our Flatiron Crossing Mall Store