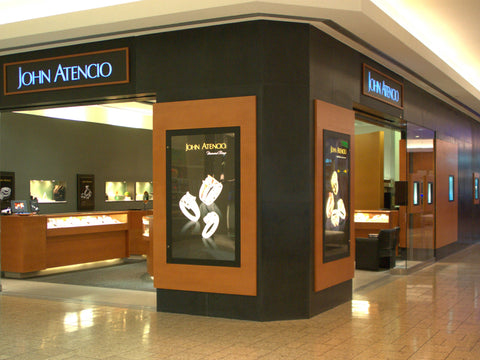 John Atencio – Cherry Creek Mall
Located in the heart of Denver's Cherry Creek Shopping Center, the John Atencio flagship store features the world-class jewelry designs that have made him one of Colorado's most celebrated designers. Renowned for his contemporary styling, along with his iconic engagement rings and use of brilliant Trilliant-cut gemstones, each of John's pieces are crafted in the hands of master artisans, and are a true expression of joy, love, and commitment.
Make an Appointment
Mon–Sat: 10am – 7pm
Sun: 11am – 5pm

Regardless of what life event you are celebrating – a wedding, an anniversary, a birth or any other occasion – John has designed an item that will resonate with your life story. Prominently featuring hand-selected gems, each piece is inspired from where artistry and passion are forged and will echo a tale of love and commitment for generations to come. Join us at Colorado's premier shopping destination and experience what makes a John Atencio design the embodiment of the love you share.
The Cherry Creek Shopping Center is the region's premier shopping experience offering department stores, smaller boutiques to pop in and out of, along with a variety of niche shops. If you're looking for one-stop shopping after choosing a John Atencio design to call your own, you can get it all down here at Cherry Creek.
With a movie theater, gourmet restaurants, and events especially around the holidays, our location at the Cherry Creek Mall gives you the opportunity to get away from it all for a day. This is a destination for anyone who wants to immerse themselves in a day of shopping – starting at John Atencio.
Our convenient hours at the mall let you set your shopping schedule for the day. Stroll through the mall, eat lunch or dinner at your favorite eatery and take your time browsing our collections and shopping at your favorite stores. Visit John Atencio at the Cherry Creek Shopping Center today and have a shopping day for yourself.
Contact our cherry creek mall store
What our customers are saying