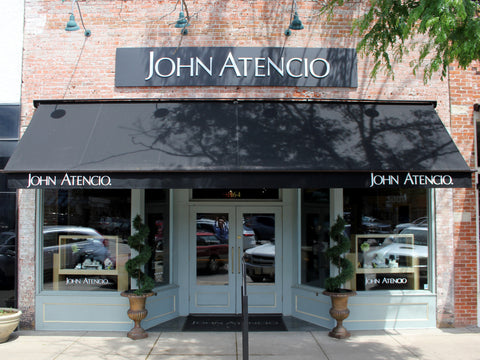 John Atencio – Fort Collins
John Atencio's first store opened in 1976 in Fort Collins, near the Colorado State University campus where John is an honored alumnus. His store on North College Avenue is a homecoming from where it all began. The Fort Collins location is one of John's premier boutiques, where people come from far and wide to see, touch and feel each unique item in celebration of their life events. Weddings, births, anniversaries and more are each celebrated through John's engagement rings, women's wedding rings, men's wedding bands, and bracelets, pendants, and watches.
Make an appointment
From the stunning bridal collection and fine jewelry designed around trillion-cut gemstones, each piece is designed to inspire awe and express love and commitment for years to come. Join us at our Fort Collins location, and allow our consultants to help you discover the perfect design to celebrate your special life occasion for years to come.
Located in the heart of Fort Collins, you're a quick walk away from good eats, beautiful parks, and the Museum of Art. If you're looking for an exciting day out after shopping at our location, you're surrounded by things to do and places to eat. Consider taking in a show at the Aggie Theater or visiting the Old Town Library to immerse yourself in Fort Collins.
If you're feeling adventurous and are an early riser, consider breakfast at Snooze before stopping in to visit us. Browse John Atencio's beautiful collections while we help you pick the perfect engagement ring, wedding jewelry for your big day, or something to treat yourself with. No matter the occasion – we'll help you find something special.
Visit our Fort Collins location and learn what makes stopping into a John Atencio location so unique. When finished, venture out into the surrounding neighborhood to discover why we opened our store here.
contact our Fort Collins store