Our Diamond Search
Each John Atencio engagement ring is an artistic love story – and each engagement ring setting can be customized for any diamond size or metal. The diamonds sourced by John Atencio reflect an unparalleled commitment to integrity, excellence, and sustainability. Whether you are looking for an engagement ring with a lab grown diamond or a natural diamond, you can be assured of John's unwavering adherence to the most stringent social and ethical standards.
Explore our extensive selection of lab and natural diamonds - and contact one of our store locations to speak one-on-one with a diamond expert.
ABOUT JOHN ATENCIO DIAMONDS
John's reputation has been built on long-standing relationships with miners, cutters, and diamond suppliers – and a steadfast dedication to ethical and sustainable diamond sourcing. This knowledge and commitment give our customer's the confidence that diamonds from John Atencio will be free from the taint of war or human suffering. Learn More about John Atencio Diamonds
CUSTOM-CRAFTED FOR YOU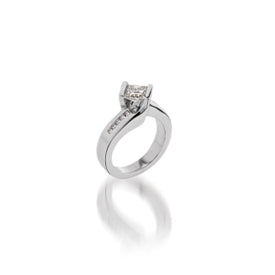 INTRIGUE 1 CARAT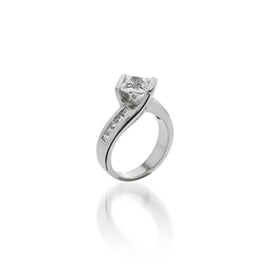 INTRIGUE 1.5 CARAT
INTRIGUE 3 CARAT
For each ring design, the dimensions change with the size of the center stone. From a 3/4-carat stone to 2-carats and up, we adjust the scale of the setting—the amount of metal and size of the side diamonds—to visually support and complement the centerstone and maintain the overall proportions. It's a matter of aesthetic balance in our design that makes each ring unique.
Want to learn more? Explore our latest Diamond Blogs
john atencio store locations