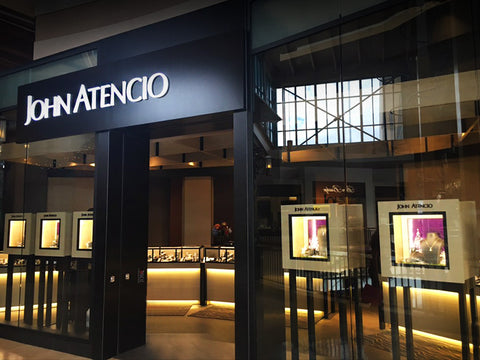 John Atencio – Park Meadows Mall
As Colorado's most celebrated jewelry designer, John Atencio is proud to be the only local designer catering to the Lone Tree community at the Park Meadows Mall. Celebrating your life occasions is our top priority, and no matter what your life brings – an engagement, wedding, birth, anniversary or just because – each piece is carefully crafted to resonate with the celebration of your life.
Make an Appointment
Mon–Fri: 11am – 7pm
Sat: 10am – 7pm
Sun: 11am – 6pm
From the John Atencio Signature collection to the iconic engagement rings and timeless wedding bands, every piece is inspired by a story that will speak directly to your life. Each of John's designs is a true expression of love and commitment, allowing you to show how you feel without a single word. Step into our store at the Park Meadows Mall and let our experts the pleasure of helping you find the perfect piece to mark your next milestone in life.
Park Meadows is one of Colorado's premier shopping destinations. With more than 170+ stores, 30+ restaurants and eateries, year-round events, and ease of access no matter where you're driving from, Park Meadows is your one-stop destination for all things shopping, starting with a visiting to John Atencio.
Park Meadows is more than the mall itself. Surrounded by anchor stores and, breweries, Lone Tree offers shopping, entertainment, and more for everyone in your family. When planning a trip to Park Meadows, plan your day wisely – there's so much to see and do, you may not have time for it all in one trip.
John Atencio's Park Meadows location is the perfect start to a day of shopping for yourself or your loved ones. After choosing something special with us, consider lunch or dinner at some of Colorado's favorite restaurants to celebrate. Have a drink, kick back, and relax after a long day's work finding everything you need – starting your day with us.
Contact Our Park Meadows Mall Store