How to Finance an Engagement Ring
custom engagement ring, diamond engagement ring, engagement event, engagement ring, engagement ring buying guide, engagement ring insurance, natural diamond engagement ring
1/28/2023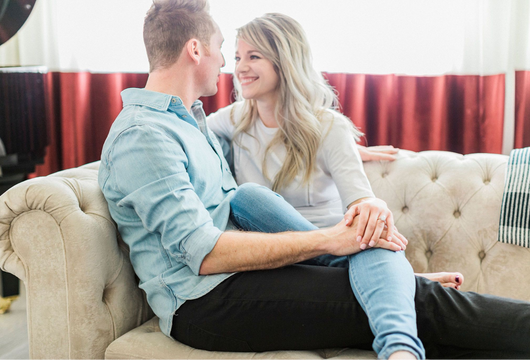 You've found the perfect person, and now you need the perfect ring. Unfortunately, you're worried your current financial standing might limit your options. Never fear! With affordable jewelry store financing options, you can get an artfully designed John Atencio proposal-ready engagement ring that will be the envy of her friends. Here's how to finance and buy an engagement ring worthy of your love story. 
What to Know Before Financing an Engagement Ring
You know that financing a ring means you are taking out a loan to help pay for the piece in advance. But how does the process work from start to finish?
Whenever you decide to finance your diamond engagement ring, a lender agrees to pay for the ring so you can get the ring of your dreams without paying upfront costs. You then make payments each month until your balance reaches zero. In addition to the principal amount (the price of the ring), you will pay a certain amount of interest. This is what incentivizes the lender to provide funding in the first place. 
To be eligible for financing, you generally need to be at least 18 years of age and have a valid U.S. or APO/FPO/DPO home address. You must also have a valid U.S. mobile or VoIP number, and the phone account must be registered in your name. During the application process, you will be asked to provide your full name, date of birth, email address, and the last four digits of your social security number to verify your identity. The lender will also use this information to inform what's called an "instant loan decision" that can allow you to leave the store with your ring of choice the very same day. 
Engagement Ring Financing Options at John Atencio
To ensure that all of his customers have the ability to enjoy his one-of-a-kind designer rings, John Atencio provides two financing options at his Colorado stores. The first is provided by Affirm, and the second is offered by Wells Fargo. Both loan providers have strong standings in the local communities and well-earned reputations for offering flexible, affordable financing to millions of customers all over the country. 
Affirm
Can you finance an engagement ring without paying any interest? John Atencio has partnered with Affirm to make this seemingly impossible notion a beautiful reality. 
A convenient financing alternative to credit cards and other types of credit-payment products, Affirm offers instant financing for any online John Atencio purchases, with fixed monthly installments over 3, 6, or 12 months. Best of all, no interest is charged if you pay off the purchase balance within the promotional 12-month period.
The application and approval process is simple and straightforward: 
After adding online items to your shopping cart, click 'proceed' to check out and select "Pay with Affirm."
You will be prompted to enter the following information: Name, email, date of birth, phone number, and the last four digits of your SS#. All sensitive data is safely encrypted using standard security protocols.
To verify that you are the person making the online purchase, Affirm will send a text message to your phone with an authorization code.
Once you type the unique code into the application form, in a matter of seconds, Affirm will notify you of the loan amount you are approved for and the interest rate. You will have the option to pay the loan amount over 3, 6, or 12 months.
After entering all the required details you click "Confirm Loan" to accept Affirm financing offer, and that's it! You've got all the financing you need to pay for that once-in-a-lifetime ring!
After your purchase, you will get monthly emails and text reminders about upcoming payments. If you prefer, you can set up autopay to make things more convenient. Your first payment will be due 30 days after your order. 
Wells Fargo
In addition to the Affirm financing option, John provides a consumer financing program through Wells Fargo's credit card program. This card provides the holder with access to a revolving line of credit that can be used to finance the purchase of your jewelry, and — when certain conditions are met — you may not even have to pay a penny in interest. 
It's no stretch to say that the best way to finance an engagement ring is to do so without paying interest. And the great thing about the Wells Fargo financing option is that, as with Affirm, no interest is charged if you pay off the purchase balance within the promotional 12-month period. If you don't pay off the balance by the end of the promotional period, you will be responsible for interest charges just as you would with the Affirm financing option. It's also important to remember that approval is subject to a credit check. 
Monthly payments are required based on the purchase price, excluding taxes. Talk to a John Atencio store associate for more information about this flexible financing option. 

Pros and Cons of Financing an Engagement Ring
Ideally, we would all be able to pay cash for everything upfront, from houses to cars to engagement rings. Sometimes, however, this isn't practical, especially for younger couples who are just beginning their financial journeys. 
Financing allows us to purchase expensive items and split the payments over time. There are so many great advantages to this, including:
Affordability: You can buy and receive your jewelry right now, splitting up the price of your purchase into fixed monthly payment amounts that fit your individual budget.
Transparency: When approved for a loan, you see the terms before making your purchase. This tells you exactly how much you owe every month, the total number of payments you must make, and the amount of interest you will be expected to pay over the term of the loan. 
Speed: The loan application process is fully secure and processed in real-time. After you provide your information, you get an answer within seconds. 
Accessibility: Many customers are approved even if they don't have extensive credit histories. 
Stress-free payments: SMS texts remind you of upcoming payments. You can also enroll in autopayments to streamline the process. 
Things to consider:
As with anything, financing your engagement ring has a few potential drawbacks. For one, you will have to pay interest which can increase the total overall cost of your jewelry. With the Wells Fargo financing option, you can avoid interest by paying off your balance in a timely manner. Whatever your financing option, the faster you pay off your balance, the less interest you will pay. 
The Ring of Your Dreams Today
The love of your life shouldn't have to settle for a ring that isn't worthy of the moment. With affordable financing options from John Atencio, you can buy her a ring she will be proud of.
A living legend in the jewelry industry, John offers striking custom engagement rings for your bride-to-be. Browse online or visit any John Atencio location, where our attentive experts can help you find the perfect ring for your beautiful love story.