The Unexpected Love Story of John Atencio (Updated 2022)
Jewelry Design & Trends, john atencio, john atencio engagement event
7/15/2020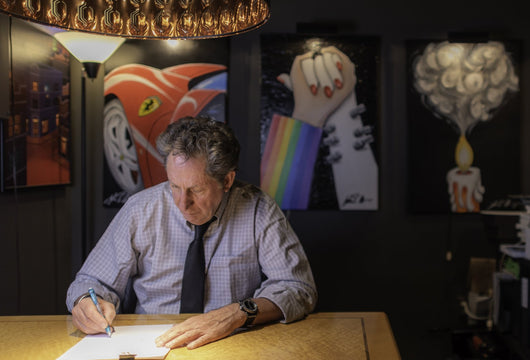 John Atencio didn't know his love story would turn out like this. He could have never imagined where it would lead him, now 47 years later.
He was just a college kid in the late '60s, trying to get the girl. A student at Colorado State University who loved to dig his hands into art. A VW Bus-driving rebel with a total shot-in-the-dark idea — one that would ultimately land him international acclaim.
But first, the girl. Of course. The best stories always seem to start with love, don't they?
Atencio was young, only in his early 20s, but he knew there was something different about this brunette; she had his future in her eyes. So he embarked on the hunt for The Perfect Ring. It needed to be stunning, elegant and sophisticated, but at the same time completely original. It needed to have heart and authenticity and depth. It needed to feel like inspiration and passion, all in one tiny, complete circle representing eternity. It had to be art.
That's what happens when an artist falls in love. No ring was enough.
But he could feel it inside himself: this bubbling, or maybe an ache, the compulsion that takes over when art must be borne. Without any training in jewelry-making, Atencio sneaked into the art studio after hours and designed and created the perfect women's ring all by himself.
Needless to say, the girl said yes.
But that's not the love story.
Atencio landed the dream girl and swapped his art degree for business school, per his dad's advice. But his hands grew antsy to make, and the engagement ring had awoken something inside him, like an unspoken vow that he hadn't realized he was signing. He began seeing and feeling more jewelry ideas and bringing them to life. By the time Atencio had graduated college, he had his VW Bus packed with handmade, wearable art and he was driving up and down the Front Range selling it. Each piece of jewelry came from those original roots of love and authenticity.
People noticed. This jewelry was different.
Shops began picking it up and eventually, Atencio was standing outside of a jewelry store in Fort Collins that had his name on the door. This led to seven different jewelry boutiques across the state, including storefronts in Cherry Creek, Larimer Square and Park Meadows.
More than four decades later and he still hand-sketches and personally designs every piece, including gold, sterling silver, bridal and his one-of-a-kind, couture collection. Award-winning Atencio is renowned for his fine craftsmanship and attention to detail.
But what keeps him going — what brings his jewelry to life — is that same heart that he poured into his very first piece. He calls it "living an artful life."
"People who live an artful life really fall in love and are so passionate about their art that they can never leave it," Atencio says. "It's the love of their life."
Looking back, Atencio realizes what that first engagement ring really started. Sure, it got a "yes" from the girl. But it marked the beginning of a much bigger love story, far beyond the relationship between two hopeful twenty-somethings. It marked the beginning of a man finding his life's purpose, one so powerful that it would also inspire tens of thousands of other love stories.
John Atencio's unexpected love story is every piece of jewelry that he shares with the world.
Listen to our podcast episode on the legend of John Atencio