How to Pick A Diamond
4 c's, choosing a diamond, diamond shapes
10/15/2020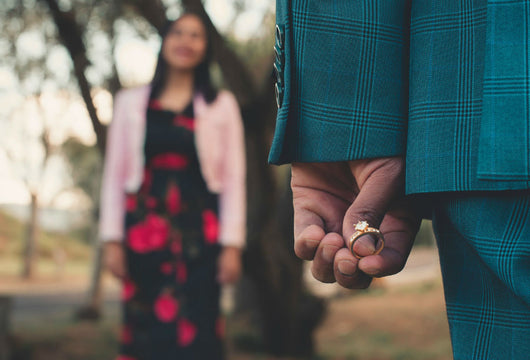 The right diamond is the catalyst for unforgettable proposals. Your love story deserves a stone with fire and brilliance that will elevate the occasion. With so many available options, however, choosing a diamond can feel overwhelming. While everyone's diamond search is unique, this helpful guide will set you on the path toward a stunning choice that will turn magical moments into enduring memories.
How to Pick Out a Diamond for an Engagement Ring
A diamond engagement ring is one of the biggest purchases you will ever make, so you want to make sure you're doing it right. Understanding how to choose a diamond will affect how you select your engagement ring. With any diamond, the 4C's — Cut, Color, Clarity and Carat weight — work to determine value and clarity.
Cut - This describes the proportion, finish and polish of the diamond. A skilled cutter uses precise artistry and workmanship to fashion a stone so it delivers magnificent visual effects, including brightness (internal and external reflected light), fire (the scattering of white light into every color of the rainbow), and scintillation (the diamond's sparkle and the pattern of light and dark areas produced by reflections within the stone).
Clarity - This describes the purity and clearness of a diamond. A grade is assigned to each stone, with "I" describing a diamond with inclusions and "F" describing flawless clarity. Most diamonds will have various grades ranging from I to F. Diamond buyers sometimes select gems with some inclusions, as long as they are not apparent to the naked eye.
Color - From white to yellow, diamonds are assigned a grade for the amount of color they contain. Diamond buyers almost always prefer colorless to near-colorless stones, with diamonds graded in the J, K, and L range offering the best value for a customer's money.
Carat - This refers to the actual weight of the diamond. A single carat is equal to 0.20 grams. The larger the carat, the more expensive the diamond, although the other "C's" can work to significantly influence the final price.
When considering a diamond, many buyers focus heavily on carat. After all, if she has her heart set on a 1-carat stone, anything less will leave her feeling disappointed. Still, cut, clarity and color will work to determine the actual beauty of the stone. Though not included as one of the fundamental four C's, a diamond's shape will also play an important part in the selection of your diamond engagement ring.
Choosing a Shape
The shape of a diamond is the critical launching point of your engagement ring design. If you're not sure what shape to choose, it may be helpful to know that round diamonds are the most popular choice due to their incredible fire, brilliance and light performance. They also accommodate almost any ring setting and never go out of fashion.
While round brilliant diamonds make up about three-quarters of all diamond purchases, however, many women want something different. 
Princess cuts feature a compelling angular and contemporary beauty that looks gorgeous in geometric and classic settings. Second in popularity to round brilliant stones, these cuts offer the brilliance of a round-cut diamond at a lower price. Still, others prefer a more unique shape such as an Oval or Cushion Cut. 
If you're unsure what your partner prefers, try discreetly asking her family and friends. You can also reach out to the diamond experts at John Atencio who can use their decades of experience to guide you to a diamond that will appeal to her unique style.
Getting Expert Guidance
 At John Atencio, when we say "perfect," we mean the perfect diamond for you. This means the diamond has the characteristics you desire and is within your budget. There is no one-size-fits-all approach to choosing the perfect diamond for your engagement ring. As a general recommendation, it's best to ask for assistance from an expert. This is the best way to ensure that you won't end up paying for a feature that will go unnoticed, or purchasing a diamond that will distract or interfere with light reflection.
While choosing the right diamond can be intimidating, your experience needn't feel that way. At John Atencio, our Diamond Experts can show you how to pick a diamond she will love. Our thoughtful team always works to ensure that we meet our customer's needs in terms of size, clarity, cut and color, all while maintaining the highest standards. Use our helpful diamond search and then make an appointment at one of our locations, where our attentive, knowledgeable experts can guide you toward the perfect ring for your unique love story.