3 Ways Wedding Bands for Men Showcase Your Love
black diamond mens wedding bands, Engagement & Weddings, Jewelry Design & Trends, mens wedding bands, mens wedding rings
6/15/2020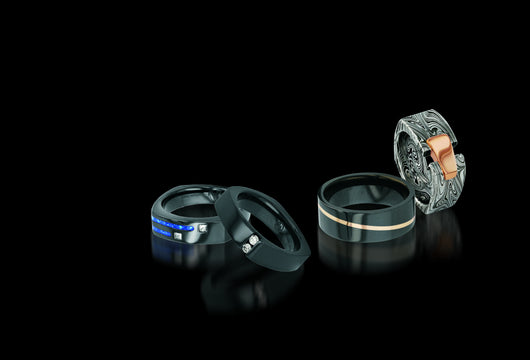 Leading up to the day you say "I do" to one another, the focus is often on the bride and everything surrounding her big day - but she's not the only one getting married. Usually, the groom gets relegated to the sidelines by family and friends. This isn't necessarily a bad thing as little girls dream of getting married and everything that comes with it. If you want to show your husband-to-be how much he means to you on your special day, consider the different way his wedding band will showcase the love the two of you share.
3 Ways Wedding Bands for Men Showcase the Love You Share
Wedding bands symbolize the love two people have for one another. Taking the time to find the right wedding bands is an essential step for any couple looking to get married and show their love with rings.
Personalization
When choosing wedding bands for one another, most couples choose a theme, color scheme, metal, or some other quality that they both love. When it comes to men's wedding bands, consider getting something personalized to his tastes or engraved with a special message for him.
Think of the way you say "I love you" to one another or any pet names you have for him. Perhaps there's a small statement you speak to one another that nobody else knows. He'll appreciate the sentiment and be reminded of the love you share every time he looks down at his ring finger.
Customization
If you're opting for different styles when getting married, consider getting a custom ring made for your husband. For example, if he loves being outdoors, going with a faux wood ring designed for his wedding band is one way to think outside the box of traditional wedding rings.
Lashbrook and John Atencio have partnered to offer custom rings and design choices for our customers looking for something unique. Lashbrook can make custom rings using all sorts of unusual and unique things, like thumb prints, sound waves, and even images. They even offer meteorite as a ring metal for something that's out of this world.
If his passion lies elsewhere, getting a custom ring to go with what he loves is an exciting way to show how much you know him and give him something unique to showcase the love you share on his hand. You can get his wedding band customized for him and surprise him or do it together for an added memory leading up to exchanging those very rings.
Alternatives
Men's fingers are often larger and sensitive to some metal types. Men often prefer different kinds of metals, such as Damascus steel, black zirconium, or steel because of the weight or feel. Talk to your husband-to-be and see what his preferences are. From there, get an alternative wedding ring he loves for him to show off his commitment to you.
John Atencio offers alternative rings for your groom to choose the right fit to show off his love for you with the world. This Atencio collection provides alternative metals, including zirconium, in unique styles that are sure to speak to the love your groom holds in his heart for you.
When getting married, include your husband-to-be in the planning, the celebration, and the lead up to the big day. His personal touches to everything for the wedding will make the day even more special. When choosing wedding bands to symbolize your love, take the time to make him feel comfortable with the ring he'll wear to showcase his love for you and your love for one another