Top 10 Gold Jewelry Gift Ideas this Holiday (Updated 2022)
gold jewelry, gold jewelry gifts
11/18/2021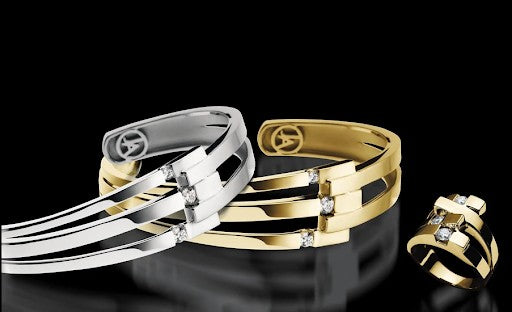 It can be difficult to come up with holiday gift ideas for the special people in our lives. We can settle for things that meet their everyday needs, or we can strive further and search for more meaningful, timeless gifts. If you're not sure where to start, consider the following thoughtful gold jewelry gift ideas.
Cuff Bracelet
Turn up the intensity of their look with a lustrous gold piece that pairs perfectly with their existing jewelry collection. Sleek and stylish, a gold cuff bracelet is a great way to refresh their style and shine new light on old favorites. From bold statement pieces to stackable designs, you really can't miss with this endlessly versatile gifting option.
Rose Gold Pendant
With its romantic blush glow, rose gold is a trendy choice for stylish accessorizing. A wonderfully versatile precious metal, rose gold looks fantastic on everyone. It also adds some vintage-inspired elegance to their favorite attire. With pretty pink tones, a rose gold pendant makes an eye-catching gift, especially when elevated by a fiery white diamond, as it is with John's stunning Originate Diamond Pendant Necklace.
White Gold Ring
Refined and fashion-forward, icy white gold jewelry has become popular for its modern, silvery sheen and cool sophistication. White gold rings beautifully complement other jewelry in varying colors of gold, making it easy to mix and match with the pieces in their existing collection. From his gorgeous Dallas ring to his Essence and Encore rings, John has beautiful white gold rings for the special people on your shopping list.
Gemini Collection
Searching for something truly stunning this holiday season. Explore John Atencio's intriguing collection of Gemini bracelets, rings and earrings. It's in the sleek, undulating architecture where Gemini comes alive. Bursting with color, the pear-shaped gemstones meet together as perfectly matched twins. Available in lustrous white gold and timeless yellow gold, these artfully crafted pieces are sure to have them smiling ear to ear.
Heart-Shaped Jewelry
The ultimate emblem of love, heart-shaped jewelry says a lot without the need for spoken words. With a wide array of artfully crafted selections, like the Adore Petite Heart Pendant Necklace, John makes it easy to find a meaningful gift to show them just how much you care. From delicate dangle earrings to pretty pendants, discover a breathtaking gift that says exactly how you feel. Choose from diverse designs in timeless yellow gold, romantic rose gold and silvery white gold.
Gold Designer Rings
Designer rings deliver an extraordinary array of options that let you match their one-of-a-kind style. Made with white, yellow and rose gold, they can showcase dazzling diamonds or colorful gemstones set alone or complemented with luxe diamond accents. There are also plenty of plain options without gemstones. Whether you're shopping for him or her, John has an intriguing selection of gold rings to help you elevate the holiday season.
Lines Collection
Another one of John's breathtaking jewelry collections, Lines includes an exquisite selection of gold bracelets, rings, necklaces and earrings. All art starts with a line. Simple and highly structured, John's Lines Collection transfixes admirers by bringing the scintillating brilliance of every finely curated channel-set diamond into undeniable focus. Choose a single statement piece or treat your special someone to a matching set and watch their face light up with joy.
Hoop Earrings
Add a lustrous spark to their look with a shiny pair of gold hoop earrings. Flawlessly fashionable and endlessly alluring, classic hoops draw attention to the face, creating a bold symmetry that elevates their appearance. They also bring beautiful versatility that complements a variety of outfits.
Rose Gold Bracelet
A popular option for gifts, rose gold bracelets flatter any skin type. They also look lovely set with diamonds or colorful gemstones. With their scintillating fire, diamonds complement the blush metal's warm tones. Beautifully versatile, rose gold also looks lovely with vivid morganite, blue topaz, garnet and amethyst. Even with no gemstones, rose gold bracelets make great holiday gifts, especially when paired with a matching rose gold necklace and earrings.
Cross Necklace
With a timeless, spiritual icon, cross necklaces make meaningful holiday gifts. Blending considerate craftsmanship with striking symbolism, a gold cross necklace speaks to hope and faith with plenty of eye-catching style. Classic yellow gold intensifies the impact with a classically elegant appeal.

Choosing the perfect holiday gift can be daunting, but your experience doesn't have to feel that way. At John Atencio, our jewelry experts can show you how to select a meaningful jewelry gift to celebrate your precious relationships. Visit one of our convenient locations and let our knowledgeable experts guide you to the perfect holiday gift.
Browse John Atencio's 2022 Holiday Look Book
Browse his many stunning collections and find the best holiday gold jewelry gift ideas for her. Shop the 2022 Holiday gift guide.