Why Rose Gold is A Great Gift this Holiday Season (Updated 2022)
gift ideas, gifts for her, gold jewelry gifts, rose gold
11/17/2020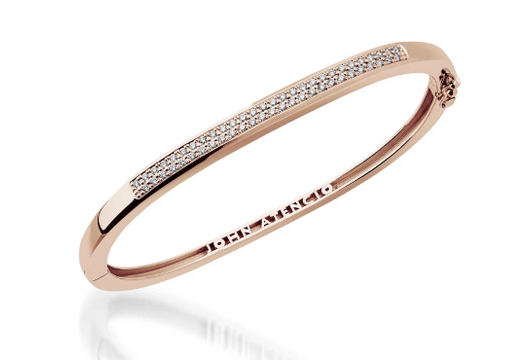 Rose gold has become a stylish favorite in recent years, appearing on everything from champagne-gold runway dresses to iPhone shells. It has also emerged as a trendy force in the jewelry world, making it a great gift idea for that precious person in your life. Read on to learn why this beautiful blush metal makes such a fine jewelry statement.
Rose gold is one of many variations of gold jewelry available. Because pure gold is too soft for fine jewelry, different metal alloys are added to create varying colored golds. The three most popular include white gold, yellow gold and rose gold.
Increasingly popular in specialized jewelry, rose gold is a delicate balance of silver, yellow gold and copper. There are a few variations of color that fall within the "rose gold" umbrella, including pink and red gold. In general, the jewelry will appear redder when more copper is added to the mix.
Because it offers vintage appeal with a romantic connotation, rose gold is a great way to show that special someone you care during the holiday season. From rose gold rings for women to rose gold necklaces, there are so many great gift options that showcase this beautiful precious metal.
Why it Makes Such a Great Gift
Rose gold can beautifully compliment existing jewelry pieces in her collection or help her start a new adventure with a fresh color direction. This makes it a compelling option for shoppers in search of impactful ways to elevate the holiday season.
There are a lot of great reasons to choose rose gold jewelry as a special gift, including:
It makes gems look lustrous.
Rose gold jewelry gives everything she wears an inspiring touch of romance. Gemstones like citrine, garnet, green amethyst, blue topaz and fire opal have an alluring glow when set in rose gold. Tanzanite, pearl, aquamarine and diamond look equally stunning in this rosy precious metal.
It plays well with others.
Because it's so versatile, rose gold jewelry never clashes with white and yellow gold pieces. On the contrary, in many instances, rose gold provides a lovely contrast with white gold, platinum and sterling, providing the opportunity for her to layer her jewelry and create alluring ensembles that reflect her unique style and make a vibrant, striking fashion statement.
It's a great time to buy.
Rose gold has become the metal of choice for summer and spring jewelry. This makes now a great time to get a good deal on fashionable pieces that will have her looking forward to warmer weather. Even during the winter, there are plenty of opportunities for her to showcase her gorgeous rose gold jewelry, whether it's at a holiday party or an intimate get-together with friends.
It has all the advantages of gold.
Because it's much more malleable compared to platinum, gold is easier to work into intricate, fine designs. It also won't tarnish, rust or corrode, and maintains its color over time. Prized for its lasting beauty, gold jewelry is always a smart investment because the price of gold is more stable in times of economic depression compared to platinum.
It complements all skin tones.
Not everyone can pull off white or yellow-gold jewelry. On the other hand, rose gold is flattering on virtually every type of skin, which makes it a safer choice if you're unsure how to match jewelry to her skin tone. Rose gold also complements a diversity of clothing styles, making it an ideal choice for the modern fashionista.
It's a more affordable option.
Rose gold generally costs less than yellow and white gold because copper is less expensive than silver and many others metals. Rose gold rings are also very durable, more so than white and yellow gold. It also does not require the same rhodium plating white gold does.
Get Help Choosing a Gift She Will Love
From the runway to the red carpet, rose gold is one of the hottest current trends. Despite being in style, however, rose gold isn't always widely available at many jewelry stores – but it is at John Atencio. Our jewelry store locations feature a diverse assortment of gorgeous rose gold rings, necklaces and bracelets designed to make a statement or complement her existing jewelry collection.
Although choosing the right holiday gift can be overwhelming, your experience need not feel that way. At John Atencio, our jewelry experts can show you how to choose a perfect rose gold jewelry gift for the special people in your life. Browse our rose gold jewelry collection or visit one of our locations and let our attentive experts guide you to a magical gift this holiday season.
Browse John Atencio's 2022 Holiday Look Book
Browse his many stunning collections and find the best rose gold gift ideas for her. Shop the 2022 Holiday gift guide.