Silver and Gold Rings and Necklaces for the Holiday Season (Updated 2022)
gift ideas, gifts for her, gold jewelry gifts, gold necklace, gold ring, holiday gifts, holiday gifts for women, mixed metal jewelry, silver necklace, silver ring
11/27/2021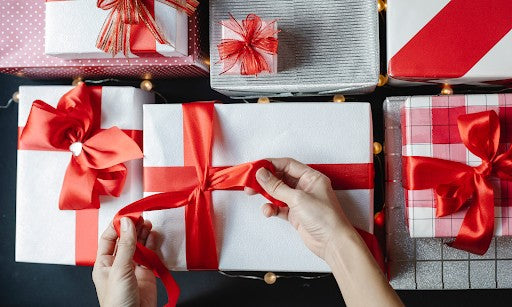 When it comes to choosing the perfect holiday gift, nothing piques a person's interest like silver and gold rings and necklaces. From dazzling diamond rings to stunning pendants, these lustrous precious metals are foundational to any luxury jewelry piece. Here are some gorgeous gift ideas in pretty pale silver and luminous gold.
The Gravity of Gold
Prized for millennia, gold continues to hold a prominent place in our collective consciousness. The foundation of fashion and luxury, the precious metal adorns the wrists, hands and necklines of the social elite and everyday person alike. Universally coveted, gold is the starting point for anyone who wants to make a major impact with their holiday gift. Forged alone or complemented with scintillating diamond accents, the precious metal yields stunning jewelry for every look and style.
Gold Necklaces
Searching for a thoughtful gift that will truly elevate their eyebrows? Wreathe their neckline in lustrous beauty with a breathtaking gold necklace. From eye-catching statement pieces to delicate dazzlers, there are so many options for the special people on your shopping list.
Some of our favorite selections include:
Endearment Pave Diamond Pendant Necklace
: Discover the softly contoured lines and pristine finish of the
Endearment Collection
, inspired by the infinite circle of life.
Lines Solitaire Diamond Pendant Necklace
: Simple and highly structured, the
Lines Collection
brings the brilliance of each finely curated channel-set diamond into undeniable focus.
Devotion Pendant Necklace
: The
Devotion Collection
 of gold jewelry captivates with clean lines, channel set diamonds and a pristine high polished finish.
Gold Rings
Special people deserve special tokens that demonstrate our commitment and love. For a gift that's truly worthy of the moment, a gold ring always hits the mark. Instantly elevate their look with a luxurious piece masterfully crafted with precious ice white gold, romantic rose gold or timeless yellow gold.

Some intriguing options include:

Devotion Diamond Ring: This gorgeous collection of inspired ring designs pays tribute to the celebration of love, marriage, and family.

Orion Polar Diamond Ring: With its elegant simplicity, Orion is born out of John's desire to creatively mark special occasions.

Paloma Confetti Diamond Stack Ring: This striking selection includes several brilliant channel-set diamonds, 0.29 total carat weight.
Stylish Silver Selections
Eternally trending and endlessly economical, silver enhances any outfit. Wonderfully versatile, the pretty pale metal looks gorgeous on anyone, especially when accented with glittering diamond gemstones. Embrace sleek sophistication with a scintillating silver diamond pendant in the softest shade of silver. Accentuate your style with fashionable sterling silver rings that blend beautifully with a diversity of looks and styles.
Silver Necklaces
Holiday shopping can be intimidating, but silver's versatility makes it a safe option for anyone on your list. From gorgeous pendants to delicate chains, there are countless ways to seamlessly elevate their one-of-a-kind style. Choose a pretty pendant with luxe diamond details or a meaningful piece with a cross, heart or other symbolic accent.

Some wonderful options include:

Arrivo Trillion Solitaire Pendant Necklace: Arrive in style with this stunning sterling silver and 14K gold collection.

Chorus Collection Pendant Necklace: A melody of color and shape, Chorus brings uniquely faceted cushion gemstones and brilliant diamonds to each design.

Elixir Pave Diamond Pendant: Inspired by the marquise gemstone, Elixir is John's tribute to the beauty and unerring power of femininity.
Silver Rings
Sleek, refined and flexibly fashionable, silver rings add luster to any look. The icy metal is a lovely choice for the cold winter season. Choose something simple and understated or go with a gorgeous statement piece with fiery diamond gemstones that attract attention for all the right reasons.
Some of our favorite selections include:
Elixir Pave Ring
: Discover the magic of Elixir in pave diamond, London blue topaz and Amethyst.
Arrivo Small Trillion Ring
: Define your style with the incomparably colorful and diamond-rich Arrivo Trillion ring.
Apollo Pave Diamond Curve Ring
: Inspired by the duality of fortitude and perseverance, Apollo is a distinctive and bold sterling silver collection.
There's no need to ever feel unsure about choosing a holiday gift for the special people in your life. Shop our most
popular gold gift ideas fo her
collection,  most
popular silver gift ideas for her
collection, or visit any
John Atencio location
, and our knowledgeable jewelry experts can help you find a gift that will have them smiling from ear to ear. Whether you want a stunning stand-alone piece or lovely companion jewelry to complement their existing collection, our experts can guide you to a breathtaking holiday gift that will blow them away.
Browse John Atencio's 2022 Holiday Look Book
Browse his many stunning collections and find the best silver and gold gift ideas for her. Shop the 2022 Holiday gift guide.