Aquamarine Jewelry Gifts: The March Birthstone Meaning
aquamarine, birthstone jewelry
2/19/2023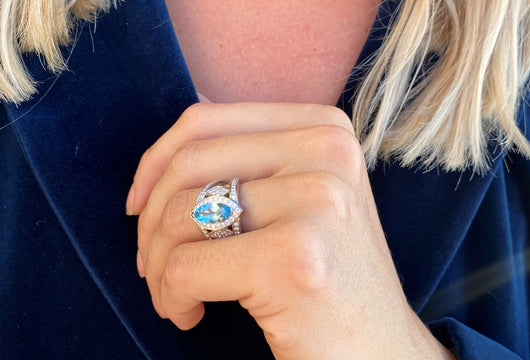 Have you been browsing for a unique aquamarine birthstone gift to celebrate the birthday of someone special? As the birthstone for a March birthday, the aquamarine evokes cool, calm waters and a sense of peace with its stunning blue-green hue, making it a desirable gift to give and receive. Associated with the sea in ancient times, this gemstone that was called the "treasure of the mermaids" was also carried by sailors for good luck. Holding the stone that symbolizes hope and happiness in high regard, master jewelry designer John Atencio offers extraordinary aquamarine jewelry designs that are adored by so many. Read on to discover these exceptional designs and learn more about the phenomenal aquamarine gemstone. Make March a month to remember by giving her a genuine John Atencio for her birthday.
The Endearment Small Birthstone Heart Pendant
If you're searching for the perfect aquamarine jewelry gift, the sparkling simplicity of this enchanting pendant necklace is certain to thrill her. John Atencio's Endearment Collection accentuates the gentility of soft contours and fluid lines, the Endearment Small Birthstone Heart Pendant is a beautiful keepsake made to be handed down over the years. Handcrafted from sterling silver, 14-karat yellow gold and an aquamarine cabochon for the month of March, this pristine heart pendant on an 18-inch snake chain was made to grace her neck. She'll think of you every time she wears it.
The Signature Aquamarine and Diamond Ring
When you seek to surprise her with the ultimate aquamarine birthstone gift, a personal piece of wearable art from John Atencio's Signature Collection is always the answer. Representing four decades of commitment to his craft and his clients, every one-of-a-kind design in this distinct collection is a timeless and iconic statement made from responsibly sourced rare and exotic gemstones. Meticulously crafted by hand to utter perfection, the Signature Aquamarine and Diamond Ring is made with platinum, marquise-cut aquamarine and glittering pavé diamonds. Present it to her and leave her breathless in a beautiful fashion.
The Solar Beaded Bracelet with Pavé Diamonds
Gifting her an aquamarine birthstone gift for her birthday is a memorable way to show you care, and John Atencio designs distinctive pieces crafted to last a lifetime. Part of the Solar Collection that uses circles, triangles and lines to symbolize the struggles we face in balancing family, relationships and communication, the Solar Beaded Bracelet with Pavé Diamonds is handcrafted with sterling silver, 14-karat yellow gold, pavé diamonds and aquamarine beads. What an extraordinary way to say, "Happy Birthday."
The Signature Trillion Aquamarine and Diamond Ring
When you're looking to elevate her delight by gifting her with iconic John Atencio aquamarine jewelry, just look for his signature inside the band. Belonging to the richly inspired Signature Collection that reflects John's 46-year journey in bold and distinctive jewelry design, the Signature Trillion Aquamarine and Diamond Ring will make admirers of everyone who encounters it. Handcrafted with the utmost attention to detail, this aquamarine ring is made with 18-karat white gold and yellow gold, a trillion aquamarine and glittering pavé diamonds. This ring is a stunning surprise for any woman with a March birthday.
The Antigua Birthstone Stud Earrings in Aquamarine
When you give someone a jewelry gift with their aquamarine birthstone, they realize the special meaning behind a present you selected especially for them. When you give them a handcrafted John Atencio birthstone gift, the personal sentiment is magnified. From the Antigua Collection inspired by the honor and strength of ancient Rome, the Antigua Birthstone Stud Earrings are handcrafted with sterling silver and aquamarine cabochons for the month of March. Gift her the set of this alluring aquamarine jewelry, including the matching necklace, bangle bracelet and stack ring, and raise her spirits even higher.
John Atencio makes it almost effortless to make her March birthday a special one. Simply browse his beautiful aquamarine jewelry designs at JohnAtencio.com or visit one of our boutique stores to experience them in person. A knowledgeable concierge is always on hand to answer your questions and ensure your satisfaction. Always beautiful, always John Atencio.