The Guide to Buying a Tennis Bracelet from an Expert
diamond tennis bracelets, lab grown tennis bracelet, tennis bracelet
3/1/2023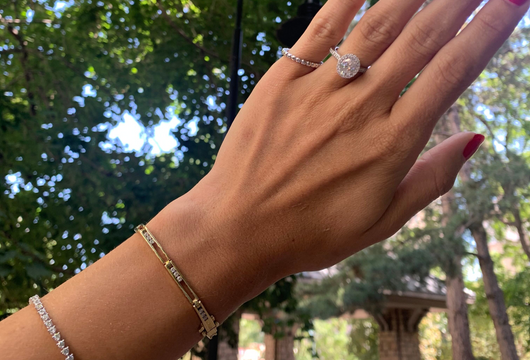 An iconic jewelry piece, the diamond tennis bracelet elevates any outfit, from elegant ball gowns to casual summer ensembles. This incredible versatility makes it a reliable gift for almost any occasion, including anniversaries, holidays and everything in between. But how do you choose the right piece for yourself or that special someone? Get the tips you need in our informative tennis bracelet buying guide.
What to Look for When Buying a Tennis Bracelet
Timeless and fashion-forward, tennis bracelets infuse any look with eye-catching glitter and glam. While they used to come in limited styles, modern pieces are available in an incredible array of designs, including:
Prong Set Tennis Bracelet
One of the trendiest styles for tennis bracelets, the prong setting brilliantly balances beauty and security. With this bracelet design, each diamond is fixed in place by 2 to 4 prongs that safely hold the gemstone in place.
Bracelets with three prongs will usually have a near-triangular look, while four prongs create a more rounded, symmetrical appearance. These days, you can also get two-pronged diamond tennis bracelets that deliver a distinctly intriguing aesthetic. 
Prong settings make it possible for every single diamond to interact with available light. This generates sparkle from all angles with minimal interference from the surrounding precious metal. For increased protection, some women's bracelet designs will include double-claw prongs, which ensure that the diamonds are securely fastened in place.   
Channel Set Diamond Tennis Bracelet
With channel settings, each stone is placed within a groove, where dual rows of metal hold the diamonds in place from both sides. With this tennis bracelet design, each gem is held close together, creating the appearance of a single, uninterrupted loop of fiery stones. 
Striking an exquisite balance between security and beauty, channel settings provide more light interaction than bezel settings. They also create a sleek, structured aesthetic that makes them a popular choice for many modern fashionistas. 
Three-row Tennis Bracelets
Three-row tennis bracelets consist of three separate rows of glittering white diamonds. Somewhat like several bracelets in one, these designs radiate scintillating fire, making them a nice choice for women who want statement bracelets that summon the eye.
Infinitely eye-catching, these stunning pieces are ideal for special occasions when you want to capture attention for all the right reasons. Less of an everyday accessory and more of a striking statement piece, three-row bracelets aren't appropriate for all settings. They do, however, make exquisite additions to formal attire when you really want to turn heads. 
Uniquely Artful Designs
When most people think about tennis bracelets, they imagine a simple piece with an uninterrupted circle of diamonds. These days, however, you can get artfully designed pieces that incorporate precious metal in creative ways. 
Contemporary diamond tennis bracelets are available in a wide array of different metals and styles including cluster bracelets. At John Atencio, for instance, you can find a world of distinctive tennis bracelet styles and intriguing designs unavailable anywhere else on Earth.
Take, for instance, John's Orion and Lines collections. Each design blends clean, contemporary lines with graceful artistry to craft uniquely alluring pieces that captivate the eye. Stunning, stylish and distinctive, these gorgeous tennis bracelets are ideal for women who want to enhance their ensembles while showing off their unique style.
Types of Metal
Infusing any look with scintillating beauty, diamond tennis bracelets are available in varying shades of gold. This makes it easy to find a design that reflects your unique sense of style.
Wrap your wrist in a refined white gold diamond bracelet for a contemporary-cool aesthetic. Prefer a touch of warm color? Embrace the timeless elegance of a classic yellow gold or try on a blush rose gold tennis bracelet that radiates romance and fire. Whatever your taste, modern diamond tennis bracelets bring intriguing options to fit your personality and style. 
Stones
Not long ago, tennis bracelets were made exclusively with natural diamond gemstones. These days, however, they are available with all sorts of colorful gems. At the same time, modern innovations have paved the way for lab-grown diamond tennis bracelets, which have steadily grown in popularity for a number of compelling reasons.
Sustainable and environmentally-friendly, lab diamond tennis bracelets are currently having a moment as more and more consumers seek to limit their carbon footprints. Glittering with fire, these pieces share important similarities with tennis bracelets made from natural diamonds. Both are judged by the all-important 'Four Cs' (cut, color, clarity, and carat weight), which have long been used to judge the beauty, quality and value of jewelry-grade diamond gemstones. 
To the naked eye, lab diamond tennis bracelets are indistinguishable from pieces featuring diamonds mined from the Earth. The only variance is that lab diamonds include microscopic inscriptions identifying them as such. Without a microscope, however, no one can tell whether a tennis bracelet includes naturally mined gemstones or high-quality lab-grown diamonds
These days, an increasing number of people are embracing lab-grown diamond tennis bracelets because they value the way they are sourced and appreciate the lower price tag. Still, others prefer natural diamond tennis bracelets because they value the rarity of the gemstones and appreciate the idea of owning something that took billions of years to form.
Explore our blog for an in-depth comparison of lab-grown vs natural diamond tennis bracelets. Discover the pros and cons of each option and find the perfect bracelet to suit your style and budget.
Sizing and Care
For a secure, comfortable, perfect fit, tennis bracelets should be loose enough to move freely, but not loose enough to slide off. The basic rule is that you should be able to fit one finger between your wrist and the bracelet.
You can get an accurate measurement by loosely wrapping a cloth tape measure around the wrist. If you don't know what size tennis bracelet to buy, it may help to know that 7 to 7.5 Inches is the most popular bracelet size for the majority of women.
To prevent wear and tear, it's generally best to wear a tennis bracelet on your non-dominant hand. You can also prolong the life of your tennis bracelet by storing it separately from other jewelry.
When to Buy
Since they go with everything, diamond tennis bracelets are timeless jewelry staples that make meaningful gifts for life's monumental moments.
Birthdays
Birthday bracelets always hit the right mark. For maximum impact, however, you need the striking sparkle of a ceaseless circle of diamonds. Consider a tennis bracelet when celebrating milestone birthdays, such as 18, 21, 30, 40, and so on. With that said, any birthday is a good reason to treat a loved one to a dazzling diamond bracelet.
Push Presents
A meaningful jewelry gift is the perfect way to celebrate the new mom in your life. Push presents are the modern way to show tangible gratitude for the difficult nine-month journey to motherhood. A glittering diamond tennis bracelet shows how much you care, while serving as a beautiful reminder of the love that brought a new baby into the world. 
Holidays, Anniversaries and Graduation
Holidays are the perfect time for tennis bracelets. Diamonds add elegant emphasis to Mother's Day gifts, Valentine's Day gifts, Christmas gifts and everything in between. The same goes for important anniversaries, which deserve gifts that are worthy of the moment. A diamond tennis bracelet is also a spectacular way to celebrate and honor new graduates.
Whether you're treating yourself or shopping for that special someone, you can't go wrong with a diamond tennis bracelet. Masterfully crafted using exquisite gemstones, John Atencio's artistic pieces are available in a diversity of one-of-a-kind styles and carat weights. 
Browse online or visit any John Atencio location, where our consultants can help you find the perfect piece of jewelry to elevate your look and complement the jewelry you wear every day.