The Best Tanzanite Jewelry Gifts this Holiday
birthstone jewelry, december birthstones, gifts for her, tanzanite
11/7/2022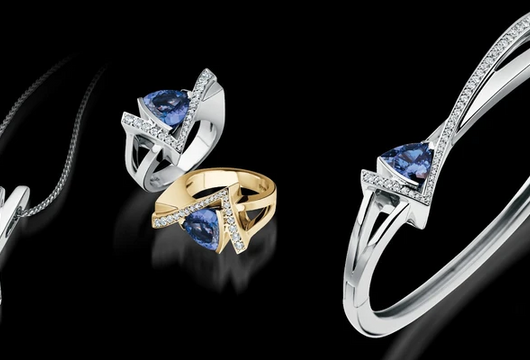 Perfectly poised between rich purple, vibrant blue and velvety violet, tanzanite is coveted for its distinctive color and incredible rarity. Found almost exclusively near Mount Kilimanjaro, this striking gemstone has become a trendy force in the jewelry world, thanks to its vivid color and radiant beauty. 
Tanzanite's depthless, saturated color delivers an eye-catching aesthetic for luxury jewelry pieces. From earrings and rings to necklaces and bracelets, these striking jewelry pieces have become very popular in recent years. Tanzanite engagement rings have also secured a reputation as a trendy diamond alternative for contemporary brides who want to show off their one-of-a-kind personalities and fashion-forward styles.
The uniquely alluring gemstone is prized for its compelling chameleon-like traits: Depending on the lighting and angle, many tanzanite gems can appear as a bright blue or vivid violet conversation starter, especially when featured amid an artfully crafted designer jewelry piece. 
If you're looking for a way to celebrate monumental occasions, tanzanite jewelry offers a range of compelling choices. Not sure where to start? Find your inspiration with some of our favorite tanzanite gifts for her.
Tanzanite and Diamond Ring
Add a flicker of color to their finger with an eye-catching tanzanite and diamond ring. Bursting with vivid hues, this gorgeous stone combination blends deep purple with the scintillating glitter of fiery white diamonds. 
An inspired jewelry gift for any occasion, a tanzanite ring is a great gift that stands out from the pack. A good example is John Atencio's Pinnacle Gemstone Ring with Pave Diamonds. The 9mm trillion tanzanite, channel-set pave diamonds and intriguing asymmetrical design define John's unique aesthetic, representing the apex of his storied journey as a world-renowned jewelry designer. Not to be outdone, John's Signature Tanzanite Ring also makes a breathtaking unique gift with its harmonious blend of classic yellow gold and icy white gold, which pair beautifully with 1.05 total carat weight of scintillating pave diamonds and a vivid tanzanite center gemstone. 
Tanzanite and Diamond Stud Earrings
Frame their beauty in color and fire with a pair of enchanting diamond tanzanite studs. The perfect way to punctuate her look, tanzanite earrings elevate ensembles with bold color that truly captures attention when paired with luxe diamond accents. Framed in lustrous white gold, John's Pinnacle tanzanite and diamond earrings are a perfect example of how these complementary gemstones can pair up to make a statement jewelry gift. John's Pinnacle tanzanite jewelry also includes delicate drop earrings in refined, fashion-forward white gold. 
Tanzanite and Diamond Bracelet
Turn a special occasion into an enduring memory by wrapping her wrist with something truly special. Flattering to every style and skin type, tanzanite diamond bracelets infuse any outfit with colorful intrigue. 
A perfect example is John's Treasure Hinged Cuff Bracelet. Blending fine emerald-cut tanzanite and glittering pave diamonds with baguette diamond accents, John has created a timeless, brilliant statement piece for any gift-giving occasion. Just as inspired, John's Pinnacle tanzanite and diamond bracelet includes a compelling asymmetrical aesthetic that draws attention to the trillion-cut tanzanite and brilliant line of striking pave diamonds. 
Tanzanite and Diamond Pendant
Wreathe her neckline in velvety tanzanite hues and honor important occasions with something worthy of the moment. John's Signature Tanzanite Pendant Necklace features a uniquely artful design that represents the culmination of four full decades of his passion for the craft and ongoing commitment to excellence. Just as alluring, John's Pinnacle tanzanite necklace draws the eyes to her face with its faceted 9mm trillion-cut tanzanite gemstone and stunning pave channel-set diamonds. 
A World of Uniquely Beautiful Options
John Atencio is well known for his use of the trillion and his extensive use of tanzanite, which has long been one of his favorite gemstones. Recognizing the rarity, intense color and compelling, almost magical beauty, John offers an extensive collection of tanzanite pieces which include tanzanite and diamond pendants, cushion-cut rings, princess-cut rings, pave diamond rings, and breathtaking jewelry pieces from his acclaimed Treasure Collection.
Whether you're searching for a one-of-a-kind alternative engagement ring or meaningful jewelry gift, tanzanite is a worthy selection. With that said, there are also plenty of other gemstone options that can elevate any ensemble and illuminate her look.  
John Atencio offers a broad collection of radiant tanzanite gemstones that beautifully complement his beautifully crafted jewelry pieces. We also offer a diverse selection of stylish luxury pieces featuring other breathtaking birthstone gifts, including emeralds, rubies, sapphires and more. Visit one of our many convenient Colorado locations and let our seasoned consultants guide you to the perfect jewelry piece for that special person on your gift list.