Thin Band Engagement Rings: How Thin Is Durable?
custom engagement ring, diamond engagement ring, types of engagement rings
2/5/2023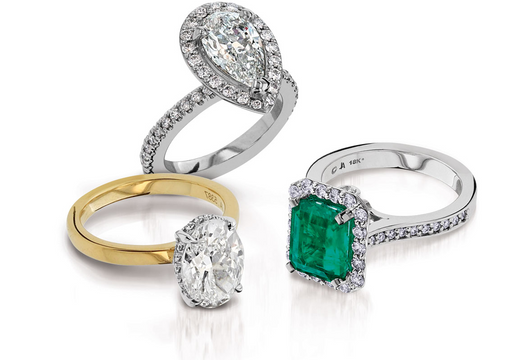 As they continue to gain popularity, thin engagement rings have become contemporary classics in the eyes of many. Their sleek, slender designs make the center diamond a brilliant focal point, and their delicate appearance brings a lovely feminine feel. But are these popular ring styles right for you? Here's what you should know about engagement rings with thin bands.
What Are Thin Band Engagement Rings
While the typical engagement ring falls between 3 mm and 6 mm, thin band rings are generally 1.6 mm to 2 mm wide. This means these rings include less precious metal than your typical engagement ring. That said, just because they're smaller doesn't mean they can't be luxurious. 
Just about any style of complementary wedding band fits comfortably with a thin engagement ring because the streamlined design leaves plenty of room for varying shapes and custom designs. Despite their smaller surface area, thin engagement rings can be beautifully accented to suit the wearer's personal style. Different gemstones, precious metals such as yellow gold or white gold and fine details can all be used to make sure your thin-band engagement ring is anything but boring.
Contrary to common belief, a thin ring can be artfully crafted as long as you shop at a creative designer such as John Atencio. With that said, there are some limitations to thinner rings that make them a trickier purchase in many situations.
This is why it's so important to purchase your ring from a renowned designer who never compromises quality and durability. Because he understands that thinner rings are more prone to becoming misshapen, John Atencio takes extra steps to ensure that every thin engagement ring he designs meets his strictest standards for excellence. This ensures that every John Atencio ring will last a lifetime, whether the band is thin, thick or somewhere in between. 
To better understand why it's so important to purchase your ring from a reputable jewelry designer, let's dig deeper into the advantages and potential disadvantages of thin rings. 
 Pros and Cons of Thin Band Engagement Rings
While some people prefer the reassuring weight of a wider band engagement ring, others fall in love with the "less is more" appeal of a romantic, minimalist design. Like any setting or style, thin engagement rings come with their share of pros and cons, and it's important to weigh the positives and negatives before making a decision.
Pros
Thinner rings can provide a more dainty, feminine appearance.
Slender bands tend to make smaller gemstones appear larger.
Thin engagement rings have a simple, minimalist design.
A narrow band makes the center diamond the eye-catching focal point.
A ring with a thin band stacks well with a wedding or anniversary band.
Lower metal content can result in a lower price.
A skinny engagement ring can complement smaller hands and slender fingers.
Thin rings can make short, thicker fingers appear longer and more elegant.
Cons
A thin engagement ring is more likely to bend and lose its shape. 
Some skinny rings will become weak or crack over the years. 
Slender rings aren't always durable enough for people who work with their hands. 
Thin rings are harder to resize because there's less metal to work with. 
The low-metal content limits the ability to create intricate designs or vintage-style settings.
If you're not sure whether a thin engagement ring is right for your bride-to-be, it can help to get input from trusted experts at John Atencio. Our team can help you weigh the pros and cons to determine whether your love would prefer a thin ring or one with thicker, more intricate design elements. If you do choose a thinner band, John Atencio can provide a host of alluring options for your monumental proposal. 
Tips for Buying a Thin Band Engagement Ring
While the simple beauty of slender engagement rings has made them popular, these styles aren't for everyone. When making a decision on a ring, it helps to consider these factors:
Consider your partner's individual lifestyle. If your fiancé enjoys active hobbies or works with their hands, a thin ring might not work. To ensure a long lifespan for the piece, consider a band in the 2.0mm to 3.5mm range for someone with an active lifestyle. 
Embrace simple beauty. Because thin bands have less precious metal, complex ring designs are more challenging. In turn, you'll need to be ok with a simple style with a classic look. By limiting the overly-intricate details, you allow the band to showcase the center stone.
Consider your carat weight. While modern women covet larger diamonds, 2- to 3-carat gemstones can overpower skinny engagement bands. If you want a bigger diamond, you'll need to consider a heftier band. 
Stabilize the stone. With a thinner band, you will need to make extra sure that your setting creates a secure foundation for your diamond. A John Atencio consultant can help you choose a diamond shape and setting that will maximize the beauty and safety of your thin engagement ring. 
Partner your thin ring with a skinny wedding band. You can pair a thin engagement ring with any type of wedding band. But it will usually look better with a complementary band. For a more harmonious look, it's generally best for both rings to have about the same band widths. 
Know your limitations. Certain styles of rings just aren't available with thin bands. Before committing to anything, make sure you've looked at all your available options. You may end up falling in love with a thicker band or a custom design that reflects your one-of-a-kind love story. 
How Thin Is Too Thin for an Engagement Ring?
When it comes to selecting a thin engagement ring, it's important not to overdo it. A ring with a band (or shank) of 1.6mm to 2.0mm provides minimum stability for a center stone. If you go any thinner than 1.6m, your ring may crack or bend over time. At the same time, to ensure long-term durability, it's important to choose a safe, durable setting that will protect your center gemstone and any luxe diamond accents. 
From his impeccably crafted Essence ring to his exquisite Majesty design, John Atencio has beautifully crafted thin engagement rings for every preference and style. He can also help you design a customized ring that adheres to his impeccable quality standards, ensuring that every John Atencio diamond engagement ring is always crafted by master artisans, from the first to the last critical detail.