Celebrate Earth Day with Sustainable Diamond Rings
eco friendly jewelry, lab grown diamonds, sustainable diamonds
4/22/2021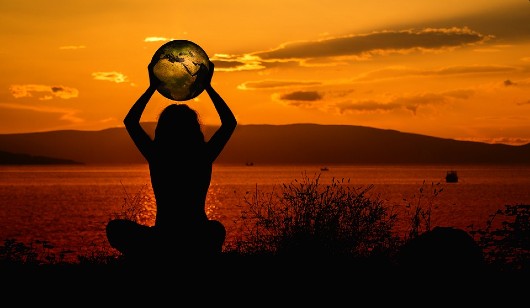 Every April, we take time to consider our impact on Mother Nature by celebrating Earth Day. But the sentiment doesn't have to end with the changing of the calendar. With John Atencio's sustainable diamond rings, you can have artfully crafted, high-quality jewelry while minimizing your impact on the planet.
The John Atencio Difference
When it comes to sustainability, John Atencio strikes a considerate balance between quality, social responsibility and our collective stewardship over the earth. Few jewelers maintain John's unyielding integrity and strict adherence to social and ethical standards. Every one of his jewelry pieces, for instance, is made while adhering to the Kimberly Process Certification Scheme (KPCS), a united, worldwide effort to end the global trade of "conflict diamonds" used to finance war, human trafficking and other destructive activities.

John Atencio's unyielding commitment to ethical and sustainable diamond sourcing is based on long-standing relationships with conscientious diamond suppliers, miners and cutters. This commitment gives customers the confidence to shop with the knowledge that John's diamonds are always free from any taint of human exploitation, war and environmental consequences.


Unfortunately, it's quite common for people to unknowingly support unethical activities in other parts of the world by shopping at jewelers who purchase their diamonds and metals without regard for the suppliers. If you're planning to purchase a diamond ring, you'd be well-advised to investigate whether the jeweler has the same unrelenting standards as John Atencio.
Lab-Grown Diamonds
Lab-grown diamonds eliminate concerns over the human toll and environmental impact associated with traditionally mining diamonds. Grown in dedicated facilities using specialized technology, these gorgeous gems are identical both optically and chemically to natural mined diamonds.

Compared to mined diamonds, however, lab-created diamonds have a much lower impact on the earth. For just one carat of diamond mined, nearly three tons of waste is created and almost 100 square feet of land is disturbed. Mined gemstones can also result in troubling human rights issues, while helping to finance armed conflict and illegal activities.

With ethically sourced mined gemstones like the type sold by John, this isn't the case. Still, lab-grown diamonds are almost always more eco-friendly than mined diamonds. They are also held to the same strict quality standards as mined diamonds. For consumers in search of eco-friendly diamond rings, John's lab-grown gemstones are an ideal choice.
What About the Metal?
It's not just diamonds that disrupt the environment; unethical gold mining can also be especially destructive. Many countries have experienced destructive soil erosion, widespread deforestation and other serious issues where miners have been operating for decades.

Chemicals such as mercury and cyanide are also involved in the mining process, causing even more damage to ecosystems. This can impact everything from food production to wildlife for decades or even centuries.

Recycled gold significantly reduces this trend by limiting the environmental effects of gold mining. The majority of recycled gold comes from catalytic converters, circuit boards and various computing components. While these sources may not seem very glamorous, modern refining processes ensure flawless purity, which allows expert jewelry such as John to forge stunning jewelry pieces that are much more environmentally friendly.

A cost-friendly way to acquire precious metal for jewelry, recycled gold is also a beautiful choice for eco-conscious shoppers who want premium-quality pieces. John Atencio is proud to use ethically sourced gems and recycled gold in all his timeless creations, so customers can shop guilt-free without having to sacrifice quality.
Quality and Integrity
A skilled artist and responsible jeweler, John Atencio crafts each of his diamond rings into wearable works of art. Responsibly sourced diamonds sparkle in a harmonious union with recycled gold to create a gorgeous piece of jewelry that's scintillating, stylish and sustainable.

At John Atencio, we take tremendous pride in forging the finest jewelry with integrity and strict social awareness. If you're looking for a diamond engagement ring or other type of eco-friendly jewelry, we're the only name you should know. Browse our sustainable diamond rings or make an appointment at one of our nearby locations, where our team can help you choose a gorgeous, eco-friendly piece of jewelry for yourself or that special someone on your gift list.
Listen to our podcast episode on Lab Grown Diamonds.