How to Measure Necklace Length
how to measure necklace length, necklace length guide
1/19/2022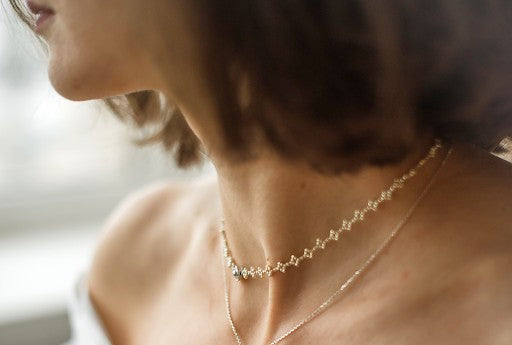 Buying a new necklace can be exciting, but it's important to make sure you have the right fit. Whether it's a choker, chain or lustrous string of pearls, necklaces look awkward and uncomfortable when they are inappropriately sized. Here's a guide on how to measure necklace length to ensure a proper fit.
Necklace Length Guide
When deciding on the length of a necklace, it helps to know how certain styles are meant to be worn. Likewise, it's important to understand that men and women wear their necklaces differently depending on the design and personal preference. Here are the most common ways women and men wear necklaces:
Standard Necklace Sizes for Women
Choker Length: 16 inches
At collarbone: 17 to 18 inches
A few inches under collarbone: 20 inches
At neckline (or above ): 22 inches
Under the neckline: 24 inches
Standard Necklace Sizes for Men
The base of the neck (for small neck sizes): 18 inches
To collarbone (most typical length for average-sized men): 20 inches
A few inches under the collarbone: 22 inches
A few inches above sternum: 24 inches
At the sternum: 30 inches

For women, standard-length necklaces (usually 18") are the most typically worn length and will suit the majority of situations. If you're looking for a pendant or necklace to wear day-to-day, this is likely to be your go-to length. With that said, since we all have unique physiques and personal preferences, there really isn't necessarily a "standard" size when it comes to jewelry.

For people who require a specially sized necklace, it may be best to order a necklace a little larger and have a jeweler remove links or shorten the piece if necessary. While these basic standards can give a starting point, there are plenty of other factors to consider when determining the appropriate length of a necklace.
Shopping for Her
When purchasing a woman's necklace, consider where it is most likely to be worn and what attire is likely to be worn with it. Some women may wear varying lengths for different seasons and occasions. A choker style may look stunning with a cocktail dress that has a scooped neckline. It won't, however, fit well over a turtleneck sweater. Many women prefer long necklaces in the winter months since bulky clothing often requires extra length.

You should also consider the recipient's size. For example, while it may be ideal for a larger woman, a 24-inch necklace will usually hang too low on a petite woman. In general, the shorter a necklace is, the more important its size. If it's too short, a necklace may not fit the wearer at all.
Shopping for Him
Most men's necklaces fall at the collar bone, which typically demands a length of around 20 inches. If the necklace includes a pendant, cross, dog tag or medallion, a slightly longer length will usually work better. Men can also wear multiple chains of different lengths for a layered look.

If you aren't sure about neck size and necklace length, consult with an experienced consultant at John Atencio. Our knowledgeable team will be happy to help you select an appropriately sized style of necklace that meets your requirements.
How to Measure
Before purchasing a necklace as a gift, it's very important to correctly size the recipient's neck. A man's neck size will usually correspond to his shirt collar size. For women, on the other hand, you will typically have to accurately measure their neck size.

This can be done at a nearby John Atencio location, where our courteous professionals can take accurate measurements using a soft measuring tape. If you prefer, however, you can do this at home. If you don't have a soft measuring tape, you can use a ribbon instead. Simply wrap the ribbon around the base of the person's neck and mark the area where the ends meet. Then, lay the ribbon against a ruler or yardstick to determine neck size.

Once you obtain a measurement, it's generally best to select a necklace size that's at least one size larger than the wearer's neck size. For instance, if they have an 18-inch neck, you should probably select a chain length of about 20 inches or more. Also, be sure to consider the kind of necklace when determining length. Will the necklace lie flat or will it have a heavy dangling pendant? These considerations will both affect how a necklace will hang.

Need help selecting the perfect necklace for yourself or that special someone? The experts at John Atencio can help. Visit any John Atencio location, and our experienced jewelry experts can help you find a perfectly sized jewelry piece. Whether you want fashionable companion jewelry or a stunning stand-alone piece, John has an incredible selection of artfully crafted necklaces and pendants for every look and any occasion.