How to Save Money On Your Engagement or Wedding
Engagement & Weddings, save money on wedding, wedding rings
8/23/2022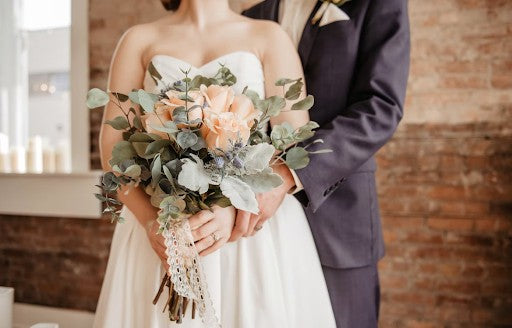 Engagements and weddings can get expensive, especially if you're dead set on turning your boldest dreams into reality. According to recent data, the average cost of a wedding is just under $40,000, and this doesn't include the cost of an engagement ring or honeymoon. How can you reduce the cost of your special day? Here's how to save money on a wedding and engagement without having to sacrifice too much of your dream.
Skip the Professional Photoshoot
Instead of paying a professional photographer to snap engagement or wedding photos, consider asking a friend to do it for you. The average price tag for an engagement shoot can be several hundred dollars, while wedding photography can cost thousands of dollars.

These days, modern digital cameras and editing equipment allow amateurs to produce professional-quality photos. Some brides and grooms even pass disposable cameras out to select guests and let them take candid photos that are fun to develop and discover days later together as a couple.
Cater Outside Your Venue
This is largely dependent on your selected venue, but some will allow you to provide your own food via an outside caterer. If possible, consider shopping around for available caterers to see if you can get a good deal. You can even hire a food truck, which can put a fun, exciting twist on your wedding celebration.
Be Particular with Flowers
Flowers are one of the priciest parts of a wedding, but you can reduce your overall cost by avoiding out-of-season flowers shipped in from miles away. Although tropical flowers such as orchids might look incredible, they will chew up a lot of your wedding budget.

On the other hand, if you choose local, in-season flowers, you can lower your overall costs by as much as 40% to 50%. You may also be able to get more elaborate displays that ultimately enhance your wedding celebration.
Shop Used
It turns out a surprising number of brides sell their wedding dresses instead of leaving them to wither away in a dark closet. Most often, they sell them at a fraction of the original price, allowing you to save big on a dress that was only worn once. As long as you're not particularly superstitious, this is a great way to save money.

There are plenty of online sites like Poshmark where former brides put their dresses up for sale. Shop around and see if you find something that suits your individual style.
Get Married in the Off-Season
Everyone loves a summer wedding, and this leads to competition with many other couples for venues. When you get married between June and September, high demand leads to higher prices. You see the same issues around holiday weekends, such as Christmas and Valentine's Day. During these times, venues, photographers and caterers all tend to cut their prices in an attempt to secure limited business.

You can save a lot of money by getting married during January, February or March, as long as you steer clear of holidays. It can also be less expensive to get married on a weekday night since venues tend to see less demand during these times.
Choose a Diamond Ring Alternative
Nowadays, many brides are embracing alternative engagement rings which showcase different kinds of colorful precious and semi-precious gemstones. Glittering with vivid brilliance, gemstone engagement rings radiate breathtaking color.

Enchanting virtually any ring design, colorful gems shimmer with beautiful depth and striking facets. They also tend to be less expensive than traditional diamond engagement rings.
Whether you decide to enliven your ring with a regal green emerald, plum-colored amethyst or bold blue sapphire, the results are exceptionally eye-catching, especially when the gemstones are accented with fiery accent diamonds. John Atencio offers world-class jewelry designs that have made him one of the nation's most celebrated designers. In addition to his stunning diamond engagement rings, John provides a complete spectrum of stone options for every budget and style.

When it comes to selecting a gemstone engagement ring, there are countless options, from amethyst and sapphire to emerald, peridot, ruby, tanzanite, topaz, garnet, morganite and more. If you have your heart set on a diamond ring, you can save money by choosing a simpler design such as John Atencio's Luminaire collection.

With so many available options, ring buying can feel a little overwhelming, especially if you don't know where to start. John Atencio's thoughtful experts can take the guesswork and stress out of the process, leading you to the ideal ring based on your preferences and budget. By working with John's expert consultants, you gain access to a wider array of choices and the invaluable expertise to help you choose the perfect ring. Whether you're shopping for a uniquely compelling, show-stopper, a timeless diamond ring or a vintage-inspired design, our team can help you select the right piece today.

Shop online or visit one of our convenient locations and let us help you find the perfect engagement ring for your monumental moment.