Is She Expecting? Our Top Picks for "Push Present" Jewelry
diamond gifts, gifts for her, jewelry gifts, push present jewelry, push present necklace, push present ring
6/21/2021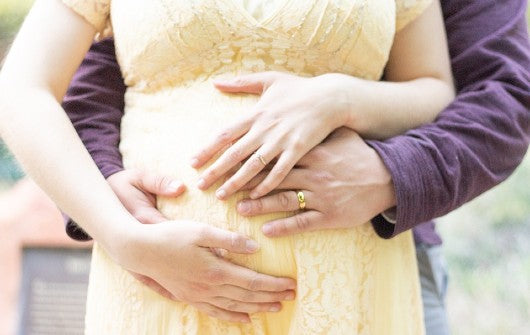 Push presents have become a popular way for fathers to show mothers their respect and gratitude for carrying their child and enduring the pain that comes with childbirth. While the new baby is the greatest gift of all, a push present is a thoughtful way to honor the occasion. It's also a great way to show appreciation for that special loved one who endured the hardships of pregnancy, labor, morning sickness and body changes over the past nine long months.

Whether it's a bracelet, earrings, necklace or ring, a gift for a new mom often become meaningful keepsakes and beautiful reminders of the special love that brought a baby into the world. If you're searching for the perfect push present, there's a broad range of jewelry options for every budget and style. In this article, we're sharing some inspired push present ideas.
Diamond Tennis Bracelet
Classic, stylish and oh so elegant, the diamond tennis bracelet is a wardrobe staple. One of the most beautiful and iconic jewelry pieces, this dazzling accessory adds shimmer and glamour to virtually any ensemble. Stunning yet simple to wear, this timeless classic is both eye-catching in casual environments and formal settings.

A celebrated fashion piece, the diamond tennis bracelet has the distinctive ability to flawlessly mix classy subtleness with a bit of brilliance and flickering flash. A must-have fine jewelry piece for any woman's collection, diamond tennis bracelets make great push presents because they go with literally any outfit.

While classic tennis bracelets include fiery round-cut diamonds throughout, there are also compelling variations that include alternative diamond shapes, colored gemstones and beautifully decorated clasps.
Diamond Stud Earrings
If you're searching for a meaningful push gift, diamond stud earrings are a smart way to hit the mark. Dazzling or discreet, it's easy to find a pair to complement her style. Smaller 1/2 carat earrings work fine for everyday wear. Larger 1-carat earrings are beautiful accessories for most occasions, and 2-carat options make stunning statement pieces for formal affairs.
Diamond studs go with just about everything, especially when paired with a beautiful complementary precious metal. Whatever her preference, John Atencio has a pair of diamond earrings to flatter her skin type. Traditional diamond studs glitter with scintillating fire in classic yellow and romantic rose gold. For something a bit brighter and more feminine, choose a dazzling but delicate cluster setting in pretty pale white gold.
Diamond Necklaces
Help her make a stunning statement with a shimmering diamond pendant necklace that accentuates her neckline. From shimmering solitaires to elaborate pendants, we've assembled an alluring collection of artful designs in a variety of lustrous precious metals.

With its cool sophistication and fashion-forward feel, white gold is a pretty pale metal with a bold impact. When paired with John Atencio's glittering, premium quality diamonds, it's next-level beauty. Sleek and stylish, this beautiful gold alloy mimics the lustrous look of platinum at a lower price. Not to be outdone, iconic, timeless yellow gold diamond necklaces and pendants are a decidedly elegant option. Discover delicate, simple designs or statement-making pieces that will have her smiling ear to ear.
Designer Rings
If you really want to make her eyes light up, consider a designer ring. John Atencio brings a unique, one-of-a-kind perspective to his women's ring designs, incorporating dramatic shapes, distinctive curves and pristine finishes.
Designer rings provide an incredibly diverse array of options that let you easily pinpoint a piece that will harmoniously complement her jewelry collection and reflect her unique style. Consider a stylish, sea blue sapphire ring if it's a boy or a breathtaking ruby ring if it's a girl.

Whatever her tastes or style, a diamond or gemstone ring is sure to hit the mark and make her feel appreciated and adored. Explore John's exclusive selection of bold statement rings, diamond bands, sleek everyday styles, and stackable rings for women.
Sharing in important moments and once-in-a-lifetime celebrations is an integral part of being an expert jewelry designer. Born out of John's strong desire to creatively mark and elevate special occasions, his jewelry pieces are the perfect way to pay tribute to your celebration of love and family.

With John by your side, there's no reason to ever feel anxious about finding a meaningful push present for the woman in your life. Visit any John Atencio location, and our knowledgeable jewelry experts can help you find a stunning gift that will truly blow her away. Whether you want an inspired stand-alone piece or lovely companion jewelry to complement her existing collection, we can guide you to a dazzling push gift that will show her just how much you care.