Marry Me! Why You Should Propose During the Pandemic
engagement rings, proposal
10/19/2020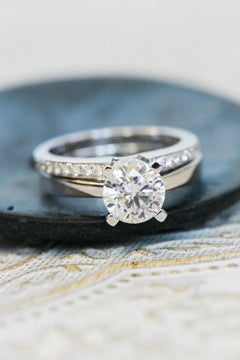 Are you thinking about asking your love to marry you during the pandemic? It's no surprise. Together, you two have successfully navigated the stormy seas of an era that will go down in history for its hardships, and you'll always hold this extraordinarily memorable time between you. Your love is remarkable, because while the pandemic has swirled around you, it hasn't come between you. So make the pledge to propose, then commemorate the most important question you will ever ask with the most important ring you will ever buy. Consider an engagement ring hand-designed by world-renowned jeweler John Atencio. 
A master designer of uniquely beautiful statement jewelry, John Atencio's designs radiate esteem for the art he fashions from the heart. A longtime veteran of enduring artistry in jewelry design, his story was one borne of love 48 years earlier as he scoured the stores seeking a special ring to present to his girlfriend. Finding nothing that met his standards, he ultimately chose to sketch it and craft it himself. The rest is a rich history that still proudly marches forth, pushing the boundaries of classically modern jewelry creation and delighting those who appreciate the finest in artistically striking statement pieces. 
It Starts with the Stone
An engagement setting from John Atencio is expertly crafted with 18k gold and is custom fit to support the exact diamond or gemstone you select. Whether you choose a traditional diamond, a fancy colored diamond or other quality gemstone, a John Atencio engagement ring is a mesmerizing forever piece that is crafted especially for the one you love. Search our responsibly-mined-diamond database at JohnAtencio.com for the natural and lab-grown diamonds that will crown her masterpiece. Consider carat, color, clarity and cut. Now choose the setting that will make her heart sing—will it be a modern, classic, pavé or solitaire style? Your satisfaction with every aspect of the John Atencio ring-buying experience is the highest priority, regardless of price.
Luminaire®—The Affordable, High Quality Engagement Ring
When you're wrapped around her finger, she deserves the best engagement ring that money can buy. Feeling that a modestly priced ring of quality can reflect the strongest sentiment, John Atencio presents the light-filled, 18k gold Luminaire® Collection. Each of these impressively unique ring designs is created with recycled gold and honored with a conflict-free, fine diamond that you can feel good about. Capped at $3295 and cut for optimum brilliance, your lady love is sure to treasure these ring designs that run the gamut of classically ornate to simply modern.
Adore her Always with an Elite® Ring
Gift your soon-to-be-betrothed with the ultimate piece that says, "You'll always be mine." Inspired by history's powerful and influential females, the Elite® Collection by John Atencio houses the rings that speak the boldest truths in the name of love. Crafted in 18k gold in twelve breathtaking styles that all demand attention, this collection of rings showcases larger fancy-cut gems of two carats or more. When you're ready to make the loftiest of commitments, nothing says "You are the one for me" more than a ring from this stunning collection. 
Ready to Propose Now?
Can't wait to special order the ring of her dreams because the right time is right now? John Atencio presents expertly crafted Proposal Ready engagement rings that fit the bill with the brilliant intensity that your unique union requires. Every ring is crafted to perfection in 18k white gold, graced with glowing channel-set diamonds and crowned with a hand-selected diamond centerpiece that will remind her of why you'll always be her choice. Ready when you are, these rings of love are destined to dazzle her senses and make her proud to be your wife.
You may be limited by the masks and mandates inherent in this pandemic, but you still enjoy the freedom to act when destinies are discussed. Curious? There's no time like the present, so make a virtual or in-person appointment with a Bridal Concierge or browse the inventory of wedding jewelry at JohnAtencio.com to discover the ring that belongs on her finger.
Because love should wait for nothing.