Top 10 Reasons to Buy A White Gold Engagement Ring
engagement rings, white gold
10/17/2020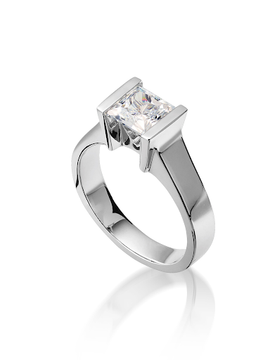 For decades, yellow gold was the standard choice for engagement rings because of its inherent value and enduring beauty. In recent years, however, white gold has overtaken it in popularity. Stylish and modern, white gold provides a gorgeous color, which complements fair and rosy skin tones. It also offers other big benefits that make it appealing to modern brides. 
What Is White Gold?
Some of the most breathtaking diamond engagement rings are set in white gold. But what exactly is this precious metal?
When most people think about gold, they instantly imagine a yellow-colored metal. While many people call this gold, industry experts call this 'yellow gold.' This is because gold jewelry is available in a diversity of colors, including white, gray, rose gold and even red gold. Therefore, the word 'gold' doesn't really refer to a color of jewelry, but to the type of metal. 
The gold color you choose can depend on your diamond choice and your bride's personal taste. For modern engagement rings, white gold is a tremendously popular choice for a variety of reasons, including: 
It's a beautiful precious metal. 
White gold provides a lovely, timeless look for any style setting. The metal's cool, clean luster amplifies the look of the diamond, while providing a neutral color that matches everything.
It's less expensive than platinum. 
Many people prefer white gold over precious platinum due to cost. Platinum is much purer, denser and heavier compared to a gold alloy mixture. It's also about 30% rarer. Although a plain, white gold wedding band will be less expensive than the same band in platinum, it is still a great purchase because it is a classic and beautiful precious metal.
You can choose from a wider selection of rings. 
Since white gold is one of the most popular metal choices for engagement rings, you can often find a wider selection of styles, making it easier to settle on a ring that suits your partner's unique taste.
It's easier to customize. 
Because white gold is more malleable compared to platinum, it's much easier to craft into intricate, fine designs. 
It's an ideal blend of styles. 
Less expensive than platinum but about the same color, white gold is perfect for people who desire the clean look of platinum rings and the tradition and heritage associated with gold.
It's stronger than yellow gold. 
White gold is more durable than yellow gold due to the harder alloyed metals. 
It stands the test of time. 
White gold won't ever rust, tarnish or corrode. Because it is alloyed with a mix of stronger metals, white gold has better durability than yellow gold. It does need to be dipped every few years to retain its rhodium coating, which provides its luster and color. That said, this is typically a simple, inexpensive service.
It offers a clean, white sheen. 
In addition to the precious metals used to create the alloy, white gold is plated with a layer of rhodium to give it a bright, beautiful silver-white color. This allows it to fit with almost any style and helps eliminate color contrasts with colorless, white diamonds.
It's easier to work on.
Since platinum has a higher melting point than white gold, it is harder to manipulate. If you ever need to have a platinum claw retipped or require any work near the diamond, the stones will often need to be removed first. This isn't usually necessary with white gold rings, meaning you will not have to pay extra costs for any potential repair work in the future.
It creates a more seamless design. 
If you set a white diamond in a colored gold setting, the prongs can sometimes become more prominent due to the color contrast. Color contrasts are generally not an issue with white gold as long as the diamond doesn't have a yellow tint.
Is White Gold Right for Your Bride?
While white gold can be a stunning option for your engagement ring, there are a few considerations to make. The clean color of white gold looks particularly striking alongside colorless, white diamonds, making it a very fine choice for diamond engagement rings. However, white gold can emphasize the yellow tint of a diamond with a low color grade. 
When choosing the right metal for your engagement ring, it's important to get help from an expert to help you understand the color relationship between diamond and gold. The yellow undertones found in certain diamonds must be carefully matched and balanced out in the prong design and metal color of the ring. If they aren't, there will be conspicuous contrasts, and no bride wants that. 
At John Atencio, our Diamond Experts can show you how to pick a diamond she will love and match it with a ring that will accentuate its brilliance and sparkle. Make an appointment at one of our locations, where our attentive, thoughtful team will provide a personalized approach to help you find the exact right diamond engagement ring for your special someone.