So Hot! Why Pear Shaped Engagement Rings are Trending
engagement rings, pear shaped diamonds, pear shaped jewelry
4/22/2021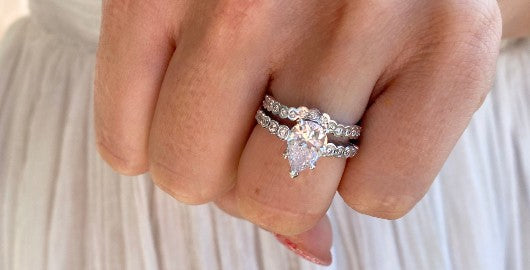 Have you been thinking about presenting your love with a pear-cut engagement ring? Proudly worn on the fingers of celebrities and strong women alike, pear shaped engagement rings continue their steady upward trend as the cut of choice for the traditional, yet modern-minded individual. This unique center stone combines the timeless elegance of a brilliant round and the modern apex of a marquise to create a beautifully feminine look that flatters any finger.

Fashioned with 58 facets just like the fiery brilliant round cut, a pear shaped solitaire engagement ring owns an unmatched sparkle and unique teardrop shape that will always catch the eyes of others. Moreover, the point of this stone cut can be worn facing you or facing away, providing versatility other shapes simply cannot provide. Placing the love you share on the pedestal it deserves is easy with authentic John Atencio wedding jewelry. The time to celebrate your union is now, during the John Atencio Engagement Event going on from April 1 - 30.
Get your FREE Proposal Gift at the John Atencio Engagement Event
When you're seeking to seal the deal with the love of your life, make the moment one to remember by taking advantage of the John Atencio Engagement Event. As always, a knowledgeable bridal concierge at every John Atencio boutique stands ready to personally assist you in selecting or customizing an engagement ring that will take her breath away, including the hottest trends in pear shaped stones. And when you purchase her engagement ring during the month of April, the event experience includes a special proposal gift to make the moment even sweeter. Complete with a lifetime warranty and immediate real-time or interest-free financing for a year for qualified applicants, this special event promises to be one you won't want to miss. Make an appointment with a bridal concierge today and get ready to make it official with a genuine John Atencio engagement ring.
A John Atencio is Worn for Life and Love
Known across the globe for his creations of bold and beautiful statement jewelry, John Atencio is a respected veteran of the industry who holds over 48 years of treasured experience. Inspired by the love that brings two people together, this talented designer hand-sketches every piece from the heart, allowing only master artisans to meticulously handcraft this exquisite jewelry. Designed to be an heirloom, her engagement ring will be crafted with a higher amount of metal to give her finger that reassuring feel she'll love.

John Atencio designs jewelry you can feel great about wearing in every way. He supports the well-being of all the world's citizens and resources, insisting that his creations are handcrafted using only recycled gold and gemstones that are responsibly mined. Discover more about the man behind the meaningful jewelry your love will wear for the rest of her days.
The Satin Pear Engagement Ring by John Atencio
John Atencio is proud to offer the gorgeous Satin Pear Engagement Ring, as well as several other exquisite settings that can be paired with a pear shaped stone. Handcrafted in 18k gold, white gold , rose gold or platinum, this beautiful pear shaped diamond engagement ring with pave diamonds in the setting can be made for any size stone, and has a sparkling halo of diamonds surrounding it.
Customize a Pear Cut Engagement Ring
Customizing an engagement ring she'll adore is effortless at John Atencio. There are many ways to customize an engagement ring, but a bridal concierge will make it a breeze to do, whether you visit a boutique personally or online at JohnAtencio.com. Simply choose from an extensive selection of ring settings cast in your choice of metals, then browse the natural and lab diamond search features where you can choose from thousands of different diamonds, fancy colored gemstones and particular shapes, including the pear cut. Then, chat online or reach out to a John Atencio concierge. Each ring setting is customized according to the size of the center stone and handcrafted at the highest standards, so you can be certain that you're presenting her with the best when you ask for her hand. Finish her ring with an inscription she'll always cherish, and you have the perfect engagement ring for her. It's that easy.

Elegant pear shaped engagement rings are hot right now, and John Atencio will customize one that's just right for the one you love. During the month of April, check out the Engagement Event at JohnAtencio.com to browse the exquisite selection of pear cut engagement ring settings, natural and lab diamonds, and colored gemstones. Contact a bridal concierge for assistance with building the right ring for your love and get a special proposal gift when you buy her forever ring during the event. The possibilities are as endless as your love.