Summer Bracelets from John Atencio
bracelets, summer
6/3/2022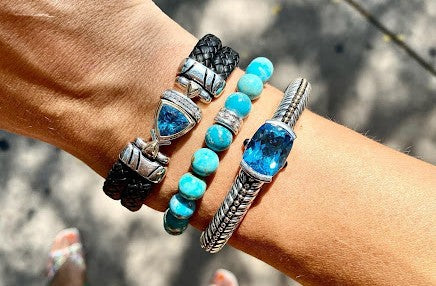 Have you been browsing for summer bracelets to accent your outfits this season? It's easy to select a beautiful bracelet when you go with a John Atencio because the quality is exceptional, and the selection is amazing. From gemstone beads and sterling silver cuffs to leather wraps and exotic cabochons with sparkling diamonds, you're certain to find the jewelry that makes you look and feel fantastic under the summer sun! Read our top picks for summer bracelets, then browse to choose your own and wear summer on your wrist. Become a believer with a genuine John Atencio.
The Solar Beaded Bracelet
There's just something about the perfect summer bracelet dangling from your wrist on a warm, sunny day. The perfect bracelet exists, and John Atencio designed it in a variety of beautiful colors that will complement your every outfit. From the Solar Collection that symbolizes our need to balance family, relationships and communication, the Solar Beaded Bracelet is handcrafted with sterling silver, 14-karat yellow gold and Amazonite beads. Also offered in Pink Jade, Orange Chalcedony, Lapis, Crystal, Apatite, Kunzite, Pink Opal, Amethyst and Onyx, all of these earthly shades will fill you with summer joy. Wear it solo or stack these vibrant bracelets for a trendy look. Either way, you're in style with this piece.
The Entwine Gemstone Cuff Bracelet
Enjoy the bold and distinctive beauty of a summer bracelet that reflects the purest blue summer pool. Crafted with care by master craftsman, this stunning hinged-cuff bracelet belongs to the Entwine Collection, which features mixed metals and soft contouring that accentuate the bezel-set gemstone. The Entwine Gemstone Cuff Bracelet by John Atencio is handcrafted with sterling silver, 14-karat yellow gold and a dazzling, cushion-cut Blue Topaz. Also offered in a Light Green Prasiolite that embodies the growing flora of the season, this piece will command the attention of all who encounter it.
The Solar Leather Braided Bracelet
Summertime is always fun, and a happy summer bracelet will make it even brighter. A fan favorite, this beautifully hued leather bracelet will jazz up any casual outfit and bring in the compliments. The Solar Leather Braided Bracelet is handcrafted with the care you expect from John Atencio, and made with sterling silver, 14-karat yellow gold and pink braided leather. Part of the Solar Collection that represents the necessary balances in life, this bracelet is also offered in teal, black, burgundy, navy, green and apricot. Whether you wear a single color or stack them like a rainbow, this bracelet will be a charming addition to your wardrobe.
The Chorus Lemon Quartz Cuff Bracelet with Blue Topaz
Embrace the season by wearing the sun and the sky on your wrist. Belonging to the Chorus Collection that encompasses the perfect melody of color and shape to celebrate its distinctively faceted cushion gemstones, this hinged cuff summer bracelet is nothing short of remarkable. The Chorus Lemon Quartz Cuff Bracelet with Blue Topaz is handcrafted with sterling silver, 14-karat yellow gold, two cushion-cut Blue Topaz gemstones and a concave cushion-cut Lemon Quartz. Simply sunny and bright, this unforgettable piece will turn every head in the room.
The Bermuda Small Gemstone Bracelet with Pave Diamonds
Summer is the time to relax and feel the breeze floating off the cool water. Serene and peaceful like the blue-green waters that inspired John to design the Bermuda Collection to which it belongs, this summer bracelet is a stunning reminder of relaxation. The Bermuda Small Gemstone Bracelet with Pave Diamonds is handcrafted with precision by John Atencio's master artisans, with 14-karat yellow and white gold, shimmering pave diamonds and Matrix Turquoise Cabachons. Wearing this exotic jewelry around your wrist is the next best thing to being in the tropics, and when paired with the matching ring, necklace and earrings from the collection, it's like you're already there.
John Atencio Designs the Summer Bracelets You Love
Holding a fan base across the globe, artist and master designer John Atencio has over 46 years of experience in designing bold and distinctive jewelry. John blends his unique life experiences into the aesthetic of his creations, taking the time to thoughtfully pencil-sketch every piece by hand for an exquisite end result. Selecting only master artisans to handcraft his designs using recycled gold and responsibly sourced gemstones, this socially responsible jeweler honors a commitment to quality that is unsurpassed in the industry. Read more about the interesting artist who loves to design the jewelry that makes you feel so good when you wear it.

Summer is a time for sun, celebrations and looking your best. John Atencio makes it easy to look sensational with his full selection of summer bracelets that will draw every eye around. Browse and select now at JohnAtencio.com or walk in to one of our boutique stores for a personal experience with our jewelry. Whether online or in person, a knowledgeable concierge will gladly assist you with any questions you may have. Wear summer around your wrist with a genuine John Atencio.