Mens Bracelets - The Hottest Trends
bracelets, jewelry trends, mens bracelets
6/6/2022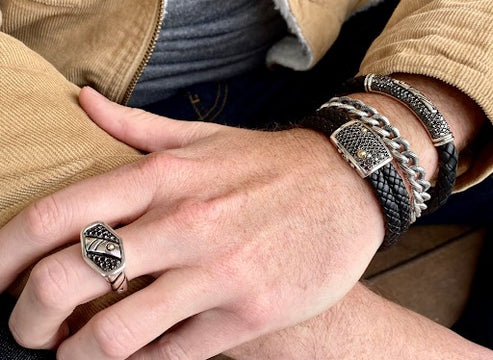 The right bracelet can add an edge to your sharpest look. But what kinds of bracelets are trending right now? Here's some insight to help you target the best men's bracelets of 2022.
A New World of Options
When it comes to men's jewelry, bracelets are an easy way to elevate your everyday look, especially if you're searching for a place to start. Men's bracelets can be stylish yet simple, and fashionably flashy without being too loud. Most men have no trouble incorporating them into their everyday attire. They also look great next to a handsome timepiece.

Unfortunately, the world of modern jewelry can be intimidating for even the most fashionable guys. Historically, men's jewelry has skewed harsh and chunky, which has made it difficult to integrate many pieces into everyday looks.

Fortunately, in 2022, men's bracelet options have become sleeker and more numerous. Still, for far too many, jewelry is an unexplored frontier in men's fashion. A lot of modern guys aren't able to casually throw on pieces with the same level of confidence they have when they toss on a snapback or their favorite pair of sunglasses.

To help you get started, we've assembled some of the most popular bracelets from John Atencio's line of stylish men's jewelry. Whether it's a refined leather bracelet or minimalist cuff, you're sure to see something that fits your one-of-a-kind style.
Men's Apollo Black Leather Bracelet
Looking for an easy piece to wear every day? The Apollo Men's Black Leather Bracelet will look as handsome on its own as it will alongside your watch, cuffs and more. The sleek, black stitched leather offers endless versatility, while the striking sterling silver adds luster to your look.
Matrix Cuff Bracelet
Another sleek, simplistic design, John's Matrix Cuff Bracelet adds a formidable flair that elevates your presence without being too overbearing. The highly textured, sterling silver design artfully balances stylish masculinity with a minimalist feel that attracts attention for all the right reasons.
Matrix Beaded Bracelet
Add some strategic color to your look with the stylish beaded bracelet from John's Matrix Collection. Complementing a lustrous sterling silver clasp with signature gold accents, this handsome piece encircles the wrist with eye-catching beads of blue lapis, smoky quartz, green jade and black or striped agate.
Matrix Black Diamond Leather Bracelet
Inspired by the trials and triumphs that come with our relationships, John's Matrix collection blends bold, oxidized patterns with iconic lines, triangles and circles to create uniquely personal statement pieces. Among the most popular pieces in the collection, the Matrix Black Diamond Leather Bracelet includes a braided black leather cuff, lustrous sterling silver with 14K gold accents, and scintillating black pave diamond accents.
Choosing a Bracelet
The role of a man's bracelet isn't much different from that of any other jewelry piece, like a ring or necklace. It's designed to be a noticeable accent — not the overbearing centerpiece of your outfit. Still, it should definitely be a distinct part of your look.
What type of bracelet you choose depends on the attire you like to wear. If you prefer casual ensembles, you'll probably prefer leather and bead bracelets. If your wardrobe tends more toward a suit and tie, something upscale and metallic is a natural fit.
Explore the Entire Matrix & Apollo Collections
When it comes to men's jewelry, trends come and go. With a nod to the past and an eye toward the future, however, John Atencio is able to craft timeless pieces that never go out of style.

Inspired by the stirring duality of perseverance and fortitude, John Atencio uses a mix of compelling textures and artful design elements in sterling silver and 14 karat gold to craft Apollo — an inherently bold and distinctive sterling silver collection.

Uniquely John Atencio in every aspect, Matrix also makes it a trendy yet timeless statement. As with any John Atencio design, every piece in each collection is hand-sketched by John and impeccably crafted using eco-friendly, responsibly sourced black diamonds and the absolute finest materials available.

Explore both collections and discover an impressive piece that speaks to your personality. Whatever your look, John has men's jewelry to elevate your presence and sharpen your style.

Searching for a distinctive men's bracelet or everyday jewelry piece? Shop online or visit one of our convenient locations, where our attentive experts can help you find a uniquely compelling ring, necklace, bracelet or timepiece that perfectly matches your indomitable style.