The Architecture of John Atencio
jewelry design, john atencio
2/24/2021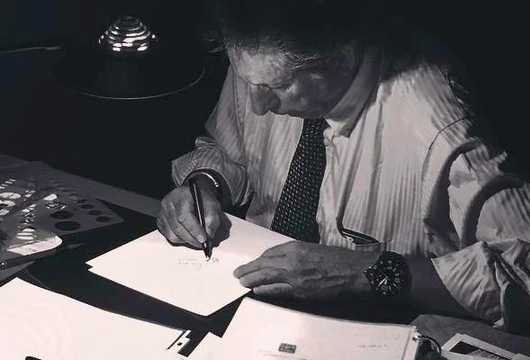 With distinct architectural lines, John Atencio's jewelry reflects the artistry of a master craftsman. Forged with impeccable attention to detail, every piece is designed and crafted by hand from the finest materials, creating wearable art that commands attention.
An Artistic Journey
John Atencio has spent four decades designing creative, compelling jewelry that evokes glamour, sophistication and style. Informed by the past and inspired by the future, he continues to refine his craft, committing inspiration to paper in freehand before bringing any distinctive piece to life for a diverse customer base that spans the globe.

As he continues his artistic journey, John curates new exciting designs while also producing classic, popular jewelry pieces of exceptional quality. From rings to pendants to bracelets, every design is thoughtfully sketched and crafted in pursuit of progress, lasting beauty and social responsibility.

Whether taking his inspiration from the iconic Art Deco period in his creation of the Deco collection or the sleek geometry of a beautiful, square-windowed stucco home in his Ventana rings; John knows that the architecture of each piece provides unique opportunities to make a stunning statement from every perspective.

For a master craftsman like John, inspiration abounds, whether it comes from the wondrous architectural achievements of the past or the intimate aspects of personal experience. Take for instance the Paloma with its softly dimensional architecture inspired by John's paternal grandmother, a woman of enduring faith, who steadfastly envisioned a world as one.
Creative minds stretch their love of geometry and architecture, developing unique jewelry pieces inspired by their interests. Like other skilled designers, architects, artists and expressionists, John infuses his creations with his experience of the world. Whatever the influence behind each individual artistic vision, every new design builds on the exceptional craftsmanship and organic architecture that is iconic John Atencio.
Collaboration Sparks Inspiration
What was once a modest jewelry endeavor has evolved into an international, globally renowned fashion brand. Generations of men and women treasure John Atencio's jewelry. Whether it means falling in love with one of John's uniquely mesmerizing creations or crafting a piece together, you can be part of the story in so many different ways.
John is renowned for fashioning exceptional jewelry pieces that reflect the artistry of a master craftsman. He also takes things further with custom creations that provide a personalized expression of your unique style or enduring commitment and love.
At John Atencio, we have 48 years of experience in jewelry design. This expertise extends to working alongside customers to design wearable art that meets John's strict standards for quality, durability and unmistakable beauty. Through each step of the design process, we work collaboratively with so many of our customers to refine every custom piece until it is perfect.
Whether you want a ring with a nontraditional setting, a fancy-shaped stone, or a contemporary creation that blends more than one style, John Atencio can craft a distinctively beautiful custom jewelry piece that's as unique as you.
Bold lines. Fluid form. Balanced dimensions. At John Atencio, we craft unique statement pieces and wearable art, made by hand from start to finish, using the finest materials — all with impeccable attention to detail. Whether it's one of John's distinctive designs or a custom ring created with you in mind, every piece embraces the organic design and flawless craftsmanship that is signature John Atencio artistry.
Listen to our podcast episode on the legend of John Atencio