Why We're Obsessed with Royal Engagement Rings
Engagement & Weddings, Jewelry Design & Trends
4/6/2020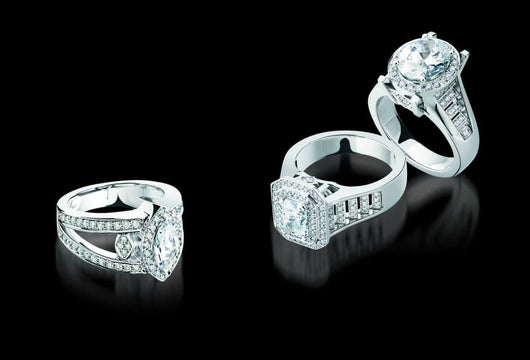 There's always been magic in fairytales. As little girls, we dream of marrying a prince, moving into a castle, and becoming the queen of our universe. As we grow up, we still can marvel at the beauty, glitz, and glam of this dream – of a royal lifestyle. We see this magic happening in today's world and know that it is not only in our imagination or a fairytale.
While the royal jewels have been a part of engagements and romance since the beginning of the Middle Ages, England's Princess Diana changed the way we look at royal families and the crown jewels forever. Let's take a peek at why we love and obsess over royal engagement rings and how you can bring a little bit of royalty into your jewelry collection.
Why Do We Love Royal Engagement Rings So Much?
Royal engagement rings are lavish, glamorous, and inherited jewels that have been passed down family lines for centuries. But let's not forget the science behind why we obsess over royal engagement rings thanks to research conducted by NYU Langone Health clinical psychologist Tara Emrani, Ph. D.
"According to many evolutionary biologists and anthropologists, we humans are social animals. We like to be socially interactive. We kind of like to grow as a group, and we survive better in the context of a group than by ourselves. And it is our nature to identify individuals in the group that are one-of-a-kind for skills and uniqueness that precedes our own," Emrani explains.
We want to see Princes William and Harry do well because we can relate to them on some level, so when commoners Kate Middleton and Meghan Markle became engaged to William and Harry, we swooned – especially over their engagement rings. We hope someday, too, our knight in shining armor will get down on bended knee and propose with a beautiful ring. This is the ultimate fairytale ending for many childhood fantasies.
When it comes to the royals, particularly the British royal family, they've become relevant to the "common man" because they showcase what they do as a family to the world. They give to charities that tug our heartstrings. Modern royals are more visible, more a part of our everyday existence.
Emrani postulated: "We as humans like to look at things that might be better than us. It stimulates something in our brains that says, 'how can I be that?' They have the same tools as us, but how are they so distinguished compared to us?"
When Princess Diana married Prince Charles, the world stopped to watch the shy, demure Diana walk down the aisle on TVs across the globe. When her son, Prince William, proposed to Kate Middleton, he used one of Diana's most famous rings – a 12-carat oval sapphire ring surrounded by brilliant diamonds – to ask for her hand. Prince William gave Kate this particular ring, not because of how gorgeous it was but because it was Diana's favorite. This meant that a part of Diana would walk down the aisle with Kate on their wedding day.
Imagine giving the love of your life a similar magical fairytale when asking for her hand. Want to treat her like the queen she is? Help her to discover her inner nobility. Browse the John Atencio Elite collection and find the perfect royal engagement ring to make her feel like royalty – just like William and Harry did.