A Partnership With John Atencio
John Atencio is all about brilliance, artistry, finely curated designs, and an established and recognizable designer brand and aesthetic.
Established in 1976 in Fort Collins Colorado, John's signature style is one of clean lines, beauty, function, and comfort. A lifetime of experiences informs each of his designs. And each piece is a direct reflection of his experience as an artist, jeweler, and designer. Explore Behind the Jewelry
John continues to offer an extensive selection of Silver, Gold, Bridal, Men's, and One-of-a kind designs in a broad range of price points and styles. With 46 years of experience, six retail stores in Colorado, and an Ecommerce business, John Atencio is in a unique position to support and partner with retail customers to build strong and profitable relationships:
John has a well-established, unique, and contemporary style that is recognized and associated only with John Atencio. He is committed to his creativity, introducing new collections several times each year.
With six retail stores and an ecommerce platform, John Atencio has the data, knowledge, and know-how to help retailers grow their business. Best-selling collections are factored into silver and gold tiers.
John Atencio has extensive inventory to supply retailers quickly and reduce turnaround time for re-orders.
John works with you to set the center stone in engagement ring styles per the diamond and ring specifications you provide.
A complete range of marketing assets and tools are available to support our retail partners Artwork and assets include in store, social, digital, outdoor, and traditional media. Each can be readily customized.
In-store merchandising support include branded displays, a 5% co-op program for advertising and personalized brochure mailings.
John Atencio creates 3-4 brochures each year that can branded, customized, and mailed on your behalf by our mailing partners.
We are happy to work with you on trunk show opportunities.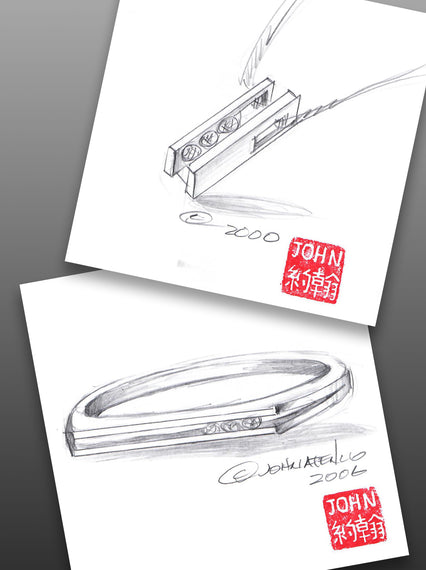 With impeccable attention to detail, each piece is hand-sketched from his home base in Colorado and expertly crafted using the finest materials available, including recycled gold and responsibly sourced gemstones.