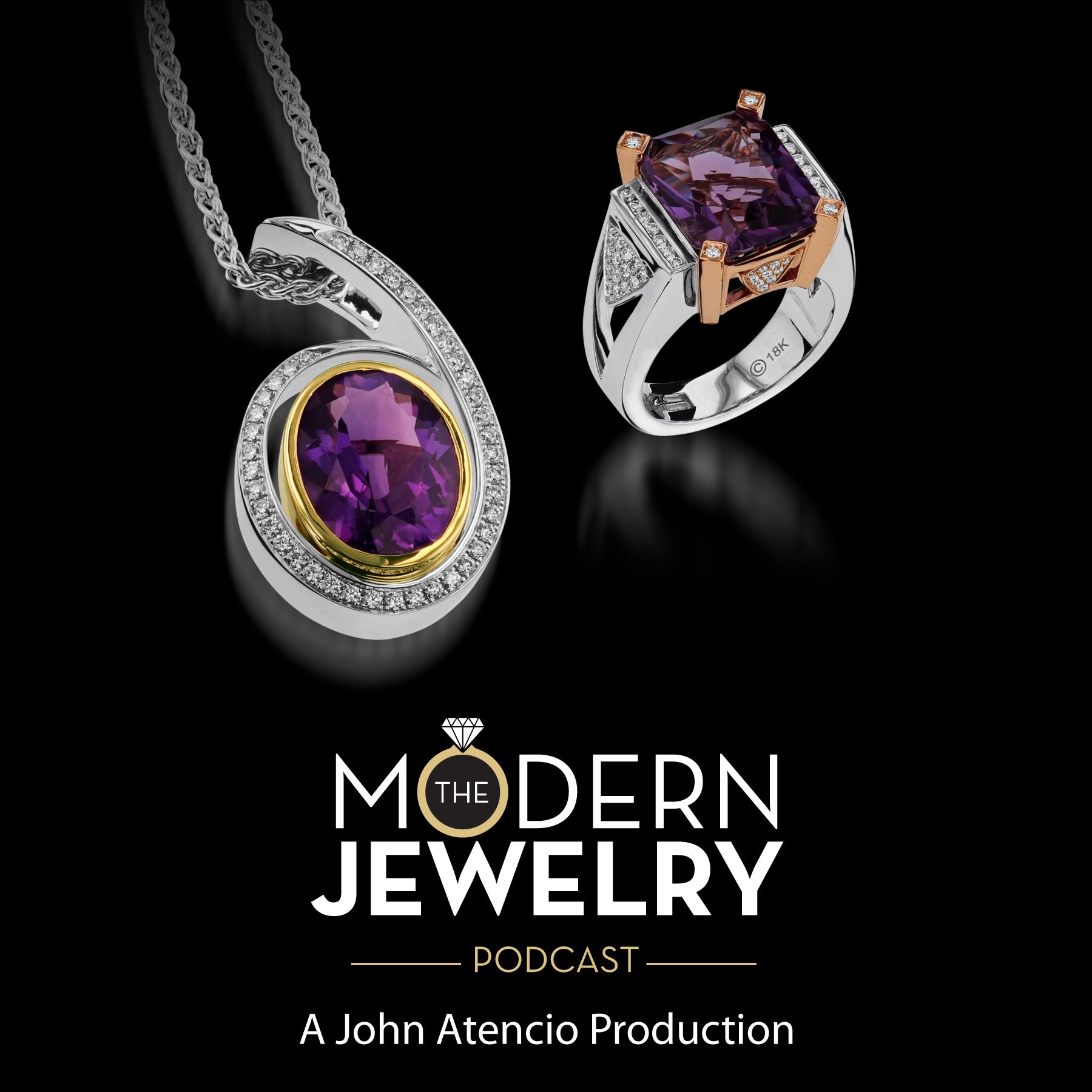 Podcast Episode 5: How to Style Jewelry
8/25/2022
In this episode, we speak to Hailee Lucchesi, a jewelry connoisseur and haute couture stylist based in Denver Colorado. Hailee brings a unique perspective to styling jewelry and provides practical tips on how to create your look and make a personal statement everyday through jewelry. Whether it is costume jewelry or high jewelry, Hailee's expertise and advice is a must for your podcast listening.
---
Listen to the Episode Now
---
---
Show Transcript
Troy Olson: Welcome to the Modern Jewelry Podcast. A special guest today is, Hailee Lu Casey. Hailee, welcome.

Hailee Lucchesi: Hi! Thanks for having me.

Troy Olson: Yeah, it's good to have you here. So, to get started, can you tell me a little about your background and how you got into fashion?

Hailee Lucchesi: Sure. So, I got pretty lucky early on in my career. I landed a job at, Vogue In New York and I was lucky enough to work under the brilliant, Tawny Goodman, Greece Coddington and Philippa Fleebilfinow. It really gave me an intense and truly invaluable crash course in the publishing world. I originally, when applying for the job, wanted to be in fashion department and I ended up getting put in the accessories department which ended up being a total blessing in disguise, because I really got a hands on experience with pulling and organizing the fashion closet, creating relationships with the luxury brands that we were pulling from and truly styling editorial campaigns from the ground up. It was a total dream job and probably one of the highlights of my career. I love New York, it's one of my favorite cities in the world, but living in New York wasn't for me. So, i'm originally from Palm Springs so, I thought, okay i'll go to the west coast and i'll continue pursuing my career there. I first landed with a really cool in house PR firm called Mark Showroom. It's now called, Lit, and and we did in house fashion PR for 3.1 Phillip Lim and some other brands. It was really instrumental for me working there, because my mentor, and the owner to Tran, was my boss and the owner so, it really gave me a crash course in entrepreneurship. I really got to learn directly from him, which was just an education that I never thought I would near dream and also came into play later on in my career. But, it was an incredible job, but while I was there, one of the stylists that pulls from Phillip Lim, for his clients, was leaving to move back to London and so, an assistant position for a celebrity stylist, Petra, became available and I jumped at it. It kind of took me back to my roots and it's really what I was passionate about and so,I landed a job with stylist, Petra and we had really cool clients like, Claire Danes, Emma Stone, Donna Sarah Paulson. Not only did I get to style these really iconic women in the film industry, but I also got to pull from luxury brands, I got to work on custom couture projects for award season, like the Oscars and the Academy Awards and it really gave me an opportunity to continue my path of wardrobe styling in a different medium, I hadn't done before. So, I was there for a couple of years, much like New York, LA wasn't for me. Between the traffic and not having seasons, LA was hard for me. So, I ended up moving back to Colorado where my family lives and since then i've been working in wardrobe styling in different mediums like editorial, campaigns, E commerce jewelry and red carpet events.

Troy Olson: Well that's a great background. Do you do you have any highlights of people that you worked with or events that you did that were really, just kind of highlights, for your career?

Hailee Lucchesi: Sure. One for me was Mila Kunis who was one of our clients and she was the face of Dior for the time period that I was there and that was pretty incredible, because we got to work, really, really closely with the Dior team dressing her for award season and press tours. That was pretty iconic and there was also a dress that Emma Stone wore deep to the Oscars and it was custom long bond and they had a giant red bow and it was pretty iconic, because people compared it to a really iconic dress that Nicole Kidman wore a couple years ago. Being there for the fittings and dressing her day of and seeing how the world reacted to this gown, that we had been prepping for four months, was really, really special. And just in general, you know, spending all this time getting these gowns ready and prepping them and, you know, getting them ready the day of and then running home to my house to watch the Oscars and see them on TV, it was always really surreal and I was really, really grateful for my time with, Petra.

Troy Olson: Great. That's really neat. So, jumping into today, we're talking about styling jewelry. You know, some people would say that fashion is completely subjective, it's a matter of opinion. But do you believe there are principles and guidelines, or another way that I could maybe ask that, would be, you know, what guides your design and style?

Hailee Lucchesi: I mean, I think that's why I love my job so much is because, that's the power of fashion. To me, there really are no rules. You get to create your own rules. And, if anything, I think that fashion encourages you to break societal norms and think outside the box and create, you know, a style that's authentically yours and it can change from day to day. So, for me, there are no rules. I think you get to make up your own rules and you know certain pieces and styles can, you know, help showcase your mood or I also think clothes, you know, a sense of armor and they give you confidence throughout your day. You know, our moods change so, I think that's what's wonderful, is you get to decide how you want to showcase your mood to the world and each day can be different. So, I like to think that there's no rules.

Troy Olson: Awesome. So, talking about jewelry, what are some of the biggest mistakes that people make when when pairing or styling their jewelry?

Hailee Lucchesi: I think, kind of going back to we just talked about about rules, I think that sometimes the biggest mistake that people make is they follow the rules. So, you know, only keeping certain metals together or not mixing, you know, some of your vintage or antique pieces, with some of your modern pieces. I think that jewelry and styling should be fun and creative, I think you should mix and match, I think you should pair different prints and different metals together. Just me on a personal level, sometimes I really love a clean monochromatic look . Other days I really like to mix prints with, you know, really costume jewelry and then I kind of mix it with my more classic pieces. So, I think that people play it too safe, I think that you should mix and match, I think that you should experiment. But yeah, I think one of the biggest mistakes people make too, is not thinking that they can mix their old and their new. I have some pieces that have been handed down to me and I wouldn't mix them with my more modern pieces and I think if you have something that you know you're not wearing anymore, because it looks to vintage, people like, John Intencio, can create a custom new piece for you that you can incorporate into your modern jewelry, so that you're actually getting new set of it every day and I think that more people need to mix everything that they have in their collection.

Troy Olson: Got it. So, can you give me, maybe, an example of what it looks like to to be too conservative? Or is it, you know, the ring and the bracelet and the earrings are the same? Or what would you say is people playing it conservative? What would that look like?

Hailee Lucchesi: I think what you just spoke to, about keeping the same collection on a bracelet, on a ring, on an earring, I think sometimes that can be classic, but I think it's a bit mundane. I think that mixing, you know, your beautiful modern gold bangle with a tennis bracelet, with something that's vintage, I think can create a lot of dimension. So, I really would encourage people to mix and match and see what works for you. I also think that it's becoming a little bit more of a norm, but I think people are like "i'm only a yellow gold or a white gold or a rose gold". And I think that jewelry looks so much more powerful when it's mixed with different textures and different metals.

Troy Olson: Got it. When you're choosing the accessories, I guess just kind of choosing the full outfit and everything that goes with it, are you usually starting with the clothing and then adding the accessories? Or are there sometimes, you're like, "Man I want to wear this accessory. Let me build everything around that". Or how does that usually work, in your mind, is it different every day?

Hailee Lucchesi: I think it can be different every day. I think sticking to a hero piece when you're first building your outfit is really important, whether that be a really chunky gold chain necklace that you want to wear, or maybe there's a really bold blazer you want to wear. So, maybe you keep it a little more classic with chunky bangles and tennis bracelets and a tennis necklace. So, I think that's what's so much fun, is that you can decide each day, and for me there's, you know, three pieces that I wear every single day and then I will build around that. So, it just really depends on what you're loving in your closet and what you want to be your hero piece for the outfit.

Troy Olson: Great. So where's the best place to get started when considering how to style jewelry? You know, especially if you've already started to build your collection.

Hailee Lucchesi: Sure. For me, Pinterest is one of my greatest sources of inspiration. I love nothing more than to create a pinterest board, whether that be around stacking your wrist, or whether that be around a birth stone for a month. I always create a board and then Pinterest is a really great tool, because when you're starting to build your board, the algorithm will automatically start to populate images that pertain to your board. So, not only will you get inspired but you also can look at images that you may not have thought to style your pieces that way and you can incorporate that. So, it's a great tool to educate, organize your thoughts and keep everything in one place as well. I also think that the social platforms that we have are just so proliferate with content between Instagram and TikTok, there's so much constant content and so much inspiration there. So, I would find, you know, some brands that you really love or some designers that you really love and follow them and see how they're creating looks with, you know, the same aesthetics that you have in mind, for what you're trying to achieve.

Troy Olson: Got it. You know, obviously jewelry can be a very big investment. Do you have a rule of thumb when you're purchasing or helping someone purchase of, you know, am I actually going to wear this? I think, you know, people might have that fear that i'm going to buy this jewelry and then never wear it, you know? Are there any experiences you've had or any recommendations around that?

Hailee Lucchesi: Sure. I have a lot of jewelry, it's a bit of a problem, and I have everything. I have costume jewelry, I have some jewelry that's been handed down to me from my grandmother. I have a ton of pieces from, John Intencio. I probably, for me personally, i'm a big bracelet gal, so, i'm going to invest in tennis bracelets and really beautiful gold bangles. I might have a little more costume jewelry in my earrings just because, those for me, I change out all the time. But, for me, my hero pieces are a really beautiful tennis bracelet, my cocktail ring that I usually wear my right hand, my wedding band is from John Intencio and I wear that every single day. I sleep in it, I don't ever take that off. So, I think it depends. Do you love bracelets? Do you love earrings? Do you love necklaces? And then, find maybe one or two really beautiful high quality pieces that are your hero pieces, that you wear every day and then you can build around that with, you know, maybe less expensive pieces that you change out more. But, I would have a couple key pieces that are really well made and really beautiful, so that, not only can they stand the test of time, but if you're wearing them every day, they're durable.

Troy Olson: Great. So, you mentioned Pinterest as a great place to get inspired. Are there any other other places just for fashion in general or other places you like to go to be inspired? I assume you probably still read vogue or still subscribe to vogue?

Hailee Lucchesi: Oh yeah I still subscribe to Vogue, Harper's Bazaar, Ellen, Vanity Fair and I still love fashion magazines. I have a huge stack at my house and, you know, a lot of these magazines, as well, are digital so, you can read them on your kindle or your phone. But I think that fashion magazines, for me, is a huge source of inspiration especially, because they're producing the fashion magazine six months in advance so, it's a really great way to see what is trending currently. Instagram and TikTok are two other outlets that I think have just so much content and so much inspiration.

Troy Olson: So, it's summer 2022, are there any fashions or styles right now that you're really liking or seeing a lot of?

Hailee Lucchesi: Oh yeah, so much! For me, a lot of what i've been seeing, especially in a lot shoots that i've been styling, is a lot of color blocking. Color blocking has been really strong. Valentino did a huge campaign with this Valentino pink that was everywhere and it was so beautiful. I also think that the unisex suit is everywhere and that has been something that I think has been really beautifully done and that a wide range of an audience can wear. I think it's so strong and so powerful. Another thing for summer that I saw is just a lot of texture, which I love. A lot of texture, a lot of pattern, a lot of putting a floral dress with the plaid jacket on and really pushing the boundaries, which I love. I think fashion should be fun and I think it should spark creativity. Designers across from street wear, Runway and Couture week were all really showing an expansion of, I think, what we normally see, which is, you know, a little bit more of a clean palette. I think people really, are kind of bursting with new ideas.

Troy Olson: Great. Do you currently work with individuals to do styling? Or tell me about your kind of current work.

Hailee Lucchesi: Sure. So, I have a wide medium now, which I really love, because it gets me thinking outside the box and doing different projects. So, earlier this week I shot an editorial campaign for a magazine for a September issue, featuring women in the community. that are women in power, which was awesome. I'm fitting a couple for a red carpet event in the beginning of September in a couple of weeks. Then I go into women's closets and i'll help them organize, i'll help them figure out what they're actually using or not using. A lot what those clients, that I find, is they're overwhelmed by their closet and they don't know how to put pieces together. So, I really like working with that type of client, because not only do we figure out what should be edited in your closet but, we also curate looks, which is nice because, when they're, you know, ready to wear that pair of jeans or that blazer, we've already given them some tools in their toolbox so, they know how they can style. It's easy for them to think about and they can run out the door feeling really good about themselves. I also work with brands on Look Books, on campaigns, on an E- COM. So, I do a little bit of all of it, which is really lucky for me.

Troy Olson: Yeah, that's great. So, I wanted to address, you know, some of our audience might be buying or considering buying jewelry as a gift for a loved one or, you know, for their companion. If they're going that route, you know, they want to play it safe, what would you say the best route would be for someone buying a gift? You know, hoping that you're choosing the right style or something that they'll love.

Hailee Lucchesi: I always encourage my clients with that specific consideration to stick to diamonds. They're timeless and classic. There's a huge variety and i've never met anybody that doesn't like diamonds. One of the things that I always wanted that I really, really waited a long time to get, was a tennis bracelet. I think that every woman needs a tennis bracelet in their collection. They're a great layering piece. You can dress them up and you can dress them down. I really liked the idea of a tennis bracelet because, there's such a wide range of styles and of carrots. You can also now choose from natural diamonds or lab- grown diamonds. So, you really have flexibility in your budget and in your look to find something that not only works for the buyer, but also the recipient. What I love too, are diamond studs. Everybody should have a pair of diamonds studs. There is no brainer for me, they look gorgeous on everybody. Like tennis bracelets, you can choose from a variety of sizes, of carrots, natural versus lab- grown and I love the idea of these two pieces. I really think that the person that's receiving them will get so much use out of them versus, you know, a cocktail ring or a gemstone piece. You can wear them every day and, for me, when I do wear my tennis bracelet every day, it's a piece that now has been so ingrained in my daily looks so, that makes it even more special. So, if you're looking for a gift for somebody and you're not quite sure, stick to something timeless and classic that will never go out of style. I mean, if somebody doesn't like either one of those, I don't know what to tell you but both of those, I think, are no brainers and foolproof for me.

Troy Olson: Got it, that's great. So, how can our listeners learn more about styling with jewelry? Are there any great resources? I assume yourself, you're probably active on social media and putting, you know, putting information out there. Any recommendations?

Hailee Lucchesi: Yeah. For me, as a stylist, i'm really paying attention to the brands and the shows and seeing where fashion's going is really important. For me, as a stylist, to my clients, I need to be aware of that conversation and at the head of it. For consumers though, those social platforms that we were speaking about earlier; Instagram, TikTok, Pinterest, there is so much inspiration and so much content and really something for everybody. Find brands that you really love their aesthetic and follow them. See how they're suggesting that you style your jewelry. I mean, that's what we do at John Intencio, we show you how to take our pieces and style them in a plethora of ways. So, do a little bit of your own research and, you know, find brands that speak to what you care about whether that be sustainability or if they're local or the price point fits your lifestyle. We live in a world now where there's so many designers. I really think that there's something for everybody, So, really figuring out brands that fit your lifestyle and your aesthetic and following along and see how they're suggesting You know, for the most part, they are the expert. Take the work out of it and let them show you how to style whatever piece that you're trying to incorporate in your wardrobe.

Troy Olson: Great. I wanted to ask, you know, is it a good idea to hire a stylist and how would how would a person go about finding one, if they wanted to find a stylist?

Hailee Lucchesi: Absolutely. You should hire me. But no, in all seriousness, if people didn't hire a stylist, I wouldn't have a job. But what I love about being a stylist, and this is what I always tell the potential clients, is that what's wonderful about a wardrobe stylist is for the most part, you can hire them on an as needed basis. So, you know, if you're struggling to put looks together or to figure out how to style or if you're like "Hey, I don't know where to begin, can you help me start to build my stack"? Stylists will come over and they'll present you a ton of options and show you how to do it. What's wonderful, is sometimes I come to you once and we figure out what works for you and I show you how to put these pieces together and then you can fly and you can do it on your own. Sometimes I do quarterly appointments with clients but it just depends on your needs. I think that wardrobe stylists are obtainable. I think that if you do it once, you'll get so much value out of it and I think you'll really, actually use the pieces in your closet that you love. There's no point of having these collections if you're not actually going to wear them so, hire someone. They're an expert and they've been doing it for a long time. Let them show you how, because I think that will last you years. I think you'll need to do it a couple of times to really get it and you can find them on social media, on Google. Yeah, absolutely. I think it's worth it.

Troy Olson: Awesome. So, I have to ask, do you have any any predictions as to what styles or what might become popular in the not too distant future?

Hailee Lucchesi: What I've really loved watching is no matter what the company, depending on the company, i'm really seeing brands care about sustainability. Whether that be lab- grown or faux-fur or upcycling material, i've really been proud to see little brands and big brands following that value. I also think i'm seeing brands curate their collections more which I appreciate, because it helps with mass production. But, what i'm seeing in the future is people still continuing to push the boundary with color and prints and texture and people are really creatively, I think, ignited right now. For me, as a wardrobe stylist, it's really fun, because I have such a fun, playful range to pull from for my clients, which I think is what fashion should be about. It should spark something that you haven't seen before and I think across the board, designers are really presenting new, fresh, authentic, material, which I think is so exciting, for me, as a wardrobe stylist.

Troy Olson: That's great. So, Hailee, how can our audience learn more about you or find you on Pinterest. What's the best way?

Hailee Lucchesi: So, Hailee Lu Casey, is my website. My Pinterest and my Instagram are H-A-I-L-E-E period L-U-C-C-H-S-I and you can see my portfolio and my work. That's where I am.

Troy Olson: We will definitely put it in the show notes and on the podcast page.

Hailee Lucchesi: Cool.

Troy Olson: Great. Any other any other thoughts or insights?

Hailee Lucchesi: I would just encourage people to really educate themselves. I think that's one of the things I love about John Intencio. They're local, they're sustainable, they really care about their customers and cater everything to their customers. So, do your research and really try to find brands that you support and you love and you know who's behind the brand. These brands work so hard on designs production, on everything, you know. They're building things out six months in advance so, it's so much more than consumers realize. Really do your research and try to support brands that not only have product that you love, but also align with your values. I think it's super important, at least for me as a wardrobe stylist, I really try to keep that in mind when i'm pulling for my clients.

Troy Olson: That's great. Well, Hailee, thank you so much for being on the show today and we definitely look forward to having you come back again.

Hailee Lucchesi: Thank you, Troy. It was a pleasure.
Choosing a selection results in a full page refresh.
Press the space key then arrow keys to make a selection.
-- ReSci end -->