Apollo Heart Pendant Necklace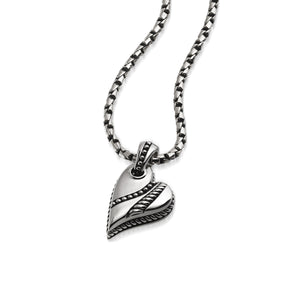 Product Details
Sterling Silver
Pendant Necklace measures 30mm x 15mm
Pendant Necklace provided on an 18" Ritorta chain. Alternative chain lengths are available.
Lobster clasp
SKU: 17-P2166
About the Collection
"The Heart is that universal symbol of love, joy, and compassion." – John Atencio
Each John Atencio heart is an expression of love, sketched by hand for a timeless gift to be treasured. Each heart design is uniquely inspired by John and crafted by master artisans using the finest, responsibly sourced materials. This selection of John Atencio heart designs in 14 karat gold and in Sterling silver showcases our complete collection of new and time-honored favorites.
shop the collection
Gift Presentation
Behind the jewelry
We think there is too much symmetry in the world. From his early days, John Atencio challenged the many conventions in jewelry design to create a striking aesthetic that is now celebrated around the globe.
learn more