Birthstone Necklaces for Mom That She Will Love
april birthstone, birthstone jewelry, december birthstones, diamond birthstone, february birthstone, june birthstones, mothers day, november birthstone, october birthstone, september birthstone
3/13/2023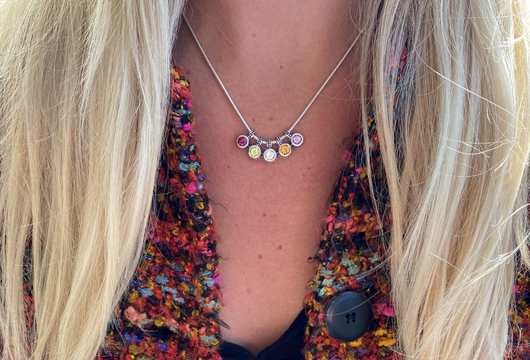 Bursting with mesmerizing hues, birthstone necklaces make meaningful Mother's Day gifts that showcase a rainbow of colors and add personalized beauty to mom's look. Here are some of our favorite pieces, along with some tips for choosing a necklace she will treasure for years.
Why Birthstone Necklaces are a Perfect Gift for Mom
Radiating vivid color, birthstone necklaces are fashionable pieces with meaningful gemstones that represent unique qualities and traits. A gorgeous way to add intrigue to an outfit, these pieces are also a thoughtful way to show your love and appreciation for mom. 
By selecting her birthstone or the birthstones of her children and grandchildren, you create a sentimental piece of jewelry that represents her family and the bond you all share. Beautifully versatile, birthstone necklaces can be customized and personalized to suit mom's style and preferences. You can choose from a variety of metals, chain lengths and styles to create a unique piece she will treasure for years to come.
Factors to Consider When Choosing a Birthstone Necklace for Mom
When choosing a birthstone necklace for Mother's Day, it's essential to consider mom's personal style and preferences. Make sure to choose a women's necklace and pendant that fits her taste, so she will be comfortable wearing it every day. Consider the color and cut of the birthstone, as well as the type of metal used in the necklace.
Does your mom prefer silver, yellow gold, white gold or rose gold? These are all important factors to take into account when choosing a birthstone necklace for mom.
One great way to make a birthstone necklace even more meaningful is to include multiple birthstones on one necklace. This can represent all the children, grandchildren or other important people in mom's life. There are many different types of birthstone necklaces available, including John Atencio's Antigua birthstone necklaces and Endearment Heart birthstone necklace. The Endearment Heart necklace is particularly special because it features the birthstone in a beautifully crafted heart-shaped pendant that brings extra meaning to the piece.
To ensure that your gift will last for decades, it's important to choose a birthstone necklace made with high-quality materials and crafted by a renowned designer, such as John Atencio. This will ensure that the piece will be a treasured keepsake she can enjoy for many years. 
In addition to his popular birthstone necklaces, John Atencio offers an intriguing selection of other gemstone necklaces that make great birthstone gifts. Charms can be purchased separately and added to your personalized jewelry to make your gift especially unique.
The Best Birthstone Necklaces for Mom
World-renowned for his artful jewelry designs, John Atencio offers a broad range of birthstone necklaces that make inspired Mother's Day gifts. Some of our favorites include:
Drawing inspiration from the captivating marquise gemstone, John has introduced a fresh and opulent collection to elevate the gemstone  shape to new heights. This exclusive collection fuses delicate jewel tones with the simplicity of plain gold designs, adorned with stunning pave diamonds for the first time. Behold the alluring and exotic Elixir, available in striking citrine, amethyst or classic plain gold — a tribute to the timeless elegance and strength of femininity. Indulge in the mesmerizing beauty of this collection, which embodies the essence of luxury and sophistication.
 Exuding qualities of honor and strength, the timeless legacy of ancient Rome has inspired an iconic sterling silver collection expanded to include new birthstone styles. The exquisite range combines the alluring and vibrant tones of hand-picked gemstones, sourced ethically for each birthday month. The Antigua collection showcases stunning personalized necklaces, all crafted with care and precision. Choose a special and unique gift for mom and delight in the beauty and elegance of the Antigua collection. 
 Elevate mom's fashion game with this exquisite trillion and diamond, sterling silver and 14-karat gold necklace. This stunning collection features a colorful array of trillion and diamond-rich stacking bracelets, rings, pendants and earrings, giving her endless styling possibilities. Each piece is crafted with precision and attention to detail, offering a perfect balance of elegance and sophistication. Indulge in meaningful luxury with this exclusive collection.
Venture Gemstone Pendant Necklace with Diamonds
Venture is a uniquely modern creation that stands out from the crowd. The inspiration behind its design was rooted in the concept of virtuousness and vulnerability, which led John to craft a distinctive and easily recognizable look characterized by opposing curves and radiance.
Experience a new level of stylish elegance with John Atencio's latest collection of sterling and gold jewelry. Entwine's gently curving design and delicate gold accents embrace the stunning bezel-set gemstones, bringing out their natural radiance and beauty. 
Unveil the polished elegance and graceful contours of Endearment, a stunning collection crafted from sterling silver and 14-karat gold, all adorned with a colorful birthstone. Drawing inspiration from the eternal cycle of life, John has infused every piece with a sense of fluidity and delicate beauty that can be admired from every angle. Meticulously crafted using only the finest materials, the Endearment necklace serves as a timeless statement of style and sophistication. 
Buying and Financing a Birthstone Necklace for Mom
At John Atencio, our jewelry experts can show you how to select personalized birthstone jewelry featuring mom's birthstone or that of someone she loves. In addition to necklaces, John makes it easy to honor the matriarch of the family with an artful array of rings, bracelets and earrings.
Browse through our Mother's Day gifts and discover breathtaking pieces that reflect mom's self-assurance, wisdom, honesty and unyielding love for the family.
Shop online or visit one of our local stores, where our knowledgeable jewelry consultants can help you find a sterling silver or gold jewelry gift she will cherish forever. John also provides affordable financing options and gift cards that allow mom to select jewelry that fits her distinct fashion sense.
Our New Spring Collection + Look Book
The John Atencio Spring 2023 Brochure is live online and in stores. It is a perfect way to experience Spring and What's New for Mother's Day 2023 at John Atencio firsthand.