Breaking Down Your Precious Metal Choices
Jewelry Design & Trends
2/17/2020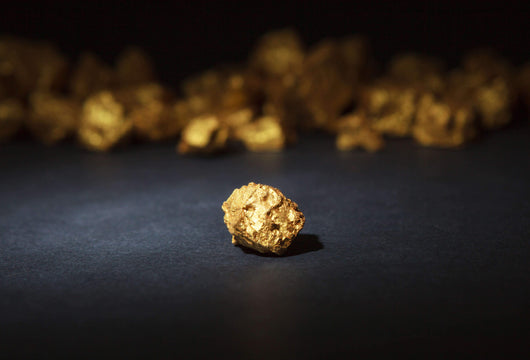 When buying jewelry, many factors play a part in finding the right piece. People may have particular preferences, such as a specific metal type or color of gold. Others love to look at the entirety of a piece to determine whether they love it or not.
When it comes to buying jewelry, the type of precious metal is often one of the deciding factors. John Atencio helps to decipher the most common types of precious metals that are available when purchasing jewelry - to help you narrow down your options.
What Are Precious Metals in Jewelry?
Precious metals are relatively rare and can be more challenging to find and refine than more common metals like tungsten and titanium. These precious metals are often more expensive and have been used in art and jewelry around the world for centuries.
Precious metals like gold, silver, and platinum have higher luster than most other metals on the market. These are the three most familiar precious metals. Only eight metals are considered precious metals in the world: gold, silver, platinum, palladium, osmium, iridium, ruthenium, and rhodium.
The Most Common Types of Precious Metals in Jewelry
Gold
Gold is the most popular and well-known precious metal in the world. Gold is in high demand because it's the most mined and sought-after currency in use. Gold comes in white, yellow or rose gold, with yellow gold being one of the most common types used in jewelry. Rose gold has risen in popularity over the last decade. Most gold comes in 18 karats or 14 karats as 24 karat gold is often too soft and is more susceptible to scratches. Since gold is mined as yellow, white gold is usually plated with a metal called rhodium for durability and will require replating. Rose gold tends to be quite durable – given the addition of copper to the mix.
Silver
Silver is used in a variety of industries, not just jewelry, and can often be higher in price depending on the use than gold. Silver has been used in jewelry, decoration, consumer electronics, and other commodities for centuries, too. Most silver contains a percentage of silver and alloys, as fine silver – in its 99.9% pure form – is too soft for most jewelry. The most common type of silver in the jewelry industry is sterling silver – an alloy containing 92.5% by weight of silver and 7.5% of other metals, usually copper.
Platinum
Platinum is a rare precious metal, with only a few hundred tons being mined per year across the globe. Platinum is highly-resistant to corrosion and extremely durable, making it an often-considered choice for engagement rings and men's jewelry. Its luster, durability, and tarnish resistance make it a desirable for ring choice for men's wedding bands in particular. Platinum tends to be the most expensive precious metal choice.
Choosing the Right Precious Metal for Your Next Jewelry Purchase
When choosing a precious metal to pair with diamonds or gemstones, it's important to ask yourself the following questions:
How will the weight of the precious metal effect the wearing experience? Platinum, for example, is often heavier than gold or silver.
Can the piece be restored, repaired, or resized easily? Most precious metals can be resized or restored, but some might be costlier than others.
Is the metal hypoallergenic? Some precious metals (gold or silver) are mixed with alloys to make them more durable, and a tad bit less expensive, which can irritate the skin.
How long will the precious metal last? Gold and silver often last a lifetime with little restorative work.
Buying a piece of jewelry for yourself or a loved one comes with all sorts of questions, concerns, and sometimes it comes down to what looks the best for the occasion that seals the purchase.
Consider the precious metal you're choosing, along with the gemstones or diamonds, and other factors in sticking with your budget and finding the best-looking piece to compliment yourself or your loved ones. By educating yourself on all the different aspects of what you're looking to buy, you're sure to buy a piece that's treasured for a lifetime.