The Do's and Don'ts of Wearing Bridal Jewelry: Tips from John Atencio
bridal jewelry, wedding jewelry
4/11/2023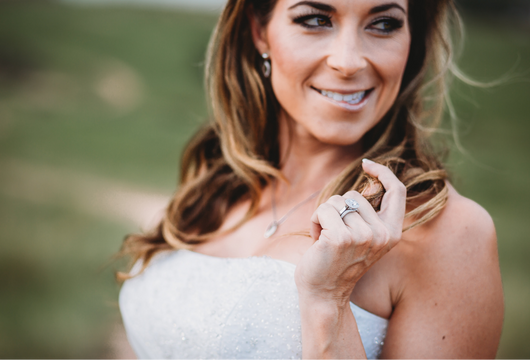 When crafting a wedding ensemble, bridal jewelry holds immense significance. In addition to accentuating the bride's appearance, these styled pieces also work to symbolize the couple's bond. From the intricate necklace that graces your neckline to the delicate earrings that frame your face, every piece should be carefully chosen to complement the bridal attire. Let's explore the dos and don'ts of bridal jewelry, so you can create a harmonious blend that will make you shine brilliantly during your walk down the aisle.
Do coordinate your bridal jewelry with the dress.
Looking for bridal jewelry ideas that will make you stand out for all the right reasons?
To ensure a seamless, captivating look, it's essential to choose jewelry that complements your wedding dress. For a balanced appearance, consider the dress's neckline, fabric, and color. If your dress has a sweetheart or strapless neckline, choose statement necklaces or chokers that accentuate the collarbone area. For a V-neck dress, on the other hand, opt for a beautiful pendant necklace or delicate chain.
When working with intricate fabrics or lace, select simpler, elegant jewelry pieces to avoid a cluttered look. Conversely, more elaborate accessories can add a touch of glamor to dresses with minimalist designs. 
Whatever the case, always make sure the color of your jewelry complements your dress. Ivory gowns pair well with gold-toned jewelry, while cooler shades like white or silver harmonize with platinum or silver pieces. Ultimately, the best jewelry for a wedding dress will elevate the garment while making a cohesive contribution that won't overpower the eye.
Do consider the hairstyle when choosing bridal jewelry.
What jewelry should a bride wear? Sometimes the answer lies in her bouffant. That may sound trite, but when it comes to bridal jewelry, it's crucial to consider the bride's hairstyle to achieve the right overall look.
For an elegant updo, consider dainty drop or chandelier earrings to accentuate the neck and collarbone. Add extra dazzle by pairing the pieces with a delicate pendant necklace or a minimalistic choker.
If the bride's hair includes romantic loose waves, classic stud earrings, and a statement necklace will create a sophisticated balance, as long as the latter complements the neckline of her gown. If you're not sure which pieces will go best with your hairstyle, get expert advice.
John Atencio's expertise in designing exquisite bridal jewelry ensures that every piece adds the perfect finishing touch to any bridal ensemble, regardless of the chosen hairstyle. Trust in John Atencio's craftsmanship to enhance your beauty and make your special day truly unforgettable.
Do choose bridal jewelry that matches your personal style.
The best bridal jewelry will reflect your personal taste and style. At the same time, it will enhance your bridal ensemble while serving as cherished mementos of your special day. Consider pieces that will complement your everyday wardrobe and personal preferences, so you can continue wearing them long after the wedding.
John Atencio's expertise in designing custom bridal jewelry offers a unique opportunity for brides to create stunning and individualized pieces that truly embody their personal style. By working closely with clients, John ensures that each custom design captures the essence of the bride, resulting in a beautiful, meaningful, and harmonious collection of bridal jewelry.
Don't wear jewelry that overpowers your dress.
The importance of striking a balance between the bridal look and jewelry cannot be overstated. A harmonious combination of attire and accessories can elevate the bride's appearance, while an excess of adornments may detract from the overall aesthetic. 
For instance, an elaborate, heavily beaded gown could become overwhelming with the addition of an equally intricate necklace or oversized earrings. To ensure that the jewelry complements rather than detracts from the dress, consider the neckline, fabric and design details of your gown. Simple, elegant pieces, such as a delicate pendant necklace or a pair of pearl earrings, can enhance a sophisticated or ornate dress without stealing the spotlight. Ultimately, the goal is to create a cohesive and memorable bridal look that showcases the bride's unique beauty and style.
Don't mix metals or styles that clash.
To maintain a unified aesthetic throughout the wedding, it's important to coordinate your bridal jewelry with other accessories and elements of the wedding, such as bridesmaid dresses and floral arrangements. A mismatch in styles or metals can clash with the overall wedding theme, creating visual discord. 
A vintage-inspired wedding with delicate lace and pastel florals might be disrupted by the presence of bold, modern statement jewelry. Similarly, mixing gold and silver accessories could create inconsistency within a wedding featuring a monochromatic color scheme. 
To ensure a complementary aesthetic, consider your wedding theme, color palette, and personal style when selecting jewelry. Select pieces that seamlessly blend with the overall ambiance, such as pearls or understated gemstones, for a classic, romantic look. Or choose intricate metallic designs for a more modern, chic vibe. By carefully curating wedding jewelry, couples can create a memorable and visually stunning wedding celebration that reflects their unique vision.
Don't wear jewelry that's too heavy or uncomfortable.
To ensure a comfortable, enjoyable wedding experience, always choose practical, easy-to-wear bridal pieces. A bride's comfort should be a top priority since it directly affects her confidence and ability to fully engage in the celebration. Choosing functional and wearable bridal jewelry and attire minimizes wardrobe malfunctions, while also allowing the bride to move gracefully, whether she's walking down the aisle or dancing the night away.
By opting for practical and easy-to-wear bridal pieces, you can focus on the essence of your special day—celebrating your union and creating lasting memories with the love of your life. 
Selecting the perfect bridal jewelry requires a delicate balance of do's and don'ts. To achieve a stunning, cohesive look, you have to emphasize personal style, coordinate with the wedding dress, and choose pieces that won't overpower the overall look. 
World-renowned for his uniquely artful designs, John Atencio creates exquisite jewelry that harmonizes with a bride's unique gown and personal style. By trusting John's experience and avoiding common pitfalls, you can achieve a stunning, unforgettable look on your special day.