The Complete Guide to Bridal Jewelry: What to Wear and How to Style It
bridal jewelry, diamond drop earrings, diamond hoops, diamond jewelry, diamond pendant necklaces, diamond stud earrings, wedding jewelry
4/2/2023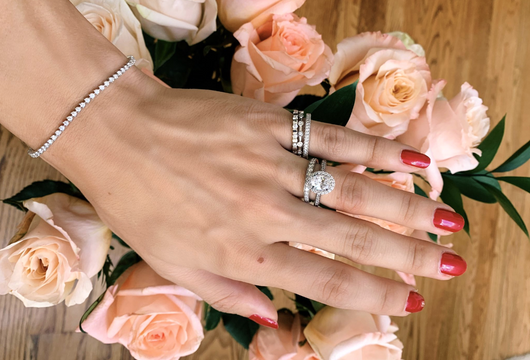 The right bridal jewelry enhances the bride's overall look while also adding new stunning pieces to her jewelry collection. From the necklace that graces your collarbone to the earrings that highlight your face, every component must be thoughtfully picked to harmonize with your wedding attire. If you're not sure how to pick these important pieces, let John Atencio be your guide as we explore the essential elements of choosing and styling bridal jewelry.
Types of Bridal Jewelry
Bridal jewelry encompasses a wide array of pieces designed to elevate a bride's ensemble and add a touch of sparkle to her special day. Earrings, necklaces, bracelets, and rings come in various styles, including classic, vintage, and modern designs. Classic bridal jewelry typically features timeless pieces such as solitaire diamond earrings, pearl necklaces, and diamond tennis bracelets — all of which exude elegance and grace.
Vintage-inspired jewelry often incorporates intricate details, like filigree work and antique settings, with designs reminiscent of bygone eras such as the Victorian, Edwardian, or Art Deco periods. These pieces may include chandelier earrings, ornate necklaces or heirloom rings that showcase old-world charm.
In contrast, modern bridal jewelry often embraces bold, minimalist, or unconventional designs that cater to the contemporary bride's unique style. These pieces are often characterized by geometric shapes, sleek lines, and cutting-edge materials such as rose gold. Asymmetrical earrings and statement necklaces are just a few examples of modern trends that can elevate a bridal look.
Customizable pieces, such as personalized bracelets or pendants, offer the bride an opportunity to express her individuality through her accessories. Ultimately, the array of styles and designs available in bridal jewelry ensures that every bride can find pieces that resonate with her personal taste while complementing her wedding dress and creating a lasting impression on her big day.
Bridal Earrings
Bridal jewelry earrings come in an array of styles and designs to harmoniously elevate the bride's dress and overall look on her special day. Simple earrings, such as pearl studs or diamond solitaires, offer a classic and elegant touch, adding subtle sparkle without drawing too much attention.
Drop earrings, on the other hand, gracefully dangle below the earlobe with a variety of materials like diamonds, pearls or semi-precious stones. These earrings can be simple and understated or more intricate with elaborate designs, such as a teardrop or a vintage-inspired halo.
Chandelier earrings make a bold statement, featuring an intricate, multi-layered design that cascades down from the earlobe. Perfect for brides looking to make a grand entrance, these earrings can be crafted from a combination of materials, such as diamonds, pearls, and contrasting precious metals, all blended together in an artful balance. 
Bear in mind that the dress neckline and style play a significant role in determining the most suitable earrings for a bridal look. For instance, a strapless or sweetheart neckline creates an open canvas for statement earrings, such as chandeliers or bold drops, which accentuate the décolletage and elongate the neck. On the other hand, a high-neck or heavily embellished dress calls for more subtle and minimalist earrings, like diamond studs or small hoops, to maintain a balanced and elegant appearance without overwhelming the overall ensemble.
When selecting the ideal pair of bridal earrings, it's important to consider the bride's face shape, since certain styles can accentuate or balance facial features. Drop and chandelier earrings can elongate a round face, while studs can bring harmony to an elongated or angular face. The bride's dress neckline should also be taken into account; for example, a high-necked or heavily embellished gown is best paired with understated studs, while a strapless or off-the-shoulder dress can be enhanced with more elaborate drop or chandelier earrings.
Bridal Necklaces
Bridal jewelry necklaces come in a multitude of styles and materials to suit a bride's unique taste and complement her gown. Pendants are classic choices that offer a refined and elegant touch, whether you choose a simple diamond solitaire or a delicate pearl. These popular adornments can be crafted from precious metals like gold, silver, or platinum. They can also feature a variety of gemstones, such as sapphires, emeralds, or rubies.
On the other hand, eye-catching statement necklaces are perfect for brides looking to make a bold, fashionable impact. These designs can include intricate patterns, colorful stones, and oversized elements that attract the eye.
When choosing the right bridal necklace, it's important to consider the dress neckline and the bride's personal style. A simple diamond pendant pairs beautifully with a sweetheart or V-neck gown, whereas a statement necklace can enhance the visual appeal of a strapless or high-necked dress. It's also best to balance the necklace with the overall look to make sure it doesn't overwhelm the gown or the bride's features. Brides should also choose a necklace that complements the theme of the wedding, whether it's vintage, bohemian or modern. 
Bridal Bracelets and Rings
When choosing bridal bracelets and rings, it is important to consider personal style and the overall bridal look. For a minimalist bride, consider a simple and elegant design that won't overpower the wedding dress. On the other hand, brides seeking a more dramatic look can choose statement pieces that command attention.
It's also essential to strike the right balance between the jewelry and the gown, while also considering comfort since you will be wearing your bridal pieces throughout the day and evening. Ultimately, bracelets and rings should be easy to wear, while also enhancing the bridal ensemble and reflecting the bride's unique personality and taste.
Choosing Bridal Jewelry to Complement the Dress
The right bridal jewelry accentuates the beauty of the wedding dress and completes the bridal look. The perfect jewelry not only complements the dress but also enhances the bride's features, creating a harmonious and unforgettable appearance. Selecting bridal jewelry based on the dress neckline, fabric and color helps achieve this balance.
For example, a simple, elegant pendant pairs well with a sweetheart neckline, while chandelier earrings complement a strapless gown. You should also consider the fabric of the dress, remembering that delicate, intricate lace calls for daintier jewelry, while a satin gown can handle bigger statement pieces.
To ensure that the bridal jewelry truly complements the wedding dress, it's wise to consult an expert such as John Atencio. With years of experience in designing custom bridal jewelry, John offers invaluable guidance on choosing the perfect pieces that not only match the dress but also reflect the bride's unique personality. His expertise in selecting the ideal metals, gemstones, and designs helps create a cohesive and stunning bridal look, ensuring that the jewelry and wedding dress are a perfect match in both style and sophistication
How to Style Bridal Jewelry
To achieve a stunning bridal look, carefully consider the coordination of your bridal jewelry with both your veil and hairstyle. Begin by selecting pieces that complement your gown's design and your wedding theme. If your gown has intricate lace or beading, for insurance, choose delicate jewelry to avoid overwhelming the dress. 
When it comes to coordinating jewelry with your veil and hairstyle, ensure that your selections accentuate your features without competing for attention. For instance, if you're wearing a statement veil, keep your jewelry minimal to let the veil take center stage. Alternatively, if you're donning a simple veil or leaving your hair down, feel free to choose more ornate jewelry pieces. 
An expert in designing bridal jewelry, John Atencio understands the importance of balancing these elements when crafting exquisite pieces that add the perfect finishing touch to any bridal ensemble. John's bridal jewelry sets offer versatile designs, ranging from subtle to bold, that can effortlessly harmonize with your veil and hairstyle, so you will shine on your special day.
Bridal Jewelry Trends
Bridal jewelry trends are constantly evolving as brides seek unique and stylish ways to accessorize on their special days. One of the latest trends centers on statement earrings. These eye-catching pieces add a touch of glamor and elegance to a bridal ensemble, drawing attention to the bride's face and accentuating her features.
Delicate necklaces are also making a splash, offering a subtle and refined touch to the neckline. These dainty pieces can complement a variety of necklines and dress styles, allowing the bride's natural beauty to shine through.
Mixed metals have also become increasingly popular in the world of bridal jewelry. By combining different metals such as gold, silver, and rose gold, brides can create a truly personalized and contemporary look. To incorporate these trends into your bridal style, consider your overall theme, dress design, and personal preferences. 
A passionate and creative designer, John Atencio is well-known for staying up-to-date with the latest bridal jewelry trends and creating pieces that reflect current styles. With his expertise, you can trust that your jewelry will perfectly blend tradition and modernity, so you will look radiant on your big day.
Striking the Perfect Balance
Selecting the right bridal jewelry helps perfect your wedding ensemble by enhancing your beauty and reflecting your personality and style. When choosing bridal jewelry, consider the expertise and artistry of John Atencio, who is renowned for his exceptional ability to design custom and unique pieces for an unforgettable and cohesive look. Trust John to turn your vision into stunning, timeless jewelry that will complete your look and become a cherished keepsake for years to come.