Create Your Own Diamond Jewelry Set
diamond jewelry sets, jewelry sets, matching jewelry sets
9/26/2022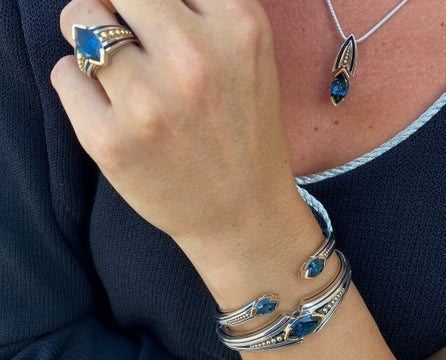 Have you ever considered how stunning you would look with a coordinating diamond jewelry set? If wearing one beautiful piece of high quality jewelry makes you feel amazing, imagine how glorious a matching set will make you feel. When you browse any of John Atencio's carefully curated collections, a world of jewelry possibilities opens for you. Sustainably handcrafted from the finest materials, every ring, bracelet, pendant and earring pair within John Atencio's uniquely inspired collections are crafted to complement each other. Browse these fabulous collections and create the set that makes you feel alive.
Step Into Modern Glamour with a Duplex Diamond Jewelry Set
Duplex, the debut collection of Lex Atencio, John Atencio's son, proves that brilliance runs in the family. Designed for a new generation and anyone who desires a dramatic, polished look, Duplex showcases black-oxidized sterling silver, pave diamonds and your choice of 14-karat yellow, white or rose gold. Every piece of the collection is powerful when worn solo, but when worn together, the Duplex Pave Pendant and Duplex Pave Dangle Earrings create a sleek and seductive statement. Raise your style quotient by adding the stack ring and hinged bracelet and you'll feel as glamorous as you look.
Sustainability Sparkles in the Paloma Lab-Grown Gemstone and Diamond Set
When you're seeking serious sparkle that's handcrafted in an environmentally responsible manner, pairing the lab-grown gemstone and diamond pieces from the Paloma Collection is a sure bet. The Paloma Lab-Grown Gemstone and Diamond Pendant and the Paloma Lab-Grown Gemstone and Diamond Ring are meticulously crafted with care in yellow gold, lab-created diamonds and a lab-created, princess-cut ruby. Also offered in yellow gold with a stunning emerald and white gold with a beautiful blue sapphire, this design is iconic John Atencio. Inspired by his paternal grandmother who wished for the world to live as one, this collection features bezel-set diamonds, rich gemstones and softly dimensional architecture that evoke the dove, a symbol of peace in ancient scripture. You'll look and feel fantastic every time you wear this exceptional diamond jewelry set.
Delight in an Elixir Diamond Jewelry Set
The power to wow is yours when you select your own diamond jewelry set from the Elixir Collection. Celebrating the strength and soft curves of femininity, this wearable art, inspired by the marquise gemstone, is handcrafted with sterling silver and 14 karat yellow gold, with a London Blue Topaz or Amethyst. Consisting of the Elixir Gemstone Ring, the Elixir Gemstone Hinged Cuff and the Elixir Gemstone Hinged Cuff Bracelet, this grouping is visually stunning evidence of the power of wearing matching jewelry.
Stay Classic with an Endearment Diamond Jewelry Set
Simple and simply gorgeous, the Endearment Collection radiates a beauty that is appreciated by all who encounter it. Inspired by the circle of life, John used soft, fluid contours to create this collection's timeless statement. New to jewelry that is crafted to complement other pieces? Create your own diamond jewelry set by selecting the Endearment Diamond Pendant Necklace and the Endearment Diamond Earrings to wear together. Handcrafted with 14-karat white gold and bezel-set diamonds, these pieces are made to shine together. Also offered in 14 karat yellow gold, the fashion possibilities are endless.
Stand Out with a Signature Set
Nothing sets you apart like a diamond jewelry set from John Atencio's Signature Collection, John's labor of love representing four decades of his life's work and his continued commitment to his craft. Filled with rare and exotic gemstones, this special collection houses the exceptional, one-of-a-kind pieces that are bold, distinctive and iconic John Atencio. Handcrafted in 18-karat white and yellow gold, these beautiful and bright original designs complement each other in spectacular fashion. Select your personal Signature set and become accustomed to your glow.
John Atencio Designs Exquisite Matching Jewelry
Known across the globe for designing distinctive statement jewelry, Colorado native John Atencio enjoys an impressive 46 years of experience in the industry. Using history and his amazing life experiences for inspiration, he takes the time to pencil sketch every piece before permitting his master artisans to meticulously craft them by hand. Also celebrated for his stance on environmental responsibility, he demands that only recycled gold and responsibly sourced gemstones be used in his exceptional creations. Discover more about the fascinating man who designs the most captivating jewelry.

John Atencio makes it easy to elevate your look with a diamond jewelry set. View our collections at JohnAtencio.com or walk in to one of our boutique stores to experience them in person. Questions? A knowledgeable concierge will gladly answer them whether you're browsing online or in the store. The only thing better than a genuine John Atencio is a matching set of it, and you deserve it.