What's Trending in Jewelry this Fall?
autumn, charm bracelets, fall, gold earrings, pearls
10/28/2022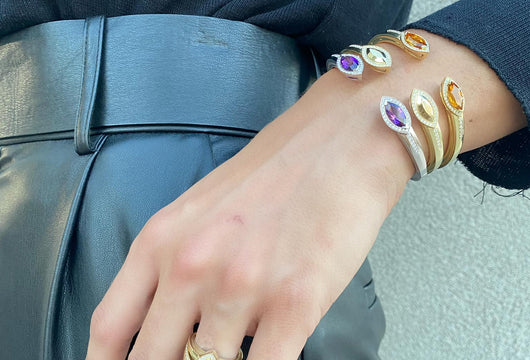 Have you considered what the fall jewelry trends might be this year? The houses of fashion have spoken, and "bold" is the word. From vibrant colors to stacked metals, if it makes a statement, it's in. Known for his unerring craftsmanship, exceptional quality and admirable sustainability standards, master jeweler John Atencio designs the distinctive jewelry that delights. Read on to see what's in style, then come to know John Atencio for the easiest way to stay on trend this fall. 
Charm Bracelets are Hot
 Display your unique personality with the lively charm bracelets that are so popular this fall. John Atencio delivers on this fun autumn jewelry trend with the striking Apollo Triple-Wrap Charm Bracelet. Inspired by the human path that requires fortitude and perseverance, John blended various textures and designs to create the memorable Apollo Collection. Handcrafted with stitched black leather, sterling silver, 14-karat yellow gold and an eye-catching ruby cabochon, this casual bracelet is an absolute must-have for the fall season. One glance at this remarkable bracelet and you'll know why charm bracelets aren't only for kids.

Go Bold and Vibrant for Fall
Jewelry that makes a statement is in, and when it's accompanied by vivid color it's elevated to new heights. Belonging to the Elixir Collection that celebrates the power of femininity with the stately marquise, the Elixir Gemstone Ring with Diamonds is a breathtaking way to wear fall on your finger. Meticulously handcrafted by master artisans using 14-karat white gold, a marquise-cut amethyst and sparkling pave diamonds, this exquisite ring is a step above the rest. Also offered in 14-karat yellow gold with a citrine marquise or plain gold, this is the ring that represents the season

Fall Calls for Spirited Earrings 
Step out of the demure into the excitement of fall jewelry trends with dangling earrings that announce your arrival. Part of the Oro Perfecto Collection that features the precise hammering and textured finish achieved through the early hand-forging that inspired John, the Fanfare Dangle Earrings are a sensational way to honor fall. Carefully hand-forged in 14-karat yellow gold with unique black silk tassels, these extraordinary womens' earrings complement your entire wardrobe. Whether you go casual or dress it up, these danglers were made to be noticed.

Stack It for a Fall Statement
Stacking, layering, and mixing jewelry is showing up as a hot fall jewelry trend this year. Whether you incorporate various gemstones, styles or mixed metals of the same style, stacking creates a gorgeous look that always spurs a second glance. Featuring rich jewel tones and varied sizes and metals, John Atencio's meaningful Treasure Collection is perfect for stacking. Part of this collection, the Treasure Gemstone Hinged Cuff Bracelet is meticulously handcrafted in 14-karat white gold, with an emerald-cut tanzanite and pave diamonds. Also offered in rhodolite garnet, stack it against other dazzling bracelets in the collection for the perfect fall style.

Statement Necklaces are in Style for Fall
Large pendant necklaces are a strong autumn jewelry trend, creating visual interest to elevate your look. As a long-time veteran of striking jewelry design, John Atencio is an expert of the bold necklace. Belonging to his Signature Collection that was born of his desire to create original pieces of wearable art, the Signature Oval Opal and Diamond Pendant is an exquisite necklace that will hold every gaze in the room. Handcrafted with 18-karat yellow and white gold, an Australian Boulder Opal and pave diamonds on an 18-inch rope chain, this is personal statement you'll enjoy making for every year to come.

Say it with Pearls this Fall 
Moving well beyond their formerly somber reputation, pearls are in the limelight as an autumn jewelry trend this year. John Atencio has raised the bar for pearl jewelry, pairing them with mixed metals that impart a fresh and meaningful look. Crafted for the Solar Collection that draws upon circles, triangles and lines to symbolize our efforts to balance family, relationships and communication, the Solar Eclipse Chain Bracelet is crafted by hand with sterling silver, 14-karat gold and lustrous Akoya pearls. Chic and charming, this alluring bracelet will complement everything in your closet.
John Atencio Tops the Fall Jewelry Trends
A master jewelry designer with customers around the globe, John Atencio is celebrated for 46 years of bold and distinctive jewelry design. Known for his thoughtful design process, he uses meaningful inspiration to sketch every piece by hand before master artisans handcraft them to his detailed standards. He is also lauded for his stance on sustainability, maintaining that only recycled gold and responsibly sourced gemstones be used to create the jewelry that bears his name. Learn more about the intriguing gentleman who designs the jewelry that stays at the height of fashion.
It's easy to follow the fall jewelry trends when you turn to John Atencio. Simply browse JohnAtencio.com to view our dazzling jewelry from the comfort of home or visit one of our boutique stores for an in-person experience. Whichever you choose, a knowledgeable concierge will
gladly answer any questions you may have. Because brilliance has new meaning when you wear a genuine John Atencio.