Diamond Stud Earrings for Women: the Perfect Holiday Gift (2023)
diamond earrings, diamond stud earrings, diamond studs, holiday gifts for women, lab grown diamond stud earrings, lab grown diamond studs
11/3/2023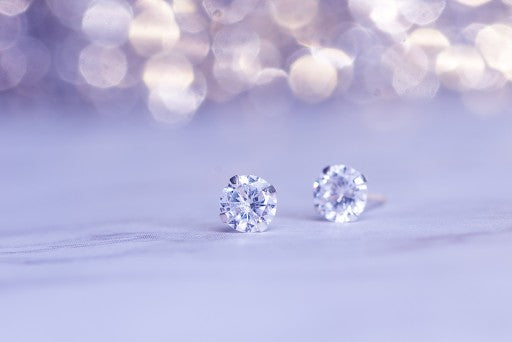 Updated Nov 3, 2023
Nothing elevates her wardrobe like a glittering pair of diamond earrings. If you're searching for a winning gift this holiday season, find out why diamond stud earrings always hit the mark.
Versatile Elegance
The perfect way to punctuate any look, diamond studs add extra glitz to formal looks. They also bring beautiful flair to professional garb and her favorite casual wear. This incredible versatility makes the diamond stud an essential must-have for any jewelry collection.

The beauty of a diamond stud earring is that it provides the illusion that the gem is floating on the ear. This generates a subtle, sophisticated beauty while showcasing the brilliance of the diamond.

Among the most versatile jewelry pieces, diamond studs are quiet workhorses that look smart by day and sophisticated by night. They lend fiery flair to glittery dresses and a little pizazz to her favorite t-shirt and jeans. Their ease of wear and incredible versatility make them a foundational asset for any woman, whatever her style.
Choosing the Right Studs
Classic staples that go with everything, studs are simple to wear and endlessly adaptable. A perfect choice for women of all ages, these timeless classics are safe gifting options because they flatter all skin types and face shapes. When building a personal jewelry collection, studs are one of the fundamental staples since they can be worn with anything in virtually any setting.

With all of that said, there are still plenty of choices to make when choosing a pair of diamond stud earrings. These days, you can get a number of uniquely compelling designs featuring diamonds cut in varying shapes. That said, while most jewelers have a limited selection of diamond stud earrings, John Atencio does things differently.

When designing his diamond studs, John applies the same daring creativity he uses for every single jewelry piece in his impressive collection. This gives customers an incredible variety of options, including dazzling Orion diamond studs and exquisite Devotion earrings with a mesmerizing center diamond surrounded by an eye-catching cluster of glittering diamond stones.

Timeless and eye-catching, diamond stud earrings truly elevate her look, especially when paired with a complementary metal. Classic studs glitter with fire in fashion-forward pale white gold and classic yellow gold. Whatever your preference, we have women's earrings to enhance her outfit and flatter her skin type.
Lab-Grown Diamond Studs
Lab-grown diamond studs are coveted for their exceptional quality, stunning sparkle and lesser environmental impact. If you're searching for a more affordable, eco-friendly pair of studs, lab-grown diamonds are a fantastic option.

Created in dedicated facilities using specialized technology, these gorgeous gemstones are made using incredibly high heat, intense pressure and responsibly sourced raw materials. Although the process is scientifically complicated, the results are simply stunning: lab diamonds are identical to naturally natural diamonds, both chemically and optically.

One of the big benefits of lab diamond stud earrings is that they are indistinguishable from natural diamonds. Even the most seasoned gemologist will not be able to identify lab diamond gemstones with the naked eye. The only real difference between lab-grown diamonds and natural diamonds is that the former includes microscopic inscriptions. Without specialized equipment, however, it's just not possible to distinguish lab-grown diamond studs from stud earrings made with natural gems.

Held to the same unyielding standards as natural diamonds, lab diamonds are rated based on the critical 'Four Cs' (cut, color, clarity, and carat weight). Just like natural diamonds, they must be expertly cut and carefully polished by master cutters to create brilliantly faceted gems.

Committed to social responsibility, John Atencio also offers breathtaking natural diamond stud earrings that are responsibly sourced and environmentally friendly. This is one of the many reasons why John's jewelry is popular among modern sustainability-conscious consumers.
Gifts She Will Treasure
Frame her beauty in fire with diamond stud earrings from John Atencio. Available from 1/4 carat to 4 carats, all of John's diamonds are responsibly sourced, with 100-percent traceable origins. Exquisitely crafted using sustainable materials, John's lab-grown diamonds are an equally stunning gift option for women who prefer eco-friendly jewelry.

Whatever her place in your life, John's breathtaking diamond jewelry pieces make stunning gifts that will have her smiling ear to ear. With John on your side, you never have to feel nervous about selecting a meaningful holiday gift for the special woman in your life. Visit any nearby John Atencio location, and our experts will help you find the best diamond gift that will make her light up with joy.
Browse John Atencio's 2023 Holiday Look Book
Browse his many stunning collections and find the best diamond stud earrings for her. Shop the 2023 Holiday gift guide.
Additional Gifts to Consider:
Most Popular Gold Gifts For Her
Most Popular Silver Gifts For Her
Gifts For Her Under $1000
Best Gifts For Her Under $500
Most Popular Gifts For Him
Best Gifts For Him Under $500
Best Birthstone Gifts