Milestone Gifts for the Graduate in John Atencio's Signature Jewelry Styles
diamond gifts, gold jewelry gifts, graduation gifts, jewelry gifts
5/19/2023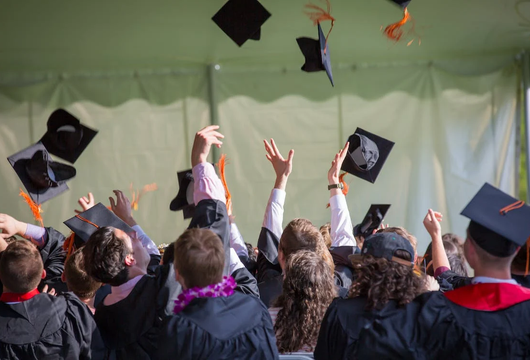 Celebrate the graduate in your life with a cherished keepsake from John Atencio. With an array of iconic sterling silver and classic 14 karat gold designs, this curated selection offers a range of options to commemorate significant milestones. Each piece has been meticulously hand-designed by John Atencio himself, using sustainable materials and responsibly sourced gemstones. Whether it's a timeless pendant, an elegant bracelet, or a personalized piece, these graduation jewelry gifts will help you mark this momentous occasion with grace and style.
Classic Gold Hoop
Honor your graduate's achievement with a pair of classic gold hoop earrings from John Atencio. A symbol of elegance and simplicity, these timeless gold hoops feature a minimalist design that reflects a refined taste, while effortlessly complementing their personal style. 
As your graduate embarks on new adventures and faces life's challenges, these versatile earrings will serve as a reminder of your support. A cherished addition to their jewelry collection, these classic gold hoops will be a lasting tribute to their determination.
Gold Bracelet
Celebrate the major milestone of graduation with a truly timeless gift from John Atencio's Essence Collection. This exquisite gold bracelet embodies exquisite simplicity with its clean lines and artful curves. As your grad embarks on a new chapter in life, this stylish piece will serve as a lasting reminder of their accomplishment and the journey that lies ahead. It can even be personalized with a meaningful engraving. 
Available in 14K rose, white, or yellow gold, the Essence gold bracelet can be effortlessly layered or stacked to amplify your graduate's personal style. Give your graduate a token of your pride and admiration with this stylish testament to their hard work and perseverance.
Small Diamond Pendant
Another stunning way to honor your graduate, John's Lines Diamond Pendant showcases brilliant channel-set diamond gemstones that radiate timeless elegance. Serving as a shining symbol of your graduate's unlimited potential, this dazzling piece is thoughtfully crafted to capture the essence of beauty. Sourced ethically and responsibly, each glittering diamond undergoes a meticulous selection and painstaking matching process, ensuring unparalleled quality and brilliance. 
Give your graduate a tangible reminder of their accomplishments and a symbol of their boundless potential. Crafted with the highest standards and unmatched artistry of John Atencio, the Lines diamond pendant is a beautiful token they will treasure for a lifetime.
Diamond Stud Earrings
Commemorate your graduate's special milestone with a stunning pair of diamond stud earrings from John Atencio's collection – the epitome of timeless elegance and versatility. Just as a diamond's brilliance is revealed through precise craftsmanship, these earrings symbolize the graduate's potential and the bright future that awaits them.
A classic setting ensures that these diamond studs can be effortlessly paired with any ensemble, making them a cherished addition to their jewelry collection. With a sparkle that mirrors your grad's innate brilliance, these diamond stud earrings are an enduring token of admiration and love.
Timepiece for Him:
Mark this meaningful milestone moment with a sophisticated timepiece from John Atencio. A classic and elegant wristwatch designed to last a lifetime, Pantheon I is the perfect blend of practicality and style. As your grad enters a world where punctuality and professionalism are paramount, this watch will become a symbolic accessory that signifies their transition into a world of opportunity and responsibility. 
With its Swiss movement technology and state-of-the-art steel finishes and materials, the Pantheon collection showcases John Atencio's meticulous attention to detail and his passion for creating exquisite timepieces.
Explore the Pantheon-I Watch and discover the beauty, artistry, and craftsmanship inspired by the Roman Pantheon. This extraordinary timepiece is a testament to your graduate's achievements and a daily reminder of the importance of time and punctuality in their future endeavors. Give them a graduation gift that complements their style, while representing their readiness to embrace the professional world with confidence and grace.
Paloma or Arrivo Pendant:
Celebrate your graduate's academic accomplishments and school pride with a uniquely colorful piece of jewelry from John Atencio's collection. 
The Paloma pendant embodies the iconic artistry of John Atencio, with bezel-set diamonds surrounded by a softly dimensional architecture, inspired by the vision of peace and unity. Not to be outdone, the Arrivo Trillion Solitaire Pendant exudes style and sophistication with its trillion gemstone and diamond accents, available in sterling silver and 14 karat gold. The Arrivo collection also offers a range of stacking bracelets, rings, pendants and earring styles. 
Each option is available in varying gemstone colors, giving you the opportunity to choose a piece that reflects your grad's school pride.
Signet Ring:
Searching for a meaningful way to honor your graduate's individuality and achievements? Consider a Signet Ring from John Atencio's collection. This classic piece of jewelry holds great personal significance, representing the graduate's unique identity and accomplishments.
A standout design in John Atencio's men's jewelry collection, the Matrix Signet Ring combines bold oxidized patterning with iconic circle, triangle and line symbols that represent the three keys to communication, while acknowledging the challenges we all face in balancing family and relationships. With this distinctive ring, you can give your graduate a tangible symbol of their journey and a reminder of your everlasting support.
Gold Pendant:
The best graduate jewelry honors the occasion, while providing long-term appeal. Take, for instance, a timeless Gold Pendant from John Atencio's collection. This classic piece of jewelry serves as a cherished reminder of their educational journey, while elevating their style. 
The Adore Petite Heart Pendant Necklace embodies the universal symbol of love, joy and compassion. Each heart design is sketched by hand and impeccably crafted, representing a true expression of love and a lasting and timeless gift. 
Likewise, the Devotion Small Pendant Necklace captivates with its clean lines, channel-set diamonds, and pristine high-polished finish, symbolizing the devotion and dedication of the graduate. Whether in sterling silver or 14 karat gold, these pendant necklaces showcase the craftsmanship and artistry that have made John Atencio a legend in the industry. 
Gold Cuff Bracelet:
Recognize the strength and determination of your graduate with a classic and elegant gold cuff bracelet from John Atencio's collection. These timeless pieces of jewelry hold versatile significance, representing the graduate's resilience and mental fortitude. 
The Polar cuff bracelet showcases clean contemporary lines and graceful artistry that goes with any style. The Pivot bracelet brings its own distinctive flair with an intriguing design in yellow, white or blush rose gold. Inspired by John Atencio's early career, the Dallas cuff bracelet showcases textured movement and a pristine high polish finish that elevates any ensemble. 
You can even make your grad's gift more personal by customizing it with the graduate's initials or a meaningful symbol. The result is a cherished and one-of-a-kind piece of jewelry that encapsulates the graduate's achievements and holds a special place in their heart.
A Gift that's Worthy of the Moment
As your graduate prepares to embark on the next chapter of their lives, their accomplishment deserves a memorable gift they can treasure for decades to come. A stylish piece from John Atencio serves as a wonderful way to honor their hard work and elevate their look as they step into the world beyond academia. 
Whether it's a dazzling diamond jewelry gift or a personalized design, John offers the perfect gift to commemorate graduation day. So, celebrate this once-in-a-lifetime milestone with a timeless and meaningful gift that symbolizes their bright future.