From Court to Glam: Accessorizing Your Pickleball Outfit with Jewelry
diamond tennis bracelets, minimalist jewelry, pendant necklace
5/22/2023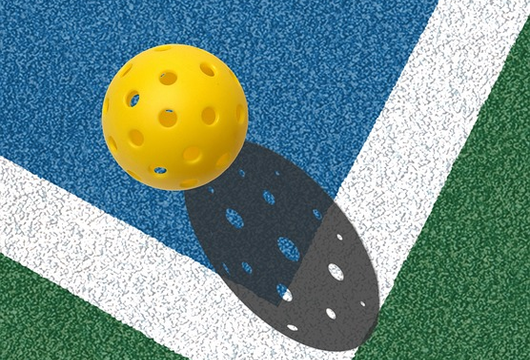 Pickleball has taken the world by storm, with players trading their traditional tennis whites for paddles and wiffle balls in a frenzy of fast-paced, pickle-y fun. You might say pickleball is to tennis what leggings are to jeans: casual, comfy and oh-so-accessible.
Speaking of fashion, the pickleball court has become a sizzling runway, with enthusiasts accessorizing like never before. Gone are the days of bland athletic wear; pickleballers are sporting vibrant hues, eye-catching patterns, and dazzling jewelry as they serve and volley with competitors and friends. Here are some pickleball jewelry tips to help you accessorize on the court and beyond. 
The Pickleball Bracelet: The New Tennis Bracelet?
As the world of racket sports evolves, so too does its accompanying fashion. And the newest trend to make a statement is the pickleball bracelet. Gaining popularity as a worthy successor to the time-honored tennis bracelet, this novel accessory exudes charm and elegance.
With the same elegance and sparkle as its tennis counterpart, the pickleball bracelet adds an extra layer of whimsy to your wrist. Whether you're a pickleball veteran or just discovering the sport, this fashionable bracelet is the perfect way to flaunt your style on the court. 
Earrings that Swing with the Game
It's nice to have stylish earrings that move with you, when you're deftly navigating the pickleball court. Take for instance, John Atencio's Oro Perfecto earrings and Orion Polar diamond drops. Each design brings a subtle flair to your game without interfering with your serve. 
Necklaces: From Dainty to Dazzling
The right necklace can add a personal touch to your sporty outfit. Think simple pendants with colorful gemstones or glittering diamonds that catch the light as you square up to return an opponent's serve. John offers several distinctive pendant designs that can elevate your look without hindering your game.
Rings: Subtle Statements
Rings are an easy way to make a stylish statement on the pickleball court. Just be sure to choose an unobtrusive design that won't slip off or snag on your clothes. John has created a number of stunning women's rings that add color and glam to your game. 
Safety First: Jewelry Tips for the Pickleball Court
While the right jewelry can add a touch of flair to your game, it's important to prioritize safety and comfort. To keep your pieces securely in place, choose snug-fitting items that don't hang too loosely. When selecting earrings, think studs or smaller hoops and dangles that won't snag on clothing or equipment as you scramble to return a fierce volley. 
In terms of materials, always choose pieces made of high-quality precious metals, such as gold and silver, which can withstand sweat. You should also avoid wearing any loose or dangling pieces that could become entangled or pose an injury risk. 
Post-Game Glam: Transitioning Your Look
Transitioning from your sporty pickleball look to a glamorous post-game style doesn't have to be time-consuming. To quickly elevate your ensemble, start by swapping out your athletic attire for a stylish dress or a chic jumpsuit that flatters your silhouette. Next, replace your sport-appropriate jewelry with stunning statement pieces from John Atencio. 
When it comes to quickly transitioning your look, the power of jewelry cannot be underestimated. For a bold, contemporary touch, choose geometric designs in gold or silver that artfully combine angles and curves.
Alternatively, opt for intricate, gem-encrusted creations to add a luxurious and sophisticated flair. Don't shy away from layering necklaces or stacking bracelets, as this can create a dynamic, eye-catching effect. A pair of statement earrings can also work wonders, drawing attention to your face and highlighting your features. 
Finally, consider adding a few dainty, minimalist pieces from John Atencio's collection to complement the statement accessories without overpowering them. This balanced approach will allow you to effortlessly transition from sporty to glamorous, showcasing your unique style and love for exquisite jewelry on and off the court. Explore John's collections of uniquely artful jewelry and discover exquisite jewelry pieces for every setting and any occasion.
Embracing New Trends
When it comes to pickleball, style and fun can coexist, creating a delightful fusion of fashion and sport. As you master the game and show off your impressive moves on the court, don't forget that your flair for fashion can be just as captivating. 
So, whether you're engaged in a thrilling rally or sharing a laugh with fellow players, remember that pickleball is the perfect opportunity to let your unique style shine through. After all, who says you can't have a great time while looking fabulous on the court? Show off your passion for the sport and your fashion sense with a little help from the jewelry consultants at John Atencio.