Hints and Clues! How to Get the Gift You Want from Him
gift ideas, jewelry gifts
11/19/2020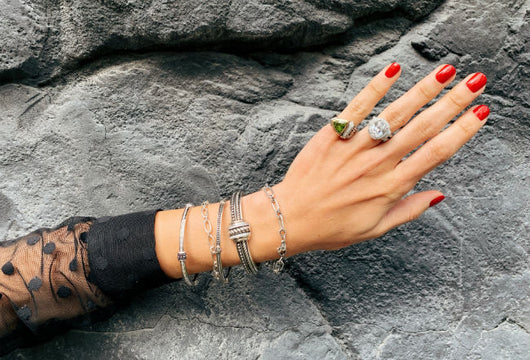 Have you been wondering how to get exactly what you want for Christmas? Let's face it, it would be an exceptional ending to a challenging year if you could get that sparkling gift you've been coveting from afar. After all, the gift of fine jewelry will lift your spirits, and you deserve an extra special bracelet, necklace, ring or pair of earrings to wear. You know what you want, so give him a subtle lesson in how to choose the right gift for you. Fortunately, finding the right gift will be easy for him when he knows you want it from John Atencio. You just need to find the right way to let him know what you want.


John Atencio Designs the Gifts Women Want
World renowned jewelry designer John Atencio is a master artisan with 48 years of experience in designing distinctive statement jewelry that women adore. Beginning each design by personally sketching it to excellence, he ensures each piece is crafted to perfection with meticulous attention to detail and aesthetic balance. Finding the right gift at John Atencio is effortless because every piece is made to be an heirloom, with craftsmanship that's evident when you see it and feel it. You can never go wrong by gifting a woman with stunning jewelry designed by John Atencio, and its your job to ensure that he's aware of this fact.


Drop Hints to Get the Gift you Want
Start with verbal hints to show him how to choose the right gift. While going about your normal activities, speak to him about your appreciation for jewelry when he's within earshot and actively listening. Tell him the type of jewelry you prefer and how good it makes you feel about yourself. You can also enlist a friend in your endeavor and have them subtly mention to him about your esteem for John Atencio jewelry. Lastly, take him window shopping while strolling past a John Atencio store, exclaiming (audibly) under your breath about the wonders in the window. Finding the right gift for you may be easier than he believes after he hears a few "oohs" and "aahs" from you.
Leave Clues to Show Him How to Find the Right Gift
Arranging physical clues for him may help him find the right gift for you. Leave the John Atencio holiday brochure where he can see it (if you didn't get it, request it!), or tear out the page with your favorite jewelry on it and place it under his pillow. It's the holidays, so pen a wish list or a letter to Santa and leave it out where he can see it. No remark from him yet? Circle it with a red or pink pen and mark it with a heart. Another way to place a suggestion is to turn your screensaver off and leave your phone, tablet or computer open on JohnAtencio.com, or pull up the page with the specific piece of jewelry you adore and walk away. Even better? Leave it on the online wishlist you created by clicking the heart next to your favorite jewelry, or place the wishlist card you brought home from the store by his coffee cup (or leave it at the store for safekeeping!). You can also sign up for the John Atencio newsletter at JohnAtencio.com and forward it to his email address with a hinting message. You may have to leave it to your lipstick for one final effort in this realm, drawing a little picture on the bathroom mirror and prompting a question that you'll gladly answer in detail, for time is of the essence.


Browse the Web Together to Show Him the Right Gift
If his hint-taking and shopping savvy are less than stellar, browsing the web while sitting in bed or lounging on the couch together may be the way to go, especially if you want a specific piece of jewelry. Multiple visuals may work best, so direct your browser to John Atencio.com, then pull up a search engine on another browser tab that displays the results of your "John Atencio Jewelry" search. Bring up the page with the specific piece you desire, smile coyly and declare, "I think this is absolutely gorgeous. Don't you think this would look great on me?" Use his answer to steer the conversation toward this future gift, discussing how the piece would make you feel when you wear it and how it would always remind you of him. Hinting by using an actual photo to create a mental picture can go a long way toward getting the gift you want.


Tell Him you Want Jewelry from John Atencio
If he still hasn't taken a hint or understood the clues you've left for him, you may have to be more direct about showing him how to choose the right gift. After all, relationships should be built around open and honest communication, so sincerity is now in order. Fill his ear with your exact gift suggestion and show him a photo again if necessary. Gift certificates are also an option—that way you don't have to worry about him finding the right gift for you. Simply be honest and let him know how much you would treasure an original John Atencio, because a John Atencio is for life.

There's never been a better time to ask him for some glitz to add to your life. Visit JohnAtencio.com together and browse the incredible selection of boldly distinctive jewelry, then schedule a virtual or in-person appointment with a John Atencio Concierge to show him how to choose the right gift. Because there's no sparkle like the sparkle from John Atencio.