How Much Should You Spend on an Engagement Ring?
engagement ring cost, engagement rings
12/21/2020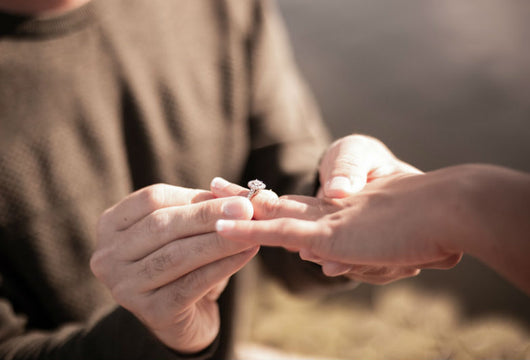 When you're ready to take your commitment to the next level, you will want to select an engagement ring that's worthy of your bride-to-be. But how much should one spend on this all-important symbol of your love? Here's our guide to choosing the right ring based on your individual budget.
How Much is an Average Engagement Ring?
Engagement rings are available in a wide variety of styles and price points. You can find simple engagement rings for a few hundred dollars or especially stunning rings for tens of thousands of dollars. Ultimately, there is no hard-and-fast rule that dictates how much you should spend on a ring. Since every person's situation is different, there is no meaningful "average." That said, there are some factors that can help you determine how much you should spend on your perfect ring.
How Much Should You Spend?
Unless you're blessed with substantial wealth, engagement ring prices are nothing to shrug off. When it comes to deciding how much to spend on a ring, the answer is both highly subjective and multi-faceted.

Setting a comfortable budget is a fundamental first step. From there, you should establish priorities (such as size or quality) to help you identify the perfect ring. Since this is a purchase your bride will look at every day for the rest of their life, it's worth investing in. Still, you need to live within your means.

Despite the old adage of spending one, two or three months' salary, there's no hard-set rule about how much you're supposed to pay for a diamond engagement ring. To make sure you can live with the final expense, you need to assess your current budget and future income expectations.
Running the Numbers
While a ring's worth should always come from the meaning behind it, engagement ring cost can play a significant role in determining how it is received in that monumental moment. At the same time, you have a future to think about. Since both of your finances will merge when you get married, your ring investment can affect her financial well-being as well.
While it's fine to leverage a certain amount of credit, you shouldn't put yourself into an unwieldy amount of debt for the ring. To ensure that you make a wise purchase, here are some factors that can help you assess your financial ability:
Your current monthly income
Your savings and emergency funds
Your expenses, including food, bills and any outstanding debts, such as student loans and car payments
In addition to these considerations, you should honestly assess your potential income. Does your job have good growth potential in the coming years? If yes, you can put that into consideration. On the other hand, if the outlook seems a bit cloudy, you should consider this too.
Using all these factors, you can better estimate how much you can reasonably invest in a ring. Ideally, you want to be able to purchase the ring without incurring too much debt. Or at least you will want to be able to pay off that debt within a few months.
Is it That Big a Deal?
There's just no getting around it. The ring matters for a number of reasons. For one, it's a symbol of your commitment and love. It also shows you are invested in a shared future.

Many women have also dreamed about their perfect engagement ring for a long time, including the diamond shape, style and precious metal setting. It's a major disappointment to get a ring that doesn't live up to this image.

Since she's going to be wearing this particular ring every day, it will immediately become the most significant piece of jewelry she owns. It's only natural that she will want to take pride in it, especially when she shows it off to her co-workers, family and friends.

With all that said, this doesn't mean you have to mortgage your future to get a ring she will love. Most women have reasonable expectations when it comes to diamond carat size. Still, they do want their partners to put thought and effort into choosing a unique ring that will suit their distinctive styles. It can help to have a trusted ally like John Atencio to help you make a wise purchasing decision.

John Atencio offers a diverse selection of breathtaking engagement rings for every style and budget. Every single piece is artfully crafted using more metal, which gives each ring a noticeably heavier feel. All of his beautiful engagement rings come in 18K gold, but we can also make them in platinum. Unlike other jewelers, John creates the ring around the stone – and doesn't just "fit" a stone within a ring. He also uses recycled gold and responsibly sourced diamonds.

Everyone's diamond search is unique. Our jewelry experts can help you find a diamond or other gemstone that balances quality with size at a price that fits within your budget. From our dazzling Luminaire Rings to our stunning Cashmere Rings, we have engagement rings for every style and budget. Visit one of our locations and let our attentive experts guide you to the perfect ring for that magical moment.
Listen to our podcast episode on what to look for in an engagement ring.