What is a Tennis Bracelet?
bracelets, diamond bracelets, tennis bracelets
12/23/2020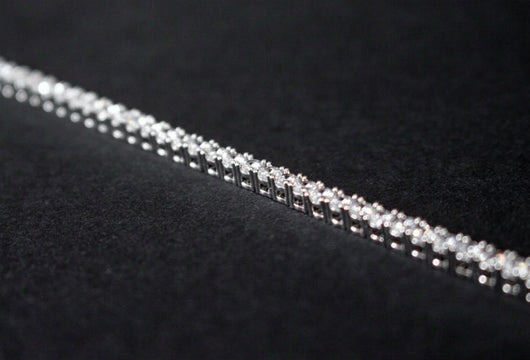 A wardrobe staple, diamond tennis bracelets go with any ensemble, from ballgowns and pantsuits to jeans and t-shirts. Classic, stylish and elegant, they infuse any outfit with shimmer and glam, while allowing the wearer to show off their unique style. Here's everything you need to know about these iconic jewelry pieces.
How They Got Their Name
Tennis bracelets are delicate and dazzling jewelry pieces with closely set diamonds that completely encircle the wrist. Sleek and modern, tennis bracelets add sparkle and sophistication to any look, elevating your appearance even in casual settings. That said, they didn't always have that trademark name. 
Tennis bracelets used to be called diamond line bracelets or eternity bracelets. Today, when asked to define a tennis bracelet, most people reply "a diamond bracelet." While this is true, there's a colorful history behind how the jewelry got its contemporary name.
In 1987 while playing at the US Championships, tennis legend Chris Evert took a mighty swing with her racket only to have her diamond tennis bracelet fly from her wrist due to a faulty clasp. She asked that the match be paused while she searched for her broken bracelet. After begrudgingly granting her request, the judge waited along with her opponent and fans while Evert located the faulty bracelet. From that day onward the classic piece of jewelry became known as a "tennis bracelet."
A Timeless Beauty
The story of how the diamond tennis bracelet got its name is already more than three decades old. And the design of this piece of jewelry is even older. Nevertheless, it remains a timeless beauty with the versatility and sophistication to be one of the most popular jewelry pieces of all time.

Classic tennis bracelets usually consist of round, colorless diamonds set within an 18 karat platinum or white gold setting. Over the years, however, new versions have appeared. These days, you can get tennis bracelets of 18 karat yellow and rose gold, and jewelers are also experimenting more and more with the stones themselves.

When it comes to iconic classics, the tennis bracelet is there right along with the solitaire diamond engagement ring. Whether you're buying it as a gift or for yourself, you can never go wrong with a diamond tennis bracelet. It goes with everything and simply never goes out of style.
A Versatile Jewelry Piece
A dynamic fashion accessory, the diamond tennis bracelet has the ability to flawless blend eye-catching flash and brilliance with classy subtleness. Striking yet easy to wear, this ever-popular classic is both understated and eye-catching in casual environments and formal settings.

While traditional bracelets include round-cut diamonds throughout, there are plenty of playful variations with colorful gemstones, unique diamond shapes and decorated clasps. Whether you want a diamond bracelet that's simple and timeless or a scintillating piece that refuses to go unnoticed, John Atencio has something for every style and occasion.
The John Atencio Difference
Artfully crafted using only the finest materials, John Atencio tennis bracelets are wearable pieces of art. With captivating clean lines, stunning hand-selected gems and pristine high polished finishes, each jewelry piece reflects John's commitment to quality and graceful artistry. And every diamond is responsibly-sourced, with 100%-traceable origins.
An enduring classic, diamond tennis bracelets come in carat qualities and weights that work within virtually every budget. While these versatile jewelry pieces go with everything, they are available in a variety of styles, from the impeccably crafted Monaco tennis bracelet and its artfully cut gems to the Oyster collection, with its smooth curves and gentle undulating arches.

If you aren't sure of her distinctive style and preferences, use your phone to take some pictures of her existing jewelry collection and ask a John Atencio expert to help you find a tennis bracelet she's guaranteed to love.

Visit any John Atencio location, and we can help you find the ideal bracelet to complement the jewelry she wears every day. We can also help you decide on an impactful stand-alone piece to show her just how much she means to you.