It's Jewelry! The Best Gift Ideas for Millennials
gift ideas, millennials
11/16/2020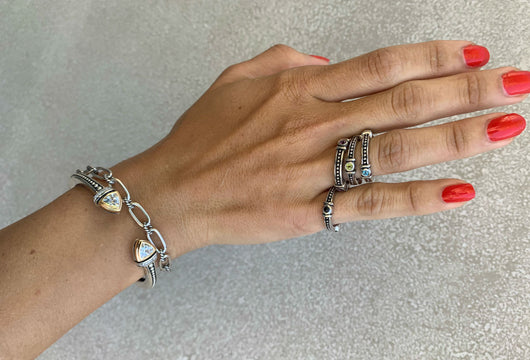 Have you been searching for gift ideas for a special millennial? Gifting them with something stylish they can treasure for the rest of their lives is well worth it, so make your Millennial happy with a move toward jewelry. Whether it's for the holidays, their birthday or simply to honor the stellar person they are, they'll appreciate a gift that will be a part of their everyday life for years to come. Millennials are confidently bold, socially responsible and proud to support causes that protect our earth and the greater good. Buying timeless John Atencio jewelry is the best gift you can give them because it embraces what they hold dear.

Master Artisan John Atencio Designs Jewelry for Millennials

John Atencio is known locally in Colorado and the world over for artfully crafting impeccable jewelry that is simple, clean and bold. Building upon an impressive 48 years in the practice of designing distinctive jewelry, he thoughtfully sketches every design to perfection by hand. Demanding the highest craftsmanship and attention to detail in every piece that bears his name, he employs only master artisans to craft the jewelry he designs with love. John takes his role as a socially responsible jeweler to heart, using only recycled gold and hand-selected, responsibly sourced gemstones—a fact that the Millennials in your life will value. Visit JohnAtencio.com to view an abundance of gift ideas for Millennials.
Thinking about Gift Ideas for Millennial Women?
Straightforward and genuine by nature, Millennials tend to flock toward simple designs that reflect their sense of authenticity and sensibility as people. It may seem like a tall order, but searching for gift ideas for Millennials is easy with John Atencio. The Solar Collection celebrates the balance in our lives, showcasing circles, triangles and lines in each design. Simple and stylish, pieces like the Solar Adore Heart Pendant, Leather Double-Wrap Bracelet and the Large Hoop Earrings are versatile and will be cherished and remembered as the special gift you gave her. 
Start a Tradition for the Millennial Women in Your Life

It is a perfect time to start a tradition with the Millennial in your life. That's why selecting the right jewelry for Millennials to start a tradition with is the perfect gift for them. Select a stacking bracelet like the Antigua Oval Link Bracelet, the Apollo Double-Wrap Bracelet or the Solar Heart Charm Bracelet this year to begin a richly rewarding stacking tradition you can build upon every special occasion. Or make a rainbow on her wrist with the stunningly stackable and completely collectible Solar Braided Leather Bracelet that is offered in seven rich colors. She'll look forward to every giftable occasion in anticipation of the tradition you started for her.

Genuinely Unique Jewelry for Millennial Men


When considering gift ideas for the Millennial man, remember that they desire their jewelry to have profound meaning and significance. John Atencio works in tandem with Lashbrook Designs to create meaningful custom bands in a range of metals that will "wow" the Millennial man in your life. Not only can a handwritten message or fingerprint be engraved into his ring, a soundwave of his favorite song or his baby crying for the first time can be etched into a band he'll always wear. When you order a special Lashbrook ring through John Atencio you receive free sizing and a lifetime warranty.

Millennial Men Wear Jewelry with Meaning

Ensure that he'll make his mark on the world by gifting him with a special piece from the John Atencio Matrix Collection. Gift ideas for Millennials come easy when you consider this striking collection that's crafted with relevant circle, triangle and line icons and oxidized patterning that symbolize the harmony of family, relationships and communication. From the Black Leather Bracelet and Cross Signet Ring to the Dog Tag Pendant Necklace (and more!), you're sure to find a meaningful gift for the Millennial man in your life.

Browse JohnAtencio.com to find the perfect gift ideas for your special Millennials, then schedule a virtual or in-person appointment with a John Atencio Concierge to make that special someone happy.