Tennis Necklaces: What They Are & How To Wear Them
tennis necklace
10/16/2023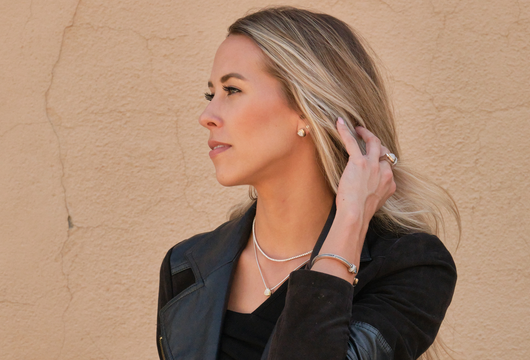 Flashing maximum brilliance, the dazzling diamond tennis necklace stands apart as a true jewelry icon. With an elegant row of luminous real diamonds, this glamorous necklace adds show-stopping sparkle to every look. Here's everything you should know about these dazzling jewelry pieces, along with some tips for blending them into your formal and everyday attire, perfect for special occasions.
What Is a Tennis Necklace?
Just like their celebrated tennis bracelet cousins, tennis necklaces feature a gracefully aligned row of diamonds that continuously encircle the neck. Typically set closely together, the dazzling stones create an unbroken line of brilliance that elevates any look. Whatever the setting, tennis necklaces make a glamorous statement, attracting eyes and accentuating the décolletage. Their versatile shine dresses up casual wear while complementing elegant evening gowns.
More than just beautiful jewelry, tennis necklaces symbolize timeless style. The glistening row of tennis necklace diamonds upgrades any look with a touch of glitz and flash. This sparkling elegance conveys refined taste, bringing confidence and class, whatever the occasion.
Exploring the Designs of Tennis Necklaces
As versatile as their bracelet counterparts, glittering tennis necklaces allow women to make a dazzling statement. These scintillating necklaces come in a variety of necklace styles that can complement any personal style. Whether you prefer classic, modern or innovative trendsetting designs, you're sure to find a tennis necklace to suit your taste.
Classic Diamond Tennis Necklace
For many, the quintessential tennis necklace features a timeless line of brilliant round diamonds. This elegant style pairs flawlessly with both casual everyday wear and formal black-tie attire. A classic diamond tennis necklace casts compelling light from every angle, lighting up your neckline with an endless row of scintillating fire.
Colored Gemstone Tennis Necklace
Today's tennis necklaces showcase more than just diamonds. Colored gemstones like emeralds, rubies and sapphires infuse this jewelry staple with eye-catching color. Vibrant gemstone tennis necklaces pop against the skin, making them ideal statement pieces.
Mixed Metal Tennis Necklace
Modern tennis necklace designs often combine metals for a more eclectic look. Mixed metal, or two-toned, tennis necklaces feature two gold shades, often rose gold and yellow gold, for double the shine. This mash-up creates visual interest and gives tennis necklaces a fresh, modern edge.
Current Trends and Designs
From dainty to bold, tennis necklaces now come in an array of on-trend styles. Fashion-forward options include floating diamond necklaces, graduated Riviera necklaces, and chokers with a tennis necklace inset. A legend in the jewelry world, John Atencio offers unique tennis necklace designs you won't find elsewhere. Shop online or visit one of our convenient Colorado locations to discover cutting-edge tennis necklace designs to suit every taste and style.
Styling and Fashioning Tennis Necklaces
Flaunting maximum sparkle, tennis necklaces infuse any outfit with show-stopping brilliance. As previously mentioned, their versatile shine complements both dressy and casual fashions. 
For statement glamor, pair a dazzling tennis necklace with an elegant black dress or flashy sequined top. For daytime shine, style your necklace with jeans and a tee or sundress. Tennis necklaces add glam to business attire and cocktail dresses, too. Any outfit craving an extra dash of glitz can be taken to the next level with a glittering diamond tennis necklace.
A wardrobe essential, tennis necklaces transition seamlessly from day to night. Their simple yet striking style works for the office, evenings out, and everywhere in between. Dress tennis necklaces up with heels and a clutch for date nights. Style them down with sandals and shades for relaxed weekend wear.
For a business meeting, add a tennis necklace to bring subtle sparkle to your blazer and trousers. Of course, tennis necklaces also grace formal attire, from little black dresses to ball gowns. Easy to layer, these versatile necklaces complement any look.
Tennis Necklaces in the Limelight
As an iconic jewelry staple, dazzling tennis necklaces attract A-list attention wherever they go. Spotted on celebrities and royals alike, tennis necklaces bring effortless glamor to red-carpet events, galas and star-studded parties.
With unlimited versatility, these glittering necklaces complement couture gowns and designer dresses. Their brilliant shine photographs flawlessly, making them a magnet for paparazzi flashes. Even off-duty, celebrities gravitate toward tennis necklaces for everyday polish and panache.
From Old Hollywood legends to today's starlets, leading ladies love the endless sparkle of a glittering tennis necklace. Style icons like Audrey Hepburn, Grace Kelly and Elizabeth Taylor famously wore these gorgeous necklaces both on and off screen.
Modern celebrities continue the tradition, with stars like Jennifer Lopez, Rihanna and Catherine, Duchess of Cambridge spotted in eye-catching tennis necklaces. Tennis necklaces will forever be the accessory of choice for celebrity fashionistas seeking timeless glamor. At the same time, these versatile jewelry staples offer accessible luxury to anyone, whatever their station in life.
Caring for Your Tennis Necklace
A tennis necklace makes a meaningful investment that will last a lifetime with proper care. Always store your necklace safely in a jewelry box, and never thoughtlessly toss it into a purse or drawer. Diamonds and gemstones require protection to avoid scratches, so be sure to store your necklace separately from other jewelry pieces, such as rings and bracelets.  
Avoid exposing tennis necklaces to chemicals in makeup, hairspray and cleaning products. For regular upkeep at home, gently wipe gems with a soft cloth. Use warm water mixed with mild soap to clean tennis necklace metals. Take care to thoroughly rinse and pat dry after cleaning. 
Bear in mind that John Atencio provides a gentle jewelry cleaner specially formulated for delicate jewelry pieces. He also offers inspections and complimentary in-store cleaning over the lifetime of your John Atencio jewelry. 
John Atencio and Tennis Necklaces
With over 48 years perfecting his craft, John Atencio creates stunning tennis necklaces showcasing the creativity of an award-winning designer. Each dazzling John Atencio original reflects hands-on artistry you won't see anywhere else on Earth. 
Blending subtle glamor with breathtaking brilliance, John's tennis necklaces epitomize versatile elegance. With eye-catching styles featuring exquisite diamonds and precious metals, John creates necklaces that stand apart from the rest. Shop online or visit one of our stores, where our attentive jewelry consultants can help you choose the perfect piece for your unique style.