Elevate Your Style: Discover Unique Tennis Bracelet Designs
diamond tennis bracelets, lab grown tennis bracelet, tennis bracelet, tennis bracelets
10/9/2023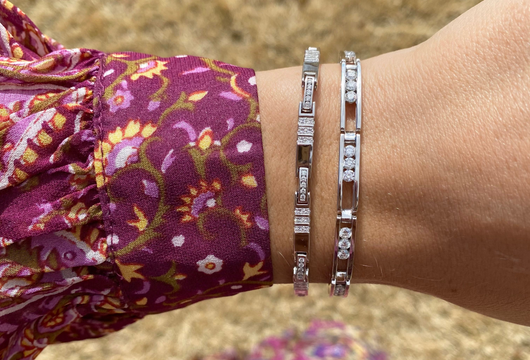 An iconic piece of jewelry, the diamond tennis bracelet elevates any outfit, from casual summer ensembles to the most elegant ball gowns. Traditionally an endless circle of glittering diamonds, tennis bracelets now come in a variety of intriguing styles. Let's look at some of our favorite unique tennis bracelets from John Atencio's collection of artfully crafted designs. 
The John Atencio Difference
Known the world over for his distinctive jewelry designs, John Atencio has spent four decades designing compelling, creative jewelry pieces that evoke glamor, sophistication and style. Inspired by the future and informed by the past, he continues to refine his wondrous craft, bringing his one-of-a-kind visions to life for a customer base that spans the world.
As he continues his lifelong artistic journey, John curates new stimulating designs that take the traditional tennis bracelet to a whole other level. Thanks to his hard-earned relationships with conscientious miners, suppliers and cutters, John is able to craft each piece while maintaining his strict commitment to sustainable and ethical diamond sourcing. At the same time, John offers striking tennis bracelets made from the highest-quality lab-grown diamonds. Whatever your taste, John has a distinctive piece to reflect your personality and style. 
Uniquely Artful Designs
When most people think about tennis bracelets, they imagine a simple piece with an uninterrupted circle of diamonds. These days, however, you can get artfully designed pieces that incorporate precious metal in creative ways. 
Take, for instance, John's Orion and Lines collections. Each design blends clean, contemporary lines with graceful artistry to craft uniquely alluring pieces that captivate the eye. Stunning, stylish and distinctive, these unique diamond tennis bracelets are ideal for women who want to enhance their ensembles while showing off their unique style.
Not to be outdone, Paloma and Monaco bring their own distinctive flavor to the traditional tennis bracelet, infusing it with John Atencio's signature creativity. As these pieces demonstrate, contemporary diamond tennis bracelets are available in a wide array of different metals and styles, including cluster bracelets. Whatever your taste, at John Atencio, you can find a world of distinctive tennis bracelet styles and intriguing designs unavailable anywhere else on Earth.
Types of Metal
These days, diamond tennis bracelets come in a variety of gold tones to cater to your unique fashion taste. For a modern, chic vibe, refined white gold is a beautiful way to hit the right mark. If you're drawn to warmer tones, consider the timeless sophistication of traditional yellow gold or perhaps a rose gold tennis bracelet, with its romantic blush hues. Whatever your preference, tennis bracelets offer an exciting array of options to match your individuality and fashion sense.
Gemstones
In the past, tennis bracelets were exclusively adorned with natural diamond gemstones. In recent times, however, jewelers have begun to incorporate an array of vibrant gemstones. Moreover, recent advancements have led to the emergence of tennis bracelets studded with lab-grown diamonds, a trend that has gained significant traction for many good reasons.
As consumers become more eco-conscious, lab-grown diamond tennis bracelets have gained considerable attention. Physically and optically identical, both natural and lab diamonds are assessed based on the universally recognized 'Four Cs' (cut, color, clarity, and carat weight). The only discernible difference is a microscopic inscription labeling a diamond as lab-grown. Unless one uses a microscope, however, it's impossible to distinguish between a tennis bracelet made with natural gemstones or high-quality lab-grown diamonds.
A growing number of consumers prefer lab-grown diamond tennis bracelets due to their ethical sourcing and more affordable price point. That said, some still covet natural diamond tennis bracelets, valuing the rarity of the gemstones and the idea of owning a piece with gems that took billions of years to form within the Earth. 
Choosing the Right Tennis Bracelet
Perfect for any occasion, tennis bracelets are one of the most versatile jewelry accessories. The fusion of precious metals with shimmering diamonds offers a timeless allure that suits a range of personal styles. But how do you choose a piece that fits your style and the occasion?
At John Atencio, the quest for the ideal tennis bracelet is more than a simple purchase – it's an exploration of personal style and self-expression. Subtle designs, such as those found in his Orion and Lines collections, are perfect for understated elegance. Alternatively, more ornate pieces can be a fitting choice for a glamorous event.
John's vast collection has something for everyone, from minimalist styles to extravagant clusters. Our attentive jewelry consultants can guide you through the selection process, so you can find a bracelet that complements your style, while making a statement about your unique personality and taste. 
At the same time, when choosing a tennis bracelet, don't overlook the importance of comfort and fit. A bracelet that is too loose may slip off, while one that is too tight can cause discomfort. 
When selecting a piece, be sure your choice reflects your personality, be it a classic and elegant diamond circle, a bold and modern piece, or an artful, intricate design. Remember, the right bracelet is not just an accessory, but an extension of your persona.
Caring for Your Tennis Bracelet
With proper care, your John Atencio tennis bracelet can last a lifetime. Avoid exposing the piece to harsh chemicals found in cleaning supplies or beauty products, since they can dull the sparkle of the diamonds and damage the metal. Instead, gently clean your bracelet with a soft, lint-free cloth.
Always store your tennis bracelet separately in a jewelry box to prevent scratches from other items. It's also recommended to have your tennis bracelet inspected regularly by John Atencio's professionals. They can assess for any needed repairs or maintenance, ensuring your treasured piece continues to shine brilliantly and endure beautifully over time.
Uniquely Beautiful Bracelets from a Master Designer
Whether you're treating yourself or shopping for that special someone, you can't go wrong with a diamond tennis bracelet. Masterfully crafted using exquisite gemstones, John Atencio's artistic pieces are available in a diversity of one-of-a-kind styles and carat weights. 
Masterfully crafted using premium-quality natural and lab-grown diamonds, John's tennis bracelets are available in a diversity of styles and carat weights. Browse online or visit any John Atencio location, where our consultants can help you find the perfect tennis bracelet to elevate your look and complement the jewelry you wear every day.