The Top 7 Outdoor Engagement Photo Ideas
outdoor engagement photo ideas, outdoor engagement photos
6/11/2021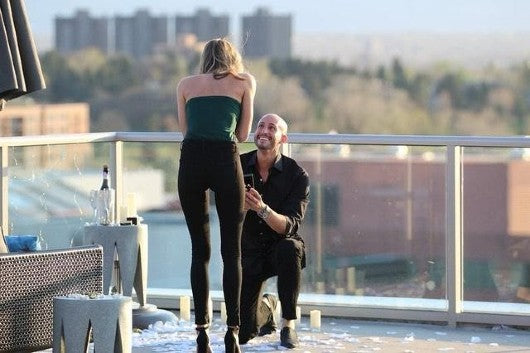 Have you been thinking about outdoor engagement photo ideas for your upcoming proposal? You know you want it outside, but where and how? Whether it's a surprise proposal on bended knee or a joint effort with a planned action shot, a little preparation beforehand can ensure the moment goes off without a hitch and your outdoor engagement photos turn out in spectacular fashion. The list of possibilities is endless, but we've narrowed it down to seven categories that are sure to give you great results. Just remember the most important part, which is a distinctive engagement ring from premier jewelry designer John Atencio.
1. Outdoor Photo Engagement Photos in Every Season
From Spring and Summer to Fall and Winter, every season holds an advantage for outdoor engagement photos. The gardens come alive in Spring, welcoming a proposal photo with one handing a flower to the other with a John Atencio Essence Solitaire Round Engagement Ring inside of it. Summer brings the evening sunset backdrop that's always a favorite photo opportunity for the "bended knee" proposal. Fall ushers in the red, yellow and orange leaves that fall to the ground, offering a beautiful scene for a proposal in the foliage. And Winter delivers the white snow that makes your photo subjects pop with vibrancy. An asset for a great proposal photo exists in each season.
2. Outdoor Engagement Photos during Sports
If you're both avid football fans, dress in your team jerseys or jackets to stage a photo session for your proposal in the stands during the intermission of a football game. Have a photographer on hand to snap photos of the proposer holding a sign that says, "Will she say yes?" Afterward, have a shot taken of the smiling, embracing couple holding a sign that says, "She said YES!!" If skiing is a passion, stage a shot of the proposal while you're both in your skis in the snow, taking care not to drop that John Atencio Satin Princess Cut Luminaire Diamond Engagement Ring. The resulting photos should look sensational, and they'll be a meaningful reminder of your shared love of the sport and for each other.
3. Outdoor Engagement Photos while on Vacation
Proposing while on vacation is an excellent idea because the thrill of fun already floats around you. An outdoor engagement photo taken while you're proposing in the pool on whimsical pink flamingo float with a John Atencio Azure Engagement Ring makes a colorful picture with the pink float against the blue water. You can also arrange for a proposal photo to be taken on a mountainside or under a waterfall if you both love to hike. If one or both of you is a Disney fan, have a photo snapped in front of Minnie Mouse or your favorite Disney character. Just remember to arrange to have someone take the photos.
4. Outdoor Engagement Photos on the Beach
The beach offers many unique opportunities to propose and capture a fantastic outdoor engagement photo. A fun day at the beach building sand castles is a perfect proposal setting when the completed castle is crowned with a small flag with a John Atencio Satin Pear Engagement Ring attached to it. You can also take a leisurely evening stroll to view the sunset, taking a moment to write "Will you marry me?" in the sand or hiding the ring under a shell then asking her to pick it up. Just consider the angle of the sun for a daytime photo and ensure enough light for a daytime evening photo and your outdoor engagement photos taken on the beach will be fantastic.
5. Outdoor Engagement Photos with Pets
Pets and animals play a big part in our lives, so including them in your outdoor engagement photos makes sense. Some people are diehard horse fans, so staging a photo shoot for a proposal while the couple is sitting on horses is a unique idea. Afterward, getting a shot of her ringed hand on his against the horse will result in a truly unique and memorable photo. Last but not least, there's always the traditional surprise of gently tying a John Atencio Theodora Elite Diamond Ring to a new kitten or puppy for a surprise proposal. Regardless of your choice, pets always increase the appeal factor of a photo.
6. Outdoor Engagement Photos during the Holidays
An engagement is always exciting and proposing during a holiday just makes it extra special. There's already cheer in the air during Christmas or Hanukkah, so bundle up in gorgeous photo-worthy sweaters or coats and make it happen. From pictures taken of a proposal in a Christmas tree farm or brightly colored gifts exchanged in the snow, photos taken against the white backdrop of snow emphasize the subjects, resulting in a great outdoor engagement photo. You could also make it fun by staging an Easter shoot complete with a basket of colorful Easter eggs, taking the shot while she opens a plastic egg with her John Atencio Intrigue Engagement Ring inside. Valentine's Day is always a favorite day for proposing, so have a photo taken against a backdrop of red and pink lights strung on a park bench or around a tree in the snow. Be sure to get a shot of the ring on a chocolate bunny with a visible bite taken out of it. Your proposal and the resulting photos will be fantastic.
7. Outdoor Engagement Photos in the Mountains
An outdoor setting in the mountains is a gorgeous place to propose, and if you're diehard hikers it's especially fitting. A proposal undertaken in a clearing in the trees or near a waterfall will result in a stunning outdoor engagement photo, just ensure ample light and colorful clothing that contrasts against the green of the trees. A photo of a bended-knee proposal on the top of a mountain against a backdrop of blue sky is always beautiful, and even more special when a John Atencio Decision Engagement Ring is exchanged. Remember that unless a photographer or friend tags along you'll have to set up a camera with a timer yourself which may be challenging when on a mountaintop.
Snapping engagement photos in outdoor situations captures beautiful memories you'll always cherish and sealing the deal with a distinctive John Atencio engagement ring makes it even better. Visit JohnAtencio.com and browse the generous selection of distinctive engagement rings for your love or walk into one of his boutique stores and peruse in person. She is always worth an authentic John Atencio.