Lifestyle Jewelry: Picking a Ring for an Adventurous Lifestyle
lifestyle jewelry, lifestyle rings
6/7/2021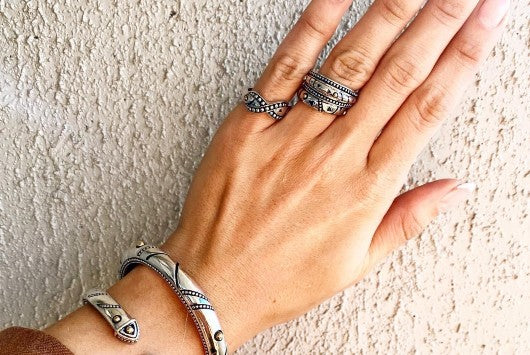 Have you been searching for the perfect ring to give to a man or woman who lives an adventurous lifestyle? When we think of someone adventurous, we imagine them taking part in activities like ziplining, mountain climbing and traveling. However, this person may also be classified as bold and daring because they take risks in life to reach their goals. Bold men and women are suited to bold lifestyle jewelry that makes a statement because it mirrors their spirit and attitude toward life. Whether you're searching for a casual ring or an engagement ring, master jewelry designer John Atencio designs the ring they'll love to wear.
The Solar Domed Ring for Her
If the adventurous lady in your life is a free spirit, the Solar Domed Ring is the right choice when you're searching for lifestyle jewelry. A part of the John Atencio Solar Collection that's optimal for her adventurous lifestyle, this special ring is handcrafted from sterling silver and 14k yellow gold. This collection is designed with circles, triangles and lines to symbolize the struggles all of us face in balancing family, relationships and communication, an aspect of life that all strong women can relate to. Designed with a raised dome around the top half of the ring, it can be worn alone or stacked against other rings for a unique look. She'll adore this meaningful gift that reminds her of her fortitude.
The Apropos Engagement Ring
Not all daring women are skydivers, but they always seek adventure when they can find it. And when it comes to an engagement ring, they desire one that speaks to their spirited presence and one that's ideal for an adventurous lifestyle. The bold and modern Apropos Engagement Ring is an excellent choice because it showcases a distinctive channel-set center stone that's cradled by a sturdy, protective setting crafted with a higher metal amount than average engagement rings. Made with 18k white gold, yellow gold or rose gold, this stunning ring has a weighty, reassuring feel and is as strong as her mindset. She'll always appreciate your effort to pick the perfect lifestyle jewelry that she'll wear forever.
The Azure Engagement Ring
Living a unique life outside of the ordinary is the motto of the adventurous woman, and nothing is as unique as the trillion-cut gemstone. If you're searching for an engagement ring for a lady with an adventurous lifestyle, selecting the Azure Engagement Ring by John Atencio is an excellent decision. Crafted by hand in 18k white gold, yellow gold or rose gold, this weighty ring joins the soft curves of the setting with the clean lines of a prong-set trillion gemstone, proving that asymmetry is simply stunning. Inspired by the serene waters often found on an adventure, this lifestyle jewelry serves as a lifetime reminder of your endeavor to give her a ring with true meaning.
The Black Zirconium Flat Band with Meteorite and Hardwood for Him
Any man with an adventurous lifestyle will appreciate the comfort, style and durability of the Black Zirconium Flat Band with Meteorite and Hardwood by John Atencio. This unique lifestyle band is handcrafted with the corrosion-resistant chemical element zirconium with a meteorite overlay that made the journey to earth from outer space as part of a fiery meteor. Made with a beautiful Redheart hardwood sleeve for a sleek comfort fit, this exceptional men's ring is perfect for the active outdoor enthusiast who also values a polished look.
The Mt of the Holy Cross Band
For the adventurous man who lives life with a hands-on attitude, wearing a smooth, durable ring without stones may be desired when he's enjoying outdoor activities like mountain climbing or camping. Enjoying popularity because of the durability and the mountainside etched into it, the Mt of the Holy Cross Band by John Atencio can be personalized with powerful inscriptions that will motivate the man with an adventurous lifestyle. Crafted with corrosion-resistant cobalt chrome, this band is as bold and brave as he is. He'll always treasure this inspirational lifestyle jewelry.
John Atencio Designs the Lifestyle Jewelry Men and Women Love
As a world-renowned designer with over 48 years of experience in designing distinctive statement jewelry, John Atencio's knowledge of jewelry design is second to none. And as a Colorado native who was raised in the ultimate scene of adventure, his expertise in bold jewelry design is unparalleled. In line with this skill is his demand for social responsibility in the sourcing of metal and gemstones, using only recycled gold and responsibly mined gemstones in his creations that are sourced from mining. Discover more about the man who designs the bold and beautiful jewelry that makes a statement.

Everyone deserves a ring that reflects their personal style, one that's as bold as they are. Visit JohnAtencio.com to browse for the lifestyle jewelry that speaks to their truth. Questions? Contact a knowledgeable concierge for assistance with your purchase. You can also drop by one of our boutique stores to browse our variety of options in person. Because everyone should own an authentic John Atencio.