The Top 6 Reasons to Consider a Lab-Grown Diamond Tennis Bracelet
diamond bracelets, lab grown diamond bracelet, lab grown diamond jewelry, lab grown diamonds, lab grown tennis bracelet, tennis bracelet
7/28/2021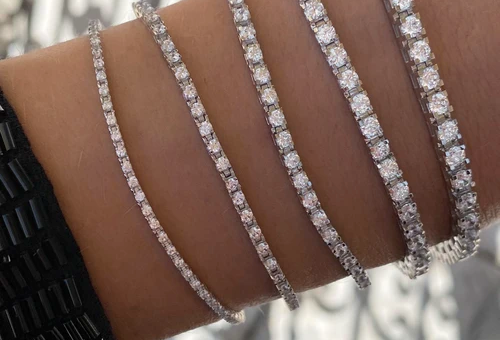 Sleek and modern, lab-grown diamond tennis bracelets add sophisticated sparkle to any look, elevating your appearance in formal and casual attire. Here are six reasons this iconic jewelry piece should be part of your jewelry collection.
1. They are stunning.
Not too long ago, it would have seemed impossible to create lab-grown diamond tennis bracelets with the same properties as bracelets featuring traditionally mined diamonds. Now, innovative technologies have made this bold vision a stunning reality.

Lab-grown diamonds are made in dedicated facilities using highly specialized technology, equipment and responsibly sourced materials. By analyzing the geological processes that lead to natural diamond creation, skilled technicians are able to recreate the environment in a laboratory setting. While the process is scientifically complicated, the results are startlingly simple and stunning. Lab-grown diamonds are the same as traditionally mined diamonds—pure crystallized carbon within the isometric cubic system.
2. They are identical to traditional diamond tennis bracelets.
One of the best advantages of a lab-grown diamond tennis bracelet is that, to the naked eye, it is indistinguishable from a bracelet featuring naturally mined diamonds. Even the most experienced diamond-detectors can't identify a lab-created diamond because they are the same both optically and chemically as mined diamonds. The only real variance is that lab-grown diamonds have microscopic inscriptions. Without highly specialized equipment, however, your friends and family will never know whether your tennis bracelet includes naturally mined or lab-grown diamonds.
3. They have high standards.
The 'Four Cs' (cut, color, clarity, and carat weight) have always dictated the value of jewelry-grade diamonds. Lab-grown diamonds are held to the same strict standards as naturally mined diamonds. You can be confident that your lab-grown diamond tennis bracelet will have exceptional-quality gemstones based on the all-important four Cs.
4. They are eco-friendly.
Not all jewelers have the same ethical standards as John Atencio. When crafting his uniquely beautiful jewelry pieces, John maintains unwavering integrity and adherence to the strictest ethical and social standards. This includes compliance with the Kimberly Process Certification Scheme (KPCS), a renowned worldwide effort aimed at stopping the trade of troubling "conflict diamonds" used to fund wars, human trafficking and other harmful activities.

Given that lab-grown diamonds are made in a dedicated environment, these potential ethical issues do not exist. Lab-grown diamond tennis bracelets also usually cost about 30% less than natural diamond tennis bracelets of comparable size and quality.
5. They are timeless.
An iconic jewelry piece, lab-grown diamond tennis bracelets have a unique ability to harmoniously blend flash and brilliance with subtleness and class. Stylish and elegant, these dazzling bracelets are a wardrobe staple. One of the most beautiful and timeless jewelry pieces, the diamond tennis bracelet adds shimmering glam to any ensemble, from ball gowns to your favorite jeans and t-shirt. Stunning and easy to wear, this celebrated classic is both eye-catching and simple in casual and formal settings.
6. They are versatile.
While most tennis bracelets include fiery round-cut diamonds throughout, there are lots of fun variations with unique lab-grown diamond shapes, decorated clasps and colorful gemstones. An enduring classic, these exquisite jewelry pieces come in carat qualities and weights that work within any budget. Traditional tennis bracelets usually consist of colorless, round diamonds set within an 18 karat white gold or platinum setting. Nowadays, however, you can get tennis bracelets of 18-karat rose and yellow gold.

John Atencio takes a unique approach to his jewelry designs, creating wearable works of art that beautifully complement your other jewelry pieces. Whether you want a tennis bracelet that's timeless and understated or a fiery piece that refuses to go unnoticed, you'll find something for every occasion and style.
The John Atencio Difference
When it comes to iconic classics, the tennis bracelet is up there with the solitaire diamond engagement ring. Whether you're treating yourself or surprising that special someone, you can never go wrong with this breathtaking jewelry piece. Masterfully crafted using premium-quality gemstones, John's lab-grown diamond tennis bracelets are available in a diversity of carat weights. Browse online or visit any John Atencio location, where our attentive experts can help you find the perfect lab-grown tennis bracelet to elevate your look and complement the jewelry you wear every day. We can also help you decide on a breathtaking jewelry gift to show that special person just how much you care.
Listen to our podcast episode on Lab Grown Diamonds.